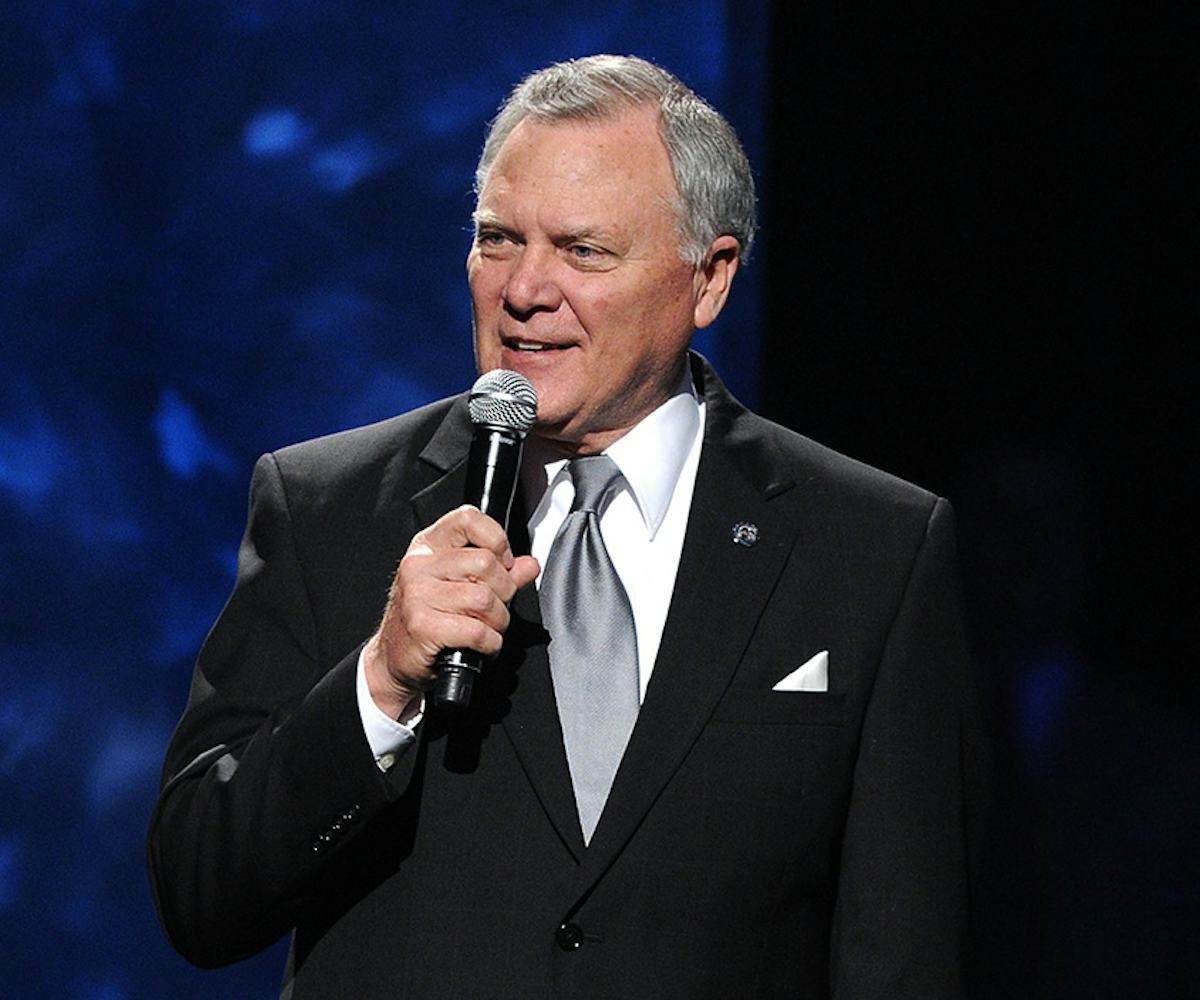 Photo via Rick Diamond/Getty Images
7 Impressive Times Hollywood Influenced Politics
Hollywood, as both a producer of entertainment and an economic bastion, is a force to be reckoned with. Although the film and television industry may be known at face value for its creation of cinema hits, small-screen favorites, and bonafide movie stars, there's so much more to it than its entertainment value. In fact, Hollywood acts as a major influence on American politics, not only by bringing major issues to the attention of media consumers but also by actually lobbying and petitioning Congress.
Most recently, Hollywood studios threatened to boycott the state of Georgia because of its anti-LGBT bill, HB 757. The bill, known as the Free Exercise Protection Act, would allow faith-based organizations to deny services to individuals who violate their "sincerely held religious beliefs"—leading many to decry the bill as discriminatory towards members of the LGBT community. After a call to action by Human Rights Campaign president Chad Griffin, many studios including Disney, 21st Century Fox, Sony, CBS, Comcast, Netflix, and more threatened to boycott the state for film and TV production, should the bill be passed—putting the $6 billion the entertainment industry was expected to generate in the state in 2016 to risk. So, Governor Nathan Deal vetoed the highly controversial bill.
This victory, albeit tied primarily to the economic influence of Hollywood, goes to show how much of an impact the film industry has on political decisions, beliefs, and movements. And this isn't the only instance of Hollywood working to do good. Here are seven other times actors, movies, or Hollywood as a whole has tried (and often succeeded) to influence Capitol Hill, legal proceedings, and public thought.
Patricia Arquette elicited some major applause when she directed her 2015 Oscars acceptance speech to the issue of the wage gap. While she may not have had a major role in creating legislation to help end the wage gap in California, she did create the momentum to help state senator Hannah-Beth Jackson get her legislation signed into effect just two days after the speech. After Governor Jerry Brown approved the law in October, Senator Jackson turned once more to Arquette to act as a spokesperson of sorts for the law. "This was never about actresses," she said of her call for equal pay. "If you had the Sony hack but it was in the dot-com business instead or if it was the medical field or if it was anything, you would see this pay inequality."
The 1976 film All the President's Men, which chronicled the Watergate scandal that was solved just two years prior, is believed to have influenced the outcome of the presidential election that year. With footage of Gerald Ford nominating Richard Nixon at the 1972 Republican National Convention included in the film, viewers were reminded of both Ford's ties to Nixon and the complications of the Watergate scandal, virtually ensuring that Republicans would lose control of the White House in the election. Films can indeed act as political propaganda, but this was one instance in history when Hollywood made the public more aware of what was really happening behind closed doors.
Sometimes actors can best work for a political goal by simply stating their support of an organization. That's what Joseph Gordon-Levitt did in May 2014 when he made a support video for political action committee (PAC) Mayday. The PAC works to fight the election system of the United States, which currently forces candidates to focus on raising funds to increase their likelihood of winning elections (which, now in the 2016 presidential race, can be a scary thing indeed). When he stated his support, Gordon-Levitt helped the PAC to raise $2.5 million back in 2014, and today, Mayday creates a grassroots movement to help support candidates that are small-donor funded.
While the notorious 2013 Seaworld documentary Blackfish may not have resulted in any Congressional decisions, it did help spur some change. Not only did the documentary, which largely depicted the inhumane treatment of orcas, result in Seaworld stock dropping more than 60 percent, it also resulted in a nationwide class-action lawsuit for the mistreatment of the whales, which was ultimately dismissed in December 2015. However, the theme park franchise have recently announced that it will discontinue its breeding of orcas and phase out killer whale shows by 2019. This decision is bemoaned by marine scientists, who fear they will lose out on opportunities to learn more about these whales so they can work to preserve them in the wild, yet it is appreciated by animal rights activists. While feelings on both sides vary widely, Blackfish shows that documentaries can not only create emotional change but also incite legal action that continues to be a conversation years later.
With an organic empire sprawled before her, it's not surprising that Gwyneth Paltrow has taken her anti-GMO ambitions before Congress. The Goop entrepreneur lobbied against the Safe and Accurate Food Labeling Act of 2015 (or "Deny Americans the Right to Know" Act), which had been passed by the House of Representatives, to fight in favor of the labeling of GMO foods. "Much the way I want to know if my food is farm-raised or wild or if my orange juice is fresh or from concentrate, I also believe I have the right, and we as Americans all have the right, to know what's in our food," she said before helping to deliver a petition for President Obama's veto of the bill. Recently, the bill was overturned by the Senate, and organization Just Label It is fighting for federally mandated lobbying of GMO foods.
John F. Kennedy may be one of the most mythologized presidents in American history, largely due to the Camelot legacy laid in place by former First Lady Jacqueline Bouvier Kennedy. However, Oliver Stone's 1991 film JFK also sparked a more recent conversation about the late president. In the film, Stone challenges the single-shooter theory of the Warren Commission, which says that Lee Harvey Oswald was the lone assassin of JFK, and posits that there were many more conspirators involved in the assassination of the president. While JFK is largely written off as a distorted conspiracy theory of a film, it did help bring about the creation of the Assassination Records Review Board through the President John F. Kennedy Assassination Records Collection Act of 1992. The Board works as an independent agency that reviews all assassination-related documents deemed too sensitive for release to the public by federal agencies.
Nearly 100 celebrities have joined the petition to reform the American criminal justice system, #Cut50. The movement hopes to reduce the prison population in the United States by 50 percent in the next 10 years, with a call for #JusticeReformNow. Celebrity activists include Amy Schumer, Russell Simmons, Julianne Moore, Laverne Cox, Piper Kerman, and more. "It's beyond the activists," Simmons told NBCBLK about his involvement. "It's about the idea of framing this message—making the idea mainstream. That's my job and I hope more people will take it on with me. If you have celebrity, you should use it for something." While #Cut50 is still fighting for real reform, it's clear that there has been some progress in the country, as President Obama was recently the first sitting president to visit a federal prison. Still, actors are a real force among the movement helping to publicize the issue of mass incarceration in the United States.