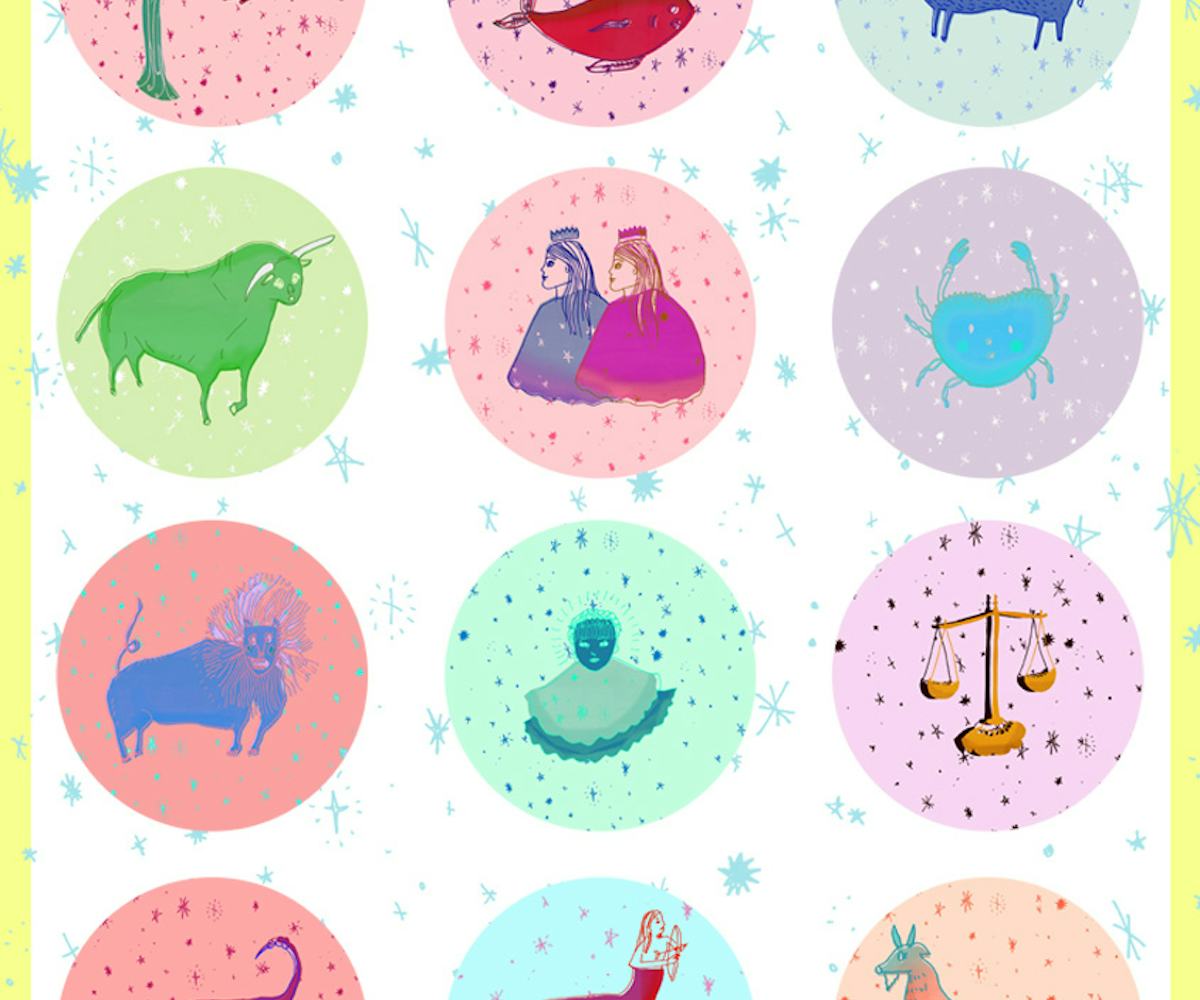 illustrations by liz riccardi
June Horoscopes 2015 - Astrological Signs
the stars have a lot to say this month
June might seem a little weird, but this month will be filled with fun and beauty on such a lavish scale that Marie Antoinette would blush.
A philosophical feel looms large early on with a deep-thinking Full Moon in Sagittarius on June 2. This transit sparks a period of enlightenment and awareness for the entire Zodiac. Some unlikely signs will experience deep sensitivity (more on that later). The season's potential for love climaxes as sweet Venus pairs with bighearted Leo on June 5—a warm opportunity to take advantage of experiencing sexy heights and meaningful depths, whether you're single or attached.
Mercury will begin to clear up miscommunications when he (finally) goes direct on June 11. Just days later, a magical New Moon in Gemini (June 16) will crystalize communications. Now is a prime opportunity for negotiating anything important or making pitches—action-oriented Mars has everyone's backs.
Jupiter and Uranus link up in what might be their luckiest position on the first day of summer (June 22). But on June 24, moody Cancer and explosive Mars cast a slight shadow on most of the summer. Some might feel family members under their skin a little more; others may turn uncharacteristically shady, passive-aggressive, and duplicitous.
Read on for what the stars have in store for you this month. 
Smoke gets in your eyes early with the Sagittarius Full Moon (June 2) gas-lighting your relationship ideals. For attached Twins, this lunation will bring you extremely close, yet the potential to cause deep confusion lurks. You may question whether or not your partner is the real deal: Painful awakenings versus profound connections are possible, depending your relationship's true strength.
Unlike the other signs, contractual and communication-based endeavors will be excellent on June 5. Publishing, writing, and sales—all of it—will be impactful now, and even more so after Mercury, your slick ruler, goes direct on June 11.
You can breathe a sigh of relief when it comes to your career this month. If you've been dealing with an important, energy-sucking project at work, it'll likely end (or ease up) around the Full Moon on June 2. Whatever your hustle, the full Sagittarius moon will energize the dynamic for a positive outcome.
Money is on your mind with Venus lounging around opulent Leo from June 5 to the 18th. You're maxing out when it comes to personal finances, but if you plan on asking for that raise (and you do deserve it, selfless Cancer), June is primo.
You'll no doubt welcome the relaxed vibe around June 11 when trickster Mercury finally goes direct. Many moonchildren are mentally exhausted from strange subconscious messages that may have surfaced during the retrograde. Luckily, the New Moon in cerebral Gemini on June 16 grants you a psychological reboot.
Everyone around you better hit the deck around June 24: Fiery Mars will rendezvous with watery Cancer for the first time in two years. You will literally be indestructible—especially at work.  
Your ability to connect with bae, friends, or a crush will be magnified during the first week of June with the Full Moon in Sag and Venus in your sign. Single Leos will be the main attraction all month long—so expect plenty of ripe dating (or hookup) prospects this summer. The recently cuffed-up may feel that they've caught "The One," and are ready to lock it down as an exclusive thing. Either way, you'll be opening your heart and experiencing love like never before.
Misunderstandings will settle down once Mercury goes direct on June 11. A truce is likely if you've been fighting with a close friend, so expect a resolution around then. Your social life will become full and balanced—more exciting than ever so far this year—with the energizing New Moon in Gemini on June 16. This lunation is especially powerful for setting goals and manifesting desires. Make that list on June 16, and your dreams have the potential to literally come true.
Home is not only where your heart is this month, but also where everything you actually care about will be, too. A brilliant Full Moon on June 2 kicking it in your 4th House of Home could manifest straightforwardly with a move (which you've been toying with), or the arrival of emotionally charged news from a close family member. For a welcome change of scenery, early June will give you all the right signs to make moves (literally).
Virgo the Virgin is typically conservative when it comes to privacy, but between June 5 and 18, your love life will simmer behind closed doors. Escaping with your boo for some Alone Time—and not just, like, Netflix and Weed Alone Time—spent by sharing enriching experiences together will be the reboot you both need to connect on a deeper level. Things won't be the same after this.
Mercury's orbit balances out on June 11, giving you a chance to save face after any SNAFUs you might've caused with putting your foot in your mouth around your boss during the retrograde period. June 16's gorgeous Gemini New Moon provides the perfect energy for setting—and manifesting—goals at work.
Things have been difficult for you to balance lately, especially when it comes to money and your domestic life. The curious Sagittarius Full Moon on June 2 might spur you to mix things up, but don't do anything rash, at least not until June 11 when Mercury goes back into direct orbit. Signing contracts and starting new projects are off limits until then, too.
Venus, your ruling planet, sparks a fire in your social life with hot Leo from June 5 to 18. This phase will make seeing friends you never see anymore and going to places you never go anymore so much more sweet. No more cold-fish social life for you!
You singles will relish your airy independence this month, but that doesn't mean you won't feel up for getting freaky. Try someplace new (or just go on Tinder) for a change of scenery around the New Moon in Gemini (June 16). But attached Libras won't miss out on this fun streak: Just expect to spend a lot of playtime with your boo.
June gloom sets in early as financial insecurities lurk around the Sagittarius Full Moon on June 2. Don't let fear take control—as long as you're organized, you shouldn't have any reason to worry about money. An opportunity to make extra cash with freelance gigs and side jobs could pop up now, too.
A vexing credit, loan, or tax problem may untangle itself when Mercury goes direct on June 11. Whatever you've been avoiding for the past month will clear up fully by the New Moon on the 16th.
The glorious Full Moon in your sign on June 2 will compel you to open up in ways atypical for playful Sagittarius. Laying your cards on the table won't make you feel exposed or overly serious, though. In fact, you'll be refreshed by how well-received your emotional waterfalls are. Being real and operating with complete honesty and integrity will serve you well this month.
Planning a trip? Get away between June 5 and 18, when sensuous Venus hangs with friendly fire sign Leo, awakening the natural explorer in you. The single Sag may even meet someone new and interesting.
Likewise, you attached Archer Centaurs would be well-advised to take that pleasure trip with bae now. If you're one of the unfortunates who didn't watch their mouths during Mercury retrograde, your relationship overall will begin to heal drastically after June 11 when Mercury's direct orbit lights up your Partnership House. Don't fuck it up.
I hope you have your sunglasses—and your wallet—handy, because the month starts with a powerful beam from the Sag Full Moon that brightens up your financial future. A raise at work is likely, but with opulent Venus occupying your 8th House, an inheritance might surprise you. This is also a fertile time to invest your money in something you believe in, like a friend's business.
Communication will be as smooth as butter mid-month when Mercury—ruler of communication—goes back into regular orbit on the 11th. You'll finally dig yourself out from the heaps of work that have been piling up. Miscommunications with coworkers and bosses that may have come up will iron out now, too.
That same week, the mentally stimulating New Moon in cerebral Gemini on June 16 will light a fire under entrepreneurial Caps and freelancer Goats alike. This New Moon will also provide excellent support for focusing on health matters. Hire that personal trainer, try acupuncture, or just start flossing.
Partnership becomes the focus in late June, and it will reign supreme for most of the summer. Extra tension at work or with business partners might pop up, so be vigilant in squashing conflict when it arises.
The month begins with a Full Moon in complementary Sagittarius, thrusting you into the role of reluctant camp counselor. While annoying (you're too busy for this!), take it as a compliment: Your wisdom is honored and your opinions are valued.
Creative blockages will finally lift around June 11, when Mercury goes direct. If you've been feeling disconnected from your kid (or metaphorical kid, like an important project or creative endeavor), energy will flow much, much easier after this retrograde period ends.
The Mercury retrograde might have dragged a thirsty ex back into the picture. Have fun, but don't make any concrete decisions about rekindling an old thing until after the 11th. The Gemini New Moon mixes and mingles with your airy sign on June 16, making a new love prospect a very real possibility. Aquarians who are settled down might feel like they're ready to put a bun in the oven now, too.
You'll be basking in the professional limelight early in the month with the Full Moon in Sag highlighting your hard-earned achievements. Affable Venus will spice up your daily routine and bring an extra sense of harmony to your work life from June 5 to 18. A deeply fulfilling project may fall into your lap now, and if so, you'll absolutely have a blast working on it. Have fun—your charisma and enthusiasm is likely to catch the eye of a VIP.
Miscommunications with family members that have been lingering through the Mercury retrograde will become crystal clear after June 11. The New Moon on June 16 packs a positive punch in your domestic life—a big move, remodeling, or décor project could be on the horizon.
Dynamic Mars will occupy your 5th House of Pleasure—the first time they've gotten together in two freaking years. Summer will be spelled with three letters for you, Pisces: F-U-N.
C.R.E.A.M. is your motto this month, Taurus. And really, when isn't comfort your main focus? June has the potential to curve you early in the month when an unexpected expense or debt comes to light near the Full Moon (June 2). Discipline and logic—your undisputed strengths—are your tickets to financial stability. Write a budget; you gotta make it sprinkle before you can make it rain.
A sweet little power-up from your ruler Venus on June 5 in your 4th House of Home will bring peaceful vibes to your already-Zen domestic outlook. Expect harmony and fun between family members and roommates alike.
Your cash-flow situation will continue to steadily improve when Mercury goes direct again on June 11, shining bright with the New Moon (June 16). Just be sure you have a strong financial plan to lean on, or you'll be running around headless (and moneyless) for the rest of the summer. Silver-tongued bulls in communications, publishing, and sales have a banging opportunity to make a big impact, career-wise, after June 24.
Your skin might be (abnormally) thin with the Full Moon in (usually friendly) Sag hanging out your 9th House of Beliefs and Opinions on June 2. Chill, please—nobody likes an emotionally unpredictable battering ram.
Mercury starts his direct orbit on June 11, but lay low on new contracts and projects until June 16th's brilliant New Moon in Gemini. Grads are in the spotlight, too, releasing pent up emotional energy as the final—or near final—hurdle is cleared.
Your love life may slingshot into astronomical realms when Venus makes a lucky match with Jupiter on June 5 in your 5th House of True Love. This month couldn't be better primed for meeting new love interests and exciting hookups. Boo'd-up Rams can expect sultry nights and warm, affectionate days, especially June 22 when Fairy Tale Vibes will be strongest.
Mars, your main thing, transits through your 4th House of Home, meaning static between you and family could become a major problem if you aren't mindful by the month's end. Bottom line: Squash conflict immediately and remain vigilant about any home repairs.