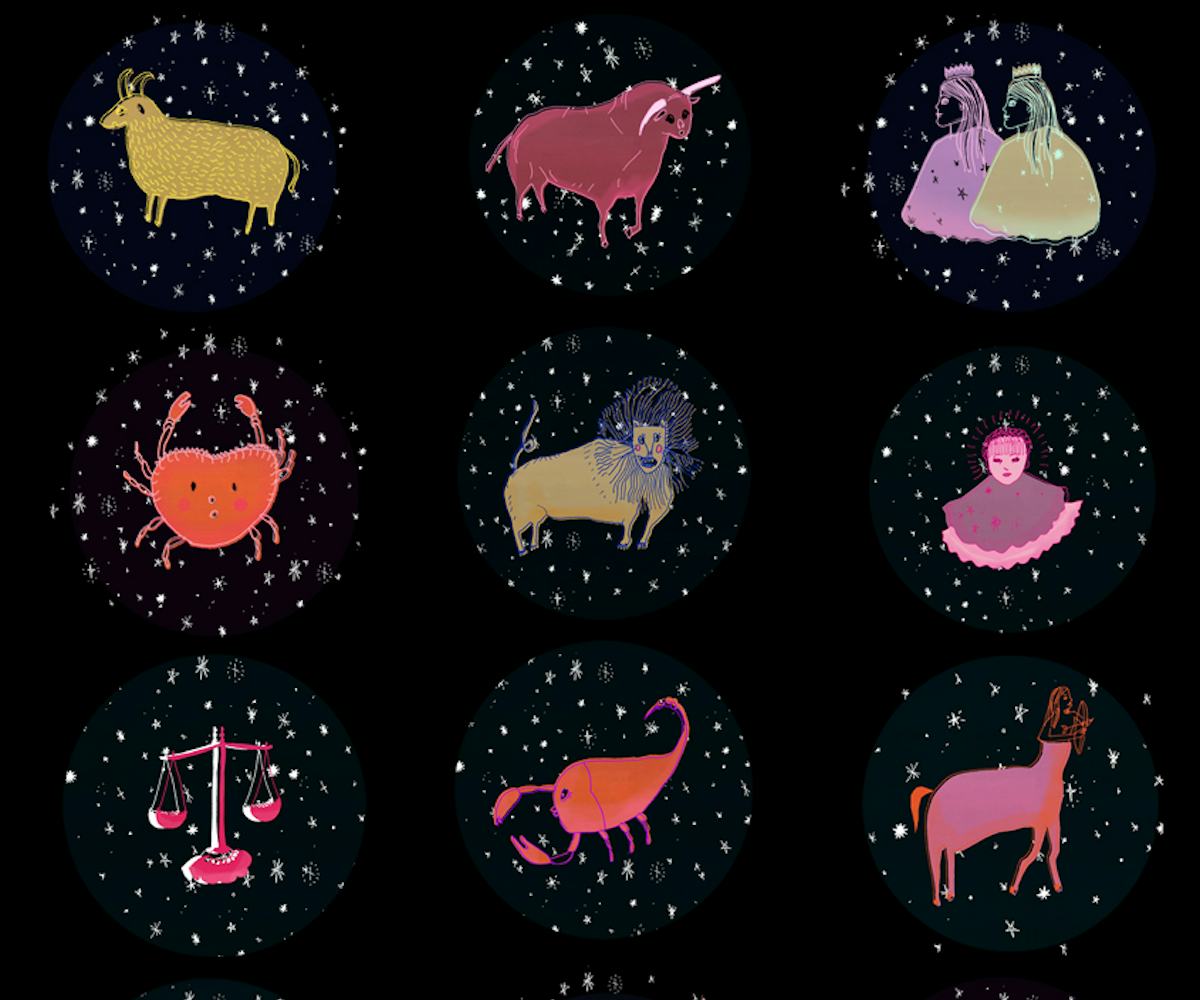 illustrations by liz riccardi
Horoscopes May 2015
it's going to be quite the month!
This month begins with a deep, dark vibe on May 3 when the full moon transits through the zodiac's most intense sign: Scorpio. This aspect will allow all 12 signs to access rare emotional depths, with the potential to make some people relatively brooding. Others may simply tend toward introspection, especially you stoner scholars (guilty!). Overall, if May seems super weird, your instincts are right—Mercury will go retrograde for the "bad three weeks" (more on that later). 
Sexy Venus will enter watery Cancer on May 7 and stick it to the Crab Queen all month long. This aspect is rather lovely for all signs and is perfect for social mixing, particularly in your home. Some might even feel driven to blow the bank on redecorating. Don't go too nuts, but May is definitely a great time to start caring more about your domestic space. 
Venus seems particularly hard up this month, which should be really beneficial for romance and sex, especially when it comes to rekindling old feelings. Destiny vibes are in the air when it comes to any love connections beyond the casual encounter here and there. But if hitting it and quitting it is more your speed, May is a good time for that, too. 
On May 11, Mars enters Gemini, where it'll stay until late June. This aspect is primed for having a fling with a brainy pursuit or revisiting an intellectual interest. 
The new moon in Taurus on May 18 will provide fertile ground for moneymaking ventures. But here's the thing: Mercury will turn retrograde that same day in airy Gemini until June 11. Communication and technology will no doubt be messed up, so just focus on tying up loose ends. This is also a great time to deal with anything you feel is unfinished from the past. But please, do not sign any new contracts (unless you're a masochist). 
Read on for your individual horoscopes.
You and your bae (or your ex boo) will be in the spotlight with the sexy, passionate Scorpio full moon on May 3 setting the tone for the entire month. Taurus and Scorpio are opposites, the recipe for heaven—or hell. Prepare for this month to either be cuffing season or completely deleting someone from your life. Scorpio is a hot lay with a crazy mind; she's an extremist, so it's all or nothing. But, being an absolute boss, you cannot ignore her. Luckily, that new moon in your sign on May 18 will wash away the past.
When I think of Tauruses, I think of Rick Ross luxuriating in a solid-gold Jacuzzi surrounded by beautiful, curvy ladies sipping from champagne flutes. This is largely because Tauruses are famous for their love of the good life—dank cuisine, bubbly company, and plush surroundings. With Venus transiting into your house of communication on May 7, you will be in your element. Expect an inflated social life and a silver tongue.
Crystal ain't free, and you'll very likely be reminded of that near May 11, when expenses may become tighter than usual. You might be extremely broke, but you may be equally motivated to make that cheddar back. Mercury goes retrograde on the 18th, an excellent time to reevaluate your platinum lifestyle.
May starts in tha trap (or, you know, the office, depending on your hustle), and your work life is likely to be riddled with anxiety. A close colleague may be fired or quit abruptly near the full moon on May 3. But don't worry—it seems like you're prepared and polished for whatever.
When it comes to money, you're in one of the best positions possible. Mid-month would be the best time to ask for that raise you've been busting your ass for all year. If you can't get that paper, your imagination and boldness will earn high praise and respect from the bigwigs. And they'll remember that.
You're killing it in the game for the rest of the month, frankly. With action-focused Mars in your sign (very rare), you will be filled with energy and drive to initiate anything that is truly important to you.
Your month begins with a bang—literally, as in sex (maybe). A major development will materialize around the full moon on May 3, either relating to your love life or a child (or a metaphorical "child," like a project you're attached to). Because this full moon is in your crazy stripper friend, Scorpio (which could totally be a dope stripper name!), it's either going to be awesome or horrible — it's up to you. What's for sure is that it will be emotionally charged and will likely bring completion to one of these areas. Just be open.
May might be your hottest month—and I ain't talking Fahrenheit. I'm talking about your looks, boo! From May 7 to June 5, you're likely to experience a major boost in confidence surrounding your physical appearance with that vain little sex kitten Venus moving into your sign. Get your nails done and your hair, too. It's all you this month.
In true Cancer fashion, you'll be focused on your private life from May 11 through much of June. This can be beneficial, but be gentle. On May 18 when Mercury goes retrograde, old feelings may be trudged up from the emotional depths of your swampy psyche. Don't be surprised if this has to do with a friendship or close partnership—the new moon will fall in your eleventh house of friendship.
On May 3, the moody full moon in Scorpio has the potential to bring about some changes within your home life. On the other hand, you might also have to deal with some emotionally charged news from a close relative. Your connection to your family will make you feel some type of way.
If you and bae have been having issues, this is the month to iron out any static. Though completely atypical for you lions, May might provide you with a good opportunity to get out of the spotlight and behind closed doors with your partner.
This month may also bring an irritating amount of squabbling between you and friends. Misunderstandings and miscommunications abound near May 18 when Mercury goes retrograde. Just remember Drake's sage words: Fuck a fake friend, where your real friends at?
Virgo, I don't need to tell you that your strength lies in logic and reason. This month, your aptitude for sorting through shit that would stifle the other 11 signs will come in handy.
You might have to deal with some major drama surrounding a sibling or relative close to you in age near the full moon on May 3. Likely, they will look to you to be their anchor in dealing with an extremely emotional issue. Help provide strategy without being judgmental (yes, I know that everyone is crazy but you, but just be easy).
Your social life takes off after May 7, so this would be the time to hit up as many parties as possible—especially if you're single and want to meet someone with potential. Opportunities to meet someone you'd be into dating (or just hooking up with) will be strong.
As per usual, your career is your main thing this month. From May 11 through June, you'll be propelled energetically and will be practically unstoppable. You might earn that promotion. However, this won't be without the trademark roadblocks that come with Mercury retrograde. Use this as a time to polish things you've worked hard on.
May 18th's new moon in your brother earth sign Taurus might give you a stellar opportunity to travel internationally.
You might start the month with some valid concerns about finances. Anxieties run high near May 3, but there's really no need for alarm. You got this. Early May will prove to be a fruitful time to rethink your spending.
Your work life shines bright like a diamond after May 7. Your ideal project or assignment might fall into your lap around May 16. Don't squander it. 
Things might get grimy this month if you're involved in a legal situation. One thing Libras have in spades is grace, so be sure to employ your trademark class in communication if anyone tries to catch you ridin' dirty. 
You may have a good opportunity to invest in a new endeavor after the new moon on May 18 in Taurus. Just be sure to get all the details—Mercury goes retrograde that same day. 
SCORPIO
When I think of Scorpios during this full moon, I'm reminded of one of Kendrick Lamar's lyrics: "Enlighten you without frightening you." Scorpios know a thing or two about frightening others with their depth of emotion. Emotional openness might be unavoidable, and in that case, try to harness your sensitivity to share your feelings in a constructive way. Try to chill out around May 3 when the moon will be full in your sign. Think before you speak and try not to open your heart so easily.
Travel may occur near May 7, and if so, you'll have a blast. Credit card bills and loans might irritate you near May 11, when Mars, your co-ruler, enters your 8th house of shared money. What's more, Mercury is going to retrograde in that very same area. So, please try to keep your anger under control. 
On May 18, the new moon in Taurus cleanses you with a fresh start. It's very probable that you'll have another shot with someone, either romantically or in a business partnership. Don't mess it up. 
SAGGITARIUS
If you've been trying to hide your strong feelings about a traumatic experience or emotional confusion, early May's full moon will make it nearly impossible. It's in your best interest to just try to deal with your feelings rather than pushing them away.
Making paper and getting cash is king from May 7 into mid-June. An increase in your income, credit line, mortgage, or your partner's income could come to fruition. Whatever it is, you're bound to breathe a sigh of financial relief. 
But storms might be on the horizon when it comes to you and your partner. Please don't turn everything into a fight (I know how much you love doing that). Everything is an opportunity for growth. Be as patient as possible and watch your mouth around and after the 18th when Mercury goes retrograde. 
Job prospects are glistening after the new moon in Taurus on the 18th. But dot your I's and cross your T's, as this Mercury retrograde will be gnarly. 
Friendly fire is probable near the full moon in Scorpio on May 3. At best, you'll have a little kitty-cat spat with a friend. At worst, you'll go through a friend breakup (the worst kind of breakup, if you ask me). Overreaction is very likely with this full moon aspect, so be as Zen as possible.
If you're boo'd up, May 7 through June 5 will be especially sweet for you and yours. You could decide to move in together or even get engaged. For those without a partner, this aspect might make you want to lock down someone you're casually seeing. In business, this would be a golden time to spark a partnership. 
May 11 through much of June will saddle you with Herculean deadlines at work. Take your time with details—haste will screw you in the end. 
After the new moon on May 18, single Capricorns have a good opportunity to meet a potential bae, or (better yet) rekindle something with an old flame. 
AQUARIUS
You are magnetic! Or at least you are when it comes to your career around the full moon on May 3. You're bound to be noticed by the big bosses for all that extra work you've been putting in this year. Let 'em know.
Your success in the workplace will likely strengthen (or create) bonds between you and your work clique. Whatever you're working on around May 7 has the potential to be super fun and collaborative with your friends. Work is play this month.
Your sex drive is on 11, too, and you can get it all month, but especially from May 11 through most of June. Just like so many of the signs, this month is primed for an ex to make a steamy appearance, particularly around the new moon on the 18th. 
If you've been hemming and hawing over travel plans of any kind, this month's friendly, watery full moon in Scorpio will nail that shit down. This also goes for any legal situations you may be entangled in. The outcome looks favorable for either scenario.
Venus tours your house of love from May 7 until the first week of June, and love is bubbling all around you! Single Pisces will be the hot ticket on the meat market, and attached fishies will feel like their relationship is brand new.
The shit might hit the fan when it comes to your home situation from May 11 into late June. On the other hand, the shit might hit the fan with a family member if you're not careful with your words. Gardening and getting into the earth can be particularly therapeutic at this time. 
Estranged family members might come out of the woodwork after the new moon on May 18, or you may attend a family reunion. Pisces are always insanely indecisive, but with the Mercury retrograde, you will be even more wishy-washy. This is especially true for domestic and real estate issues. Don't settle on anything yet—just be patient.  
If there's a supercharged emotional situation you've been ignoring, it very likely will come to a head with the intensely passionate full moon in Scorpio in the first week of May. Face it, then tell that draining-ass drama to go away. Now dust yourself off. Whew.
Domesticity will become a fun focus after May 7. You might drop stacks on décor, or just enjoy spending time in your home. Either way, it will be cleansing. So, screw the haters and do you.
At the same time, family matters may be stirred up, and I am not talking about Steve Urkel. If there's been any tension between you and a family member, the week of May 16 looks like a decent time to iron out any beef.
Your ruling planet Mars sets your house of communication on fire mid-month, an excellent aspect for writing and learning. However, with Mercury retrograde, this is also a prime time to stick your foot in your mouth, so watch your ass and don't be so hasty.
The month ends on a lovely note with a glorious new moon in Taurus, right in your cash money sector. But remember: Do not sign contracts or launch anything until mid-June.