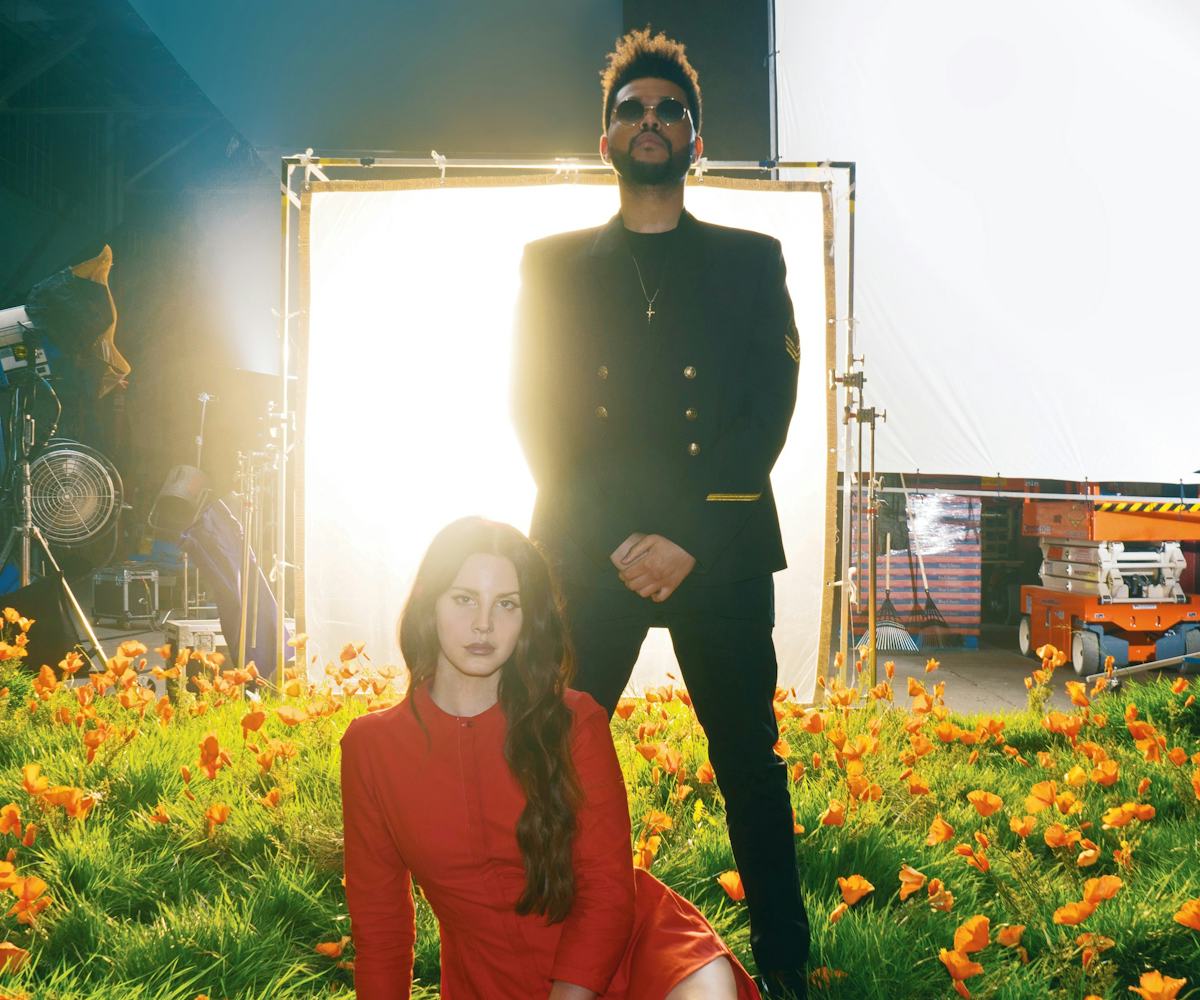 How Lana Del Rey Sets Herself Apart
LDR is our most committed pop star
On July 21, Lana Del Rey will finally bestow upon us Lust for Life, her fourth studio full-length (initially assumed to be dropping this week). But aside from the release date and a new video with The Weeknd, news around the record has also revolved around the way she's smiling on the album cover, which is a supposed feat for an artist who's become synonymous with musical melancholia.
Of course, her expression shouldn't be news and is only so because this is Lana we're talking about. Whether because of her album art, her stage presence, or her collaborations, the singer has intentionally set herself apart from her pop contemporaries, going on to exist and function largely in a league of her own. It's a power move that initially came with a real risk of backfire. Because while Del Rey can sing, write, and perform well live, her voice isn't on par with solo icons like Celine Dion or Beyoncé, nor does she test the musical and aesthetic waters like Rihanna. Instead, LDR used controversy to differentiate herself, building her mythos (and empire) in the process, and making her mark even more powerful.
In January 2011, the music industry decided to hate Dey Rey. A lackluster performance on SNL was parlayed into an international (and monumental) backlash as the singer was vilified for embodying the worst aspects of blog culture. Thanks to the internet, she had been found, sensationalized, and then failed to live up to the hype she had no control over. Following its release, Born to Die was heralded as a passable disappointment, and the image of a spinning Del Rey on live TV was burned into our brains.
But then she came out with two acclaimed follow-ups, Ultraviolence and Honeymoon. And from 2011 to 2016, Del Rey didn't stop working—nor did she really evolve. Where backlashes on par with Del Rey's tend to invite rebirth (see: Miley Cyrus), LDR nestled comfortably into her own image. She embraced vintage Americana and merged the aesthetic with sweeping ballads and wall-of-sound production. She maintained her signature waves, her cat's eyeliner, her vintage aesthetic. She unapologetically continued down her own path, opening up about the backlash, but acknowledging that she can't do much in life without inviting judgment.
"There's backlash about everything I do," she told Rolling Stone, one day before Born to Die's January 31 release. "When I walk outside, people have something to say about it. It wouldn't have mattered if I was absolutely excellent. People don't have anything nice to say about this project. I'm sure that's why you're writing about it."
There's currency in controversy, and pop in particular thrives on it. Centuries after their initial fallout, Katy Perry and Taylor Swift continue to stoke the fire of their feud. Last summer, Drake and Rihanna shared headlines while the nature of their relationship was hotly debated and catalogued over the course of a few months. The former members of One Direction are asked constantly about what they think about their bandmates while promoting their own solo work. Ed Sheeran pulled James Blunt back into the spotlight when it was reported that one of them had been sliced by a sword. And lest we forget the way we all fixated on the truth behind Beyoncé and Jay Z's relationship.
But Del Rey largely ignored it, removing herself from the narrative the media assigned by offering only professional rebuttals in the form of full-lengths, remixes, and singles. She didn't subscribe to Taylor's call for #Squad members, nor did she position herself at odds with any other artists. She cultivated her own place in the pop ecosystem, finding herself a festival mainstay over the last five summers while sparking musical relationships with Top 40 heavyweights like The Weeknd and legends like Stevie Nicks. She kept her eyes on her own paper, isolating herself from power groups and industry alliances and answering most questions with interviews or with her lyrics. And this served to create the ultimate artist brand. By seeming immune to criticism and to naysayers, LDR established her own set of boundaries and mythos: She'd come up on her own, faced the backlash on her own, and forged ahead on her own. To opt out of any norm is a powerful thing, but especially so for an artist.
And this alluded to Del Rey's innate understanding of self. Like Rihanna, she was embraced by the fashion industry, but continued to favor her classically feminine vintage cuts; she didn't take style risks because, let's face it, she never really has. Unlike Perry, Swift, or Cyrus, she didn't use her hair as an extension of reinvention for each album cycle. (It's been largely the same since the top of the decade.) Similar to Adele, she didn't stray from her favored genre, but, in contrast to the Grammy winner, she embraced the accessibility and softness of her voice, and refrained from the musical legacies of Adele or Beyoncé, who can hit every high note for at least 20 minutes. Lana Del Rey was—and has always been—unequivocally herself.
That takes work. It takes work not to get caught up in the drama of industry norms and names, and it takes work not to change your approach to songwriting or making music because you weren't universally well-received off the top. It establishes LDR as a true artist. By committing to her own trajectory, to her own approach to art and to musical narratives, she's identified simply by her discography and the legacy they'll leave. Plus, she's branded herself as someone who is unwavering; as an artist who obviously doesn't give a shit about the way third parties affect the bond between she's created between her and her work.
Which is some real power, and explains why whether or not she's smiling on an album cover constitutes as real conversation fodder.