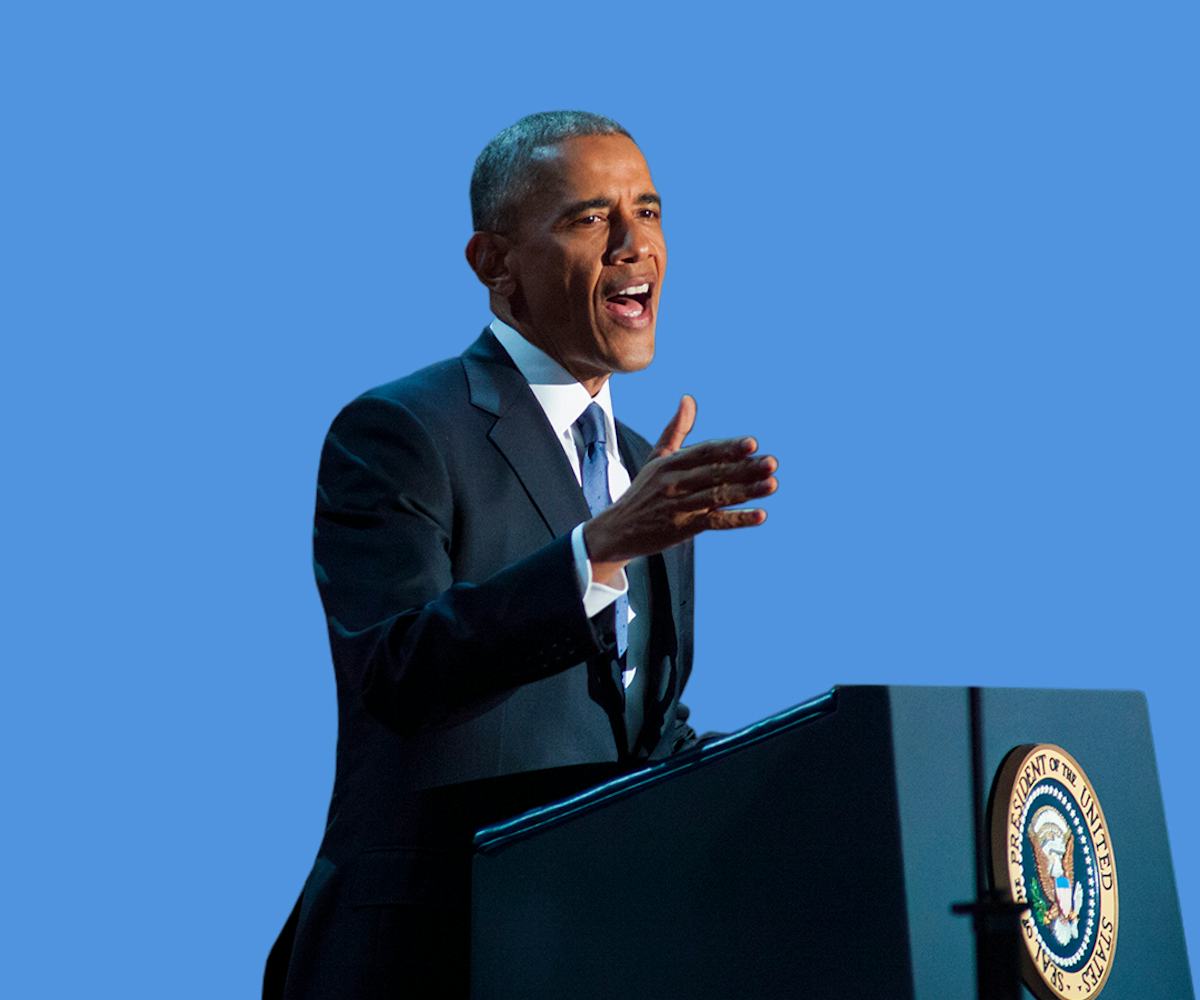 Photo by Darren Hauck/Getty Images
How To Be The Citizen Obama Wants You To Be
Barack Obama's farewell speech was a sharp finale to a strong eight years of American life, and with this speech he officially sealed his legacy. But a new presidency is about to begin, one that's rife with scandal even before it's started. Despite losing the popular vote by nearly three million, Donald Trump won the electoral vote and, as such, will become the 45th President of the United States on January 20. It's difficult not to feel despair at the prospect, but, as Michelle Obama said during her 2016 DNC speech, when they go low, we go high. And going high, in this case, means heeding a particular statement President Obama made during his farewell address.
What our nation needs now, more than ever, is hope in the democratic system. There is no room for cynicism; that is, after all, one of the reasons Trump landed the Oval Office. Surrounding yourself with like-minded people, as Obama states, and "retreating to our own bubbles" leaves little room for constructive dialogue, the foundation of a democracy. "Increasingly," Obama says, "we become so secure in our bubbles that we accept only information, whether true or not, that fits our opinions, instead of basing our opinions on the evidence that's out there." Dealing with it and going high in the process means actually getting out there, seeing things for yourself, and maybe, just maybe, finding it in yourself to act on the change you feel is necessary to right the wrongs many fear our country is headed toward. Obama says:
Ultimately, that's what our democracy demands. It needs you. Not just when there's an election, not just when your own narrow interest is at stake, but over the full span of a lifetime. If you're tired of arguing with strangers on the Internet, try to talk with one in real life. If something needs fixing, lace up your shoes and do some organizing. If you're disappointed by your elected officials, grab a clipboard, get some signatures, and run for office yourself. Show up. Dive in. Persevere.
This election has lighted a fire underneath many people who know that it is necessary to move the country as a whole in the right direction. Here are a few ways to do so. Know that it won't be easy, but firing off some well-worded Facebook status update just isn't enough anymore. As Obama assures, "For those of us fortunate enough to have been a part of this work, to see it up close, let me tell you, it can energize and inspire." May 2017 be the year of doing just that.  
1. Vote, Vote, Vote
Make sure you're first registered to do so. Voting is one of the easiest ways of making your voice heard. The key here is to stay abreast of your local and state office elections, which typically fall outside of the presidential election season. Though it may not seem so, they have influence over the grand scheme of things. To find out the election calendar for your state and county, head on over here. 
2. Lobby Your Local Officials
Voting for your local officials is step one; the next is voicing your concerns to them. You can find a list of your state and local officials here. Call them, write to them, attend their conferences, do whatever it is you can to make them aware of what's going on in your tiny ecosystem so that they may work to improve it and, in turn, improve the livelihood of much more.
3. Go To Meetings 
Whether it's a meeting of your state and local government or the meeting of a cause you're passionate about, make an effort to go. Fostering a community is vital to bettering a society and the sad thing is, not many people put in the energy to show up. The Black Lives Matter movement, for example, holds meetings for its various chapters across the nation to shed light on its progress on a local and national level, as well as areas of improvement. You can find your local chapter here. The same can be said for LGBTQIA+ centers. A list of local and state government meetings can be found here.
4. Donate
Organizations like Planned Parenthood are under attack from the national government. Donations are necessary to keep these resources (and the rights of many) afloat. You can donate to Planned Parenthood here. To help fight against civil liberty violations, donate to the ACLU. To help protect LGBTQIA+ rights, donate to the Human Rights Campaign. To help advocate and protect the rights of those with disabilities, donate to the National Disability Rights Network. The Transgender Law Center helps protect the rights of transgender and other gender non-conforming individuals and accepts donations here. To help reform immigration law and ensure the safety of undocumented communities, donate to the United We Dream Action Fund. Last, but not least, a donation to Color of Change helps fight racism and injustices toward POC. It should be noted that the majority of these organizations also have local chapters you can spend time at and physically make a difference.
5. Volunteer
Time is a precious thing, yes, but it's also a part of being a good neighbor. (It also provides a solid sense of well-being.) Planned Parenthood is always looking for volunteers, in addition to clinic escorts (folks who help walk a patient safely to and from the facility). For other public service volunteer opportunities, head here. And if you're interested in volunteering but are a little nervous to do it alone, Meetup is a fabulous networking tool to help you find other individuals in your area looking to do the same.