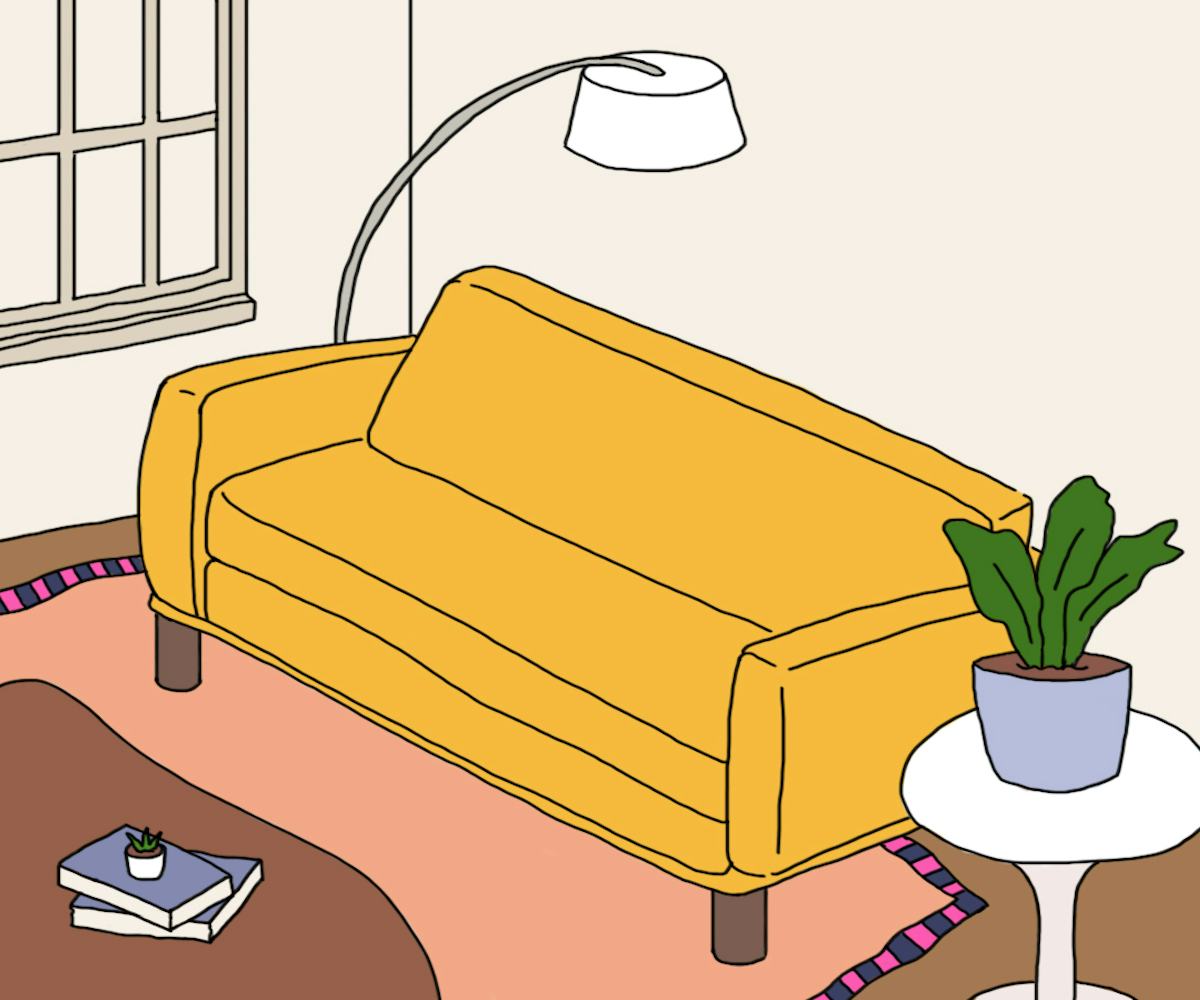 Illustrated by Jihyang Lim
How To Make The Most Of Your Teeny-Tiny Home
Décor tips and hacks from the experts
All of us could probably stand to have a bit more space when it comes to our home—we, New Yorkers, know that to be a fact. (Really, though, what's a girl gotta do for a walk-in closet around here?)
However, just because our living space is tiny doesn't make it any less awesome. Home is where the heart is, after all, even if our living room is nonexistent and our bathtub is in our kitchen. Moving into a shoebox-sized studio may seem discouraging at first, but it doesn't mean that it can't have the potential to look and feel as spacious as your dream loft. We chatted with experts in the world of interior design to get their insider tips and hacks for making the most of a small space.
Read on for ways to make your space look larger (even if it is just an optical illusion), utilize your walls space, and help keep your spirits high, even if your square footage is low.
When in doubt, build upWhen you're running out of floor space, the only way to go is up.
"This basic principle of any metropolitan city can easily be translated into the interior design of a micro living space," says James Tabb, designer at Laurel & Wolf. That said, take advantage of your walls—and not only for décor, but storage too. Shelving units high up on your wall will help find a new home for all of your knickknacks while also keeping things neat and less cluttered.
Tabb's favorite trick is to add a floating shelf very close to the ceiling that runs the perimeter of the room. "By accessorizing with books, accessories, and other collectibles, it creates an effect similar to crown molding," he says.
For those of us that aren't blessed with square footage but are with high ceilings, there's potential to really use it to your advantage. Ariel Farmer, designer at Homepolish, suggests hanging your curtains higher than the actual window frame in this case. "It will give the illusion of a loftier space," she suggests. A little optical illusion never hurt anyone!
Give your eyes a little breathing roomThe more cluttered your home is, the smaller it's going to look and feel. If you allow for a bit of negative space here and there, the room will visually open up—thus feeling a lot larger.
Tabb suggests giving your eyes a bit of breathing room, keeping some space between your furniture and corner walls. "When your apartment is small, it can be tempting to place furniture in corners to save space; however, this actually ends up making your space look and feel much smaller," he says. Kimberly Winthrop, another designer at Lauren & Wolf, suggests opting for sofas and credenzas that have visible legs. "That bit of negative space underneath will help keep your space from looking like it's filled from wall to wall with furniture," she says.
If you're in the market for new furniture, designer Ryan Saghian suggests opting for all things lucite. "When I have a small space to work with, nothing feels more airy than lucite furniture—whether it's a coffee table, console, or side table," he says. "Plus, it's so chic."
Sometimes, the more the merrier Sometimes no matter how organized you try to be, you just can't avoid the clutter. It's not like you're a hoarder or anything (despite what your mom says when she visits)—you just, well, like stuff. Okay, and maybe have a slight difficulty parting with things, but that's beside the point.
Fear not, though, as there is hope. Lizzie Grover, the creative director and interior design guru at Hutch, a new furniture and design space app, feels that more actually can be more—as long as it looks purposeful. "The best way to disguise small space clutter is to make it look intentional," she says. "Pile on the books, plants, decorative accessories, and utilitarian objects. The key to layering is to use unique and visually interesting pieces at different heights to keep the eye moving."
So breathe, you don't have to downsize your book or succulent collection, as long as they're displayed in a way that's visually stimulating.
The bolder, the betterJust because your place lacks space, doesn't mean it has to lack flair.
When it comes to room décor, Grover is an advocate for the bold, suggesting you opt for pieces that pack a bigger punch. "The smaller your space, the less opportunity you have to make an impact," she says. "Try mixing patterns and textures, using graphic pillows and art, and incorporating bright colors," she says. "Eye-catching pieces will distract the eye from the inevitable small space clutter."
Bring on the neon zig-zag and shag rugs.                                  
Your choice in paint can make a huge differenceThe colors you choose to paint a room can greatly affect how spacious it's perceived. While dark colors are probably not the first ones you reach for when decorating your new bedroom, they actually have the ability to make a space appear bigger. "Most people think that white or bright colors are the best room expanders," says Saghian. "To the contrary, painting a room a dark color not only elevates the room's elegance, but it also confuses the room's ending points which make it appear larger."
Whether you choose a darker color or not, painting your walls and your ceiling the same color can also trick your eye into thinking a room is bigger. Anjie Cho, architect, certified feng shui consultant, and author of 108 Ways To Create Holistic Spaces: Feng Shui and Green Design for Healing and Organic Homes, suggests going for an all-over color, as the monotone look creates a continuous surface, thus making the room look more expansive.
It's all about functional furnitureWhen your space is small, your furniture has to serve much more of a purpose than just aesthetic value. Maximum efficiency is key, so make sure to look for pieces that have more than one function. "Look for pieces with dual functionality: a bed with storage drawers, a desk that doubles as a vanity, or an ottoman that can serve as a coffee table or supplementary seating," says Farmer.
When it comes to choosing whether you can have a coffee table or an extra storage unit for all of your winter coats, you should be able to have both. In that situation, a vintage trunk would be your best bet by the way.
A gateleg or drop-leaf table is also a great piece of furniture to incorporate into your home, especially if you're one that likes the host. "If your kitchen and dining room is too small, these types of tables are an efficient solution for seating guests," says Tabb.
Create good feng shuiJust because your space isn't ginormous, doesn't mean you can't keep up good feng shui. Much like Tabb's suggestion of giving your furniture breathing room, Cho recommends keeping at least a 24-inch walkway between furniture pieces; otherwise, you'll stop the flow of energy, which can cause you to "feel choked, congested, and cramped in your home and in life." No, thank you.
Have a ton of art hanging on your walls? Cho also recommends keeping your art higher up on your walls. "Sometimes people have the tendency to hang their art lower in smaller spaces, but that also lowers your qi [life force]. To create good feng shui, keep the art eye at eye level or above. This will lift your qi—and your spirits."