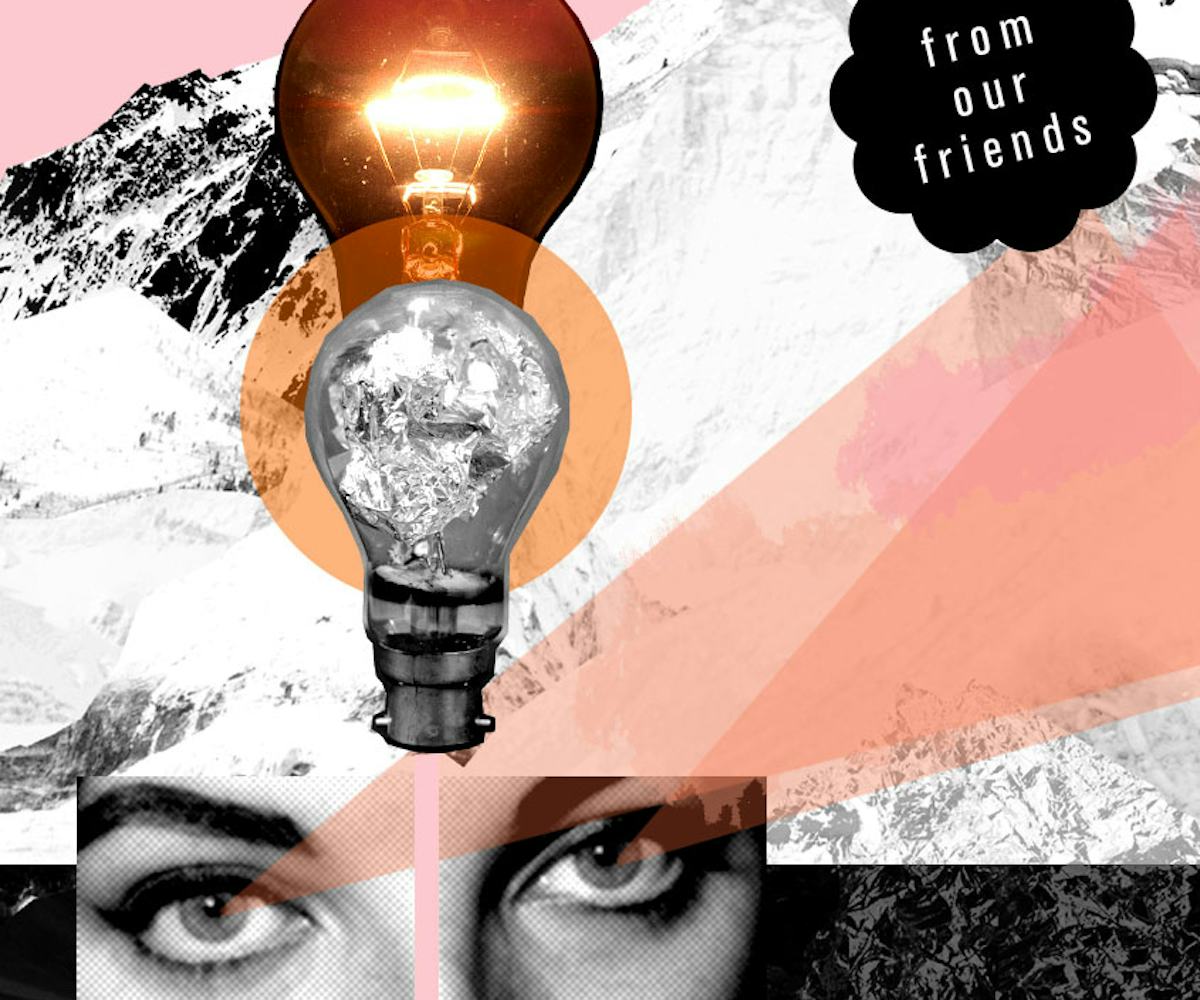 Collage photos by Getty Images.
What It *Actually* Means To Figure Out Your Dream Job—And Go For It
Finding your passion—and turning it into money—is tricky for anyone, but especially for women. The persistent gender wage gap, the lack of top female executives, and the dearth of mentorship present unique challenges. Luckily, our friends at Levo League give young women the tools and resources they need to navigate the workplace and to feel empowered and challenged in their careers. Check out their site for tips, tricks, and generally pretty wonderful advice about how to get the job you deserve.
A couple months ago, my boss got a new boss, which meant that I got a new big boss. In an effort to make everyone comfortable with the change, my big boss sat down with her new team members and promptly asked: "So, what do you want to be when you grow up?" I was stumped.
[Related: "I Quit My Job, and It Was the Best Decision I Ever Made"]
When I was younger, that first meant a veterinarian, until I realized that there were some pretty sad parts about that job I knew I wouldn't be able to handle. Then it was a hairdresser, and then owning my own salon. I eventually settled on writer/editor in New York City. Now that I can technically call myself a writer/editor in New York City, what's next? I know there's more for me to do in my career (there's no way I could have peaked at almost 25, right??), but I just don't know what that is yet. Her question really made me think about how to actually figure out my dream, and what steps I need to take to go for it.
Step 1: Think through your current passions.
Remember how invincible you used to feel as a kid and not even realize it? That's the feeling you need to adopt when thinking about your dream job and what you're passionate about. Start by asking yourself these questions:
What does my ideal Saturday afternoon look like? How am I spending my time?
What do I look forward to after the workday is over?
If salary wasn't a factor, what work would I do for free?
What are three activities that energize me?
What am I reading about when I browse Facebook or Twitter?
Once you've spent some time thinking about these questions, you can start making a list of patterns you see or topics that you've mentioned multiple times. Maybe your ideal Saturday consists of laying in bed and scrolling through Instagram, and your social media accounts are something you check any time you need a mental break at work. I was talking with some friends the other day (well, actually we were trying to figure out what caption to use for a new Instagram), and one of my friends said, "I wish I could just think of hashtags all day." And you know what I said? "That job probably exists." It does: social media editor (which includes hashtag brainstorming and much more digital fun).
[Learn: Find Your Purpose With Gabrielle Bernstein]
But back to your list. Let's say you've put together 5-10 things that you're passionate about—Google them. See what comes up, whether it's blogs or companies or people. The important thing to remember here is that you don't want to be too narrow in your research. You want to give yourself the utmost in possibilities when it comes to determining your dream job. For example, I love baking on the weekends, and then licking the spoon once said baking is finished. So, I wrote "eating raw cookie dough" down on my list, because hey, why not? When I searched "eating raw cookie dough," along with plentiful articles about whether or not it can kill you, I discovered this awesome blog called Munchies, which is part of Vice.com. Who knew that existed?? Jot down the information you've discovered, and then take some time to think on it.
Step 2: Evaluate your past work habits.
Let's be honest, a dream job isn't just about your passions. It's also about finding a culture that works for you, and figuring out how/where you work best. Just like you did in the first exercise, ask yourself the following questions to determine your best working style:
What are my talents?
What do I want to learn?
What environments have helped me thrive the most?
What kind of work don't I want to do?
What did I like/not like about my past jobs?
Once you've determined these answers for yourself, set up some time with a trusted co-worker or mentor (or several) to talk about them and get their perspective. They might have some insight into how you work that you weren't able to come up with yourself. Then, compare your notes and answers with their notes to get an accurate picture of what working style would be best for you.
For example, think about what meetings keep you engaged the most. Are you someone who needs a good brainstorm sesh every week to keep your brain fresh and inspired? Or maybe you're someone who limits the amount of meetings you're in and prefers email communication for updates, so you can have more working time to yourself. This may seem small, but it can have a major impact on what environment you seek out for the future.
[Related: Everything You Need to Know About Making a Career Change in Your 30s]
Step 3: Envision your future self.
Now, it's time to really paint a picture of your dream job. Do you see yourself in a corner office for most of your day, or would you rather be out moving and meeting new people? Do you want a flexible schedule that allows you to work from home, or do you thrive better when collaborating with your co-workers on a regular basis? These are the things that might not seem too major from the start, but can truly affect how happy you are during your day-to-day, even if you are doing something that really aligns with your passions.
Take a piece of paper, and label it with the hours from 9am to 6pm. Start jotting notes about what your ideal day would look like. Maybe you want to start even earlier than 9, so you can leave in time to catch an evening workout class. Or maybe you're more productive if you have working time in the morning (i.e. time with no meetings), and then your creative juices flow better in the afternoon. Once you do find a job that interests you, this will help you analyze if it's really the right fit.
Step 4: Go after that dream.
The next and final step is to create a job hunt timeline that works for you, whether that be three months or three years. That list of companies and people you created in step two—revisit that now. Make it your goal to set up three informational interviews in the next month of your dream job search. Networking is how most people get their jobs in today's world anyway, so this could be the most important thing you do in this whole process.
But, making new connections doesn't mean anything if you forget about them after your initial meeting. So put an alert on your calendar to check in with your new contacts every two months. And that doesn't have to mean setting up another coffee date—it can simply mean sharing something you tried and found successful from one of your previous conversations, sending an article that's of interest to you both, or to say congratulations if something major has recently happened at their company or in their life. Bottom line: You want to be top-of-mind when your dream job becomes available.
Remember, this is about finding your dream job, so it may take a little longer than you anticipate, but don't get discouraged. As long as you're taking steps each month toward your goal (and you can always take Levo's Build Your All-Star Network guide or Tell Your Story guide for a little extra brainpower), you're on the right path.
[Related: We Can All Take a Cue From Amal Clooney on Using Fame for Good]
Add your Levo profile to your email signature to start telling your story, your way.