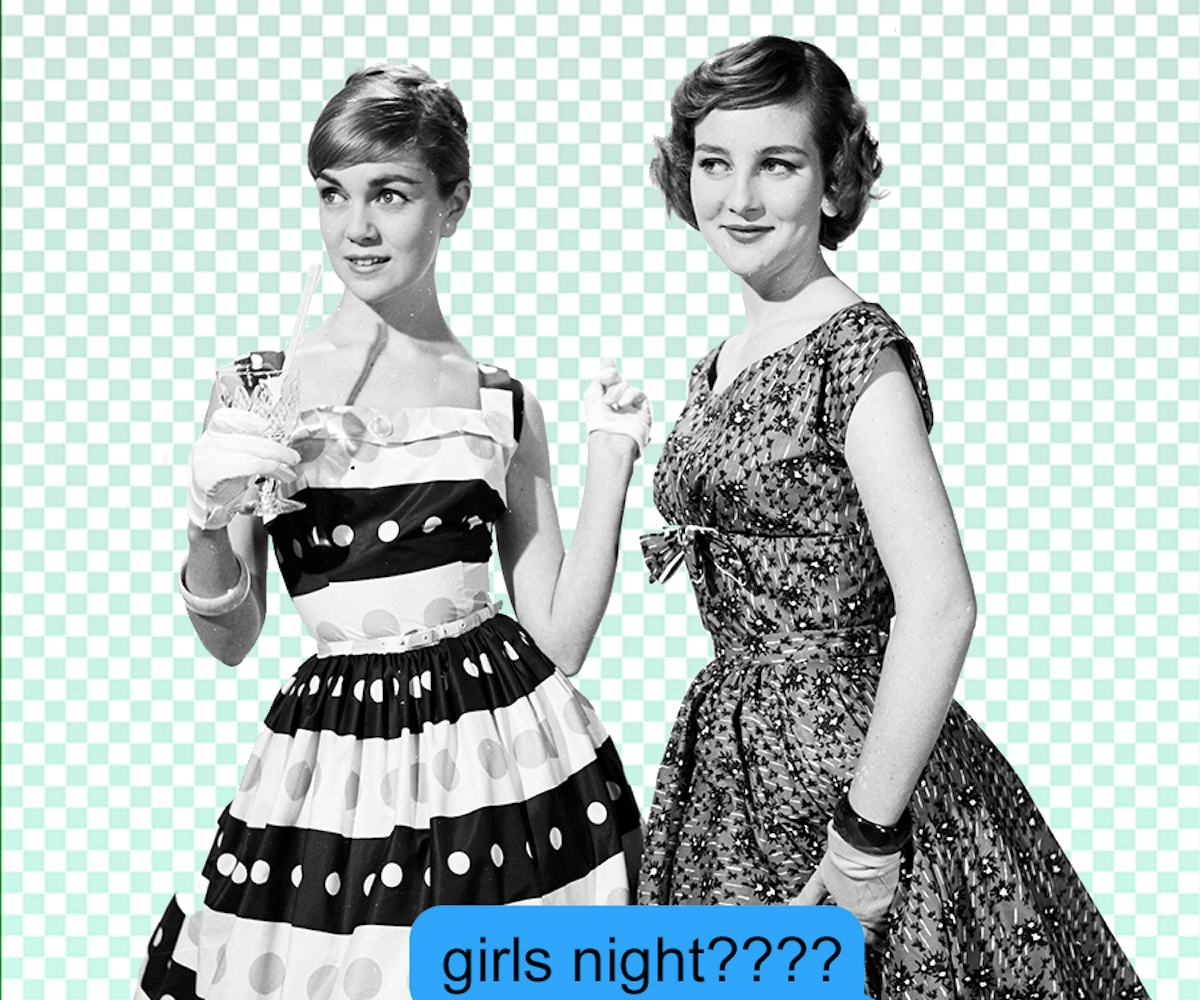 Photo by Chaloner Woods / Getty Images
How To Host A Girls' Night That Doesn't Suck
Let's be honest —girls' nights get a bad rap. At worst, they bring to mind the cringe-inducing sort smashed at the local bar, waving penis straws around like a conductor's baton. At best, they inspire thoughts of a gossip-fest with a good ol' box of Franzia and back-to-back Lifetime movies about a housewife's murderous revenge. Well, I'm here to dispel the drollness, to rid your mind of all the myths you've clutched to about how utterly eye-rolling a girls night is. In the words of Absolutely Fabulous, "Darling, if you want to talk bollocks and discover the meaning of life, you're better off downing a bottle of whiskey." Well, with girlfriends in tow, you can do both at the same time.
Once a month, my friends and I gather for a girls' night that is less Regina George, and more Nancy Downs ("we are the weirdos, mister"). Born several years ago out of a collective lament that hangouts were relegated to laryngitis-inducing conversations at clubs and bars, we decided to make girls night a regular edition, replete with a framework of rules… a set of girls' night commandments if you will. Thou shalt wear a onesie. Thou shalt commit to only eating junk food. Thou shalt never feel afraid to make an ass of thyself.
For four years now, we've carried the tradition on, and discovered that these nights give us something more than time with each other. Not only did we create a safe space to let our freak flags fly, it became a secret society of sorts that made us actually invest in our relationships. Too often we neglect friendships, and a regular girls' night is just the remedy to ensure you regularly chill with your WOEs. Below, tips on how to make your own girls' night a ridiculous, fun-filled soirée, based upon years of intensive "research." Remember, what happens at girls' night, stays at girls' night (unless the moment must be Snapped).
ATTIRE
Be comfortable and keep it casual—this is not a place for impressing others so a laid-back style is best. Save the going-out looks for your next concert or date because girls' night is a clear "no fucks given" zone. Going one step further, asking guests to arrive in pajamas (or onesies), sets a tone of familiarity and coziness that can help everyone instantly feel at ease, even newcomers who might not know your group. It's a great way to forge friendship intimacy from the moment people step into the door —nothing is a party-killer like feeling uptight or withdrawn and, in my experience, PJs are just the trick to avoid this. Besides, isn't life just more fun in a unicorn Kigurumi anyway?
ENTERTAINMENT
A good host has activities planned for the evening, once everyone gets in their groove. Your average house party might just be a free-flowing kitchen bar, but this is girls' night. We up the ante. Besides, the whole point of girls' night is for everyone to be present and enjoy current company.
If people are willing to split costs, invest in an enterprise to make the night special. Is your group crafty? Nab a couple of Handmade Beauty Boxes and make everything from bronzer to nail polish from scratch. Want to get spiritual? Hire a tarot card reader to come and do mini readings. Feel like getting gussied up? Flag down a mobile spa company to give everyone manicures, or if you feel splurgy, see if you can book a celebrity nail artist like Holly Falcone or AstroWifey.
Want to treat each other instead? Try a white elephant gift exchange. No longer just for the holidays, white elephants can be deliciously fun tests of rivalry, and wind up being more about the entertainment than the present you receive. Set a cap everyone is comfortable with ($10 to $20 is perfectly fine), and try on a theme, like jewelry, DIY gifts, books, or even recycled (bring something you already have at home that you no longer need).
Of course, sometimes there aren't spare funds to go around, but that doesn't mean you have to skimp on fun. Round up crowd-pleasing nostalgia favorites like The Craft, Buffy the Vampire Slayer, Cruel Intentions, Drive Me Crazy, or Clueless (we could go on) and prepare for you and your girls to drown in the visage of a young Ryan Phillippe and the power of "light as a feather, stiff as a board."
Lastly, board and card games. Yes, board and card games. Raunchy favorite Cards Against Humanity is never a letdown, as are several newer party diversions that leave snooze fests like Trivial Pursuit in the dust. Try out Furt, a "party game that defies logic and a reasonable explanation," Exploding Kittens, or personal favorite Quelf, which might make you answer the question, "Have you ever wanted to sit underneath the kitchen table?"
FOOD AND DRINK
In my experience, potluck is the way to go, and this goes for food and liquor. At our girls' night, it's a staunch rule that no item of food be objectively healthy (though if you have a friend with current dietary restrictions, do take them into account). Have fun with it—while standbys like dips, chips, and baked goods are always welcome, what about bacon-wrapped, well, anything, rainbow cereal treat squares, or rummy gummies (which conveniently ticks both food and liquor categories)? And hey, we know not all our friends can cook, but it's a legendary move to show up with the entire McDonald's dollar menu or boxes of Taco Bell. Get indulgent and playful at the same time!
As for liquor, between your own pantry and guest commitments, cover simple mixers and a basic bar (vodka, tequila, whiskey, rum, beer, and red and white wine for a bare minimum). While it may not seem like a lot, you'd be surprised how many cocktails you can throw together with only two ingredients. Also, some of your friends might have a special recipe of their own—let them show off their homemade punch or Moscow mule with a twist.
Lastly, make sure your guests have cups, plates, silverware, and napkins. How many of each? A good rule of thumb is to take the number of expected people and double it.
HOSTING TIPS
As the host, it's not only your job to provide the space, but to make sure everyone is taken care of as well. Pre-girls' night, check in on any allergies or diet requirements and see if there are liquors of choice. Make sure your guests have your phone number (and you're available to answer calls), public transportation and parking instructions, and, if needed, directions to enter your home. Being unable to reach a host or facing a locked door when you have no entry code can sully a mood faster than Beyoncé can drop a surprise album.
Before your doorbell starts to ring, have the bar and food prepped, your favorite Spotify playlist going, your chosen movies ready to play, and games and kits out and accessible. Your guests should walk into a set mood, not a war zone with every cabinet emptied while you look for the wine opener you swore you had. Designate a room or area to drop coats and belongings, and once the first arrivals start to trickle in, offer to take their things and see if you can pour them a drink. A little old-school hospitality goes a long way. 
Once the libations are freely flowing, it's time for you to start fine-tuning the soul of the room. A good host leads the arc of the party and notices when a new bottle of wine needs to be popped, a cup is sitting empty, and when Spotify goes rogue and decides to play Nickelback for no goddamn reason. Of course, it's not just about keeping track of atmosphere. Notice anyone off in a corner or not engaging? Bring them into the fold! Some have a harder time inserting themselves and girls' night is no time to be solo. If they're new to the group, introduce them to nearby people and get involved in the conversation at a level that is comfortable for everyone. When the room is socially lubricated, introduce an activity to capitalize on peak vibes.
Finally, let's be honest, most people will be throwing quite a few back. If you're serving drinks with abandon, have a contingency plan in case one of your guests can't (or simply doesn't want to) go home. Make sure an overly intoxicated friend knows they can crash if need be. Take the keys away, have spare sheets, towels, and a basic bathroom kit on hand, and your tequila-loving cohort will thank you for it in the morning.