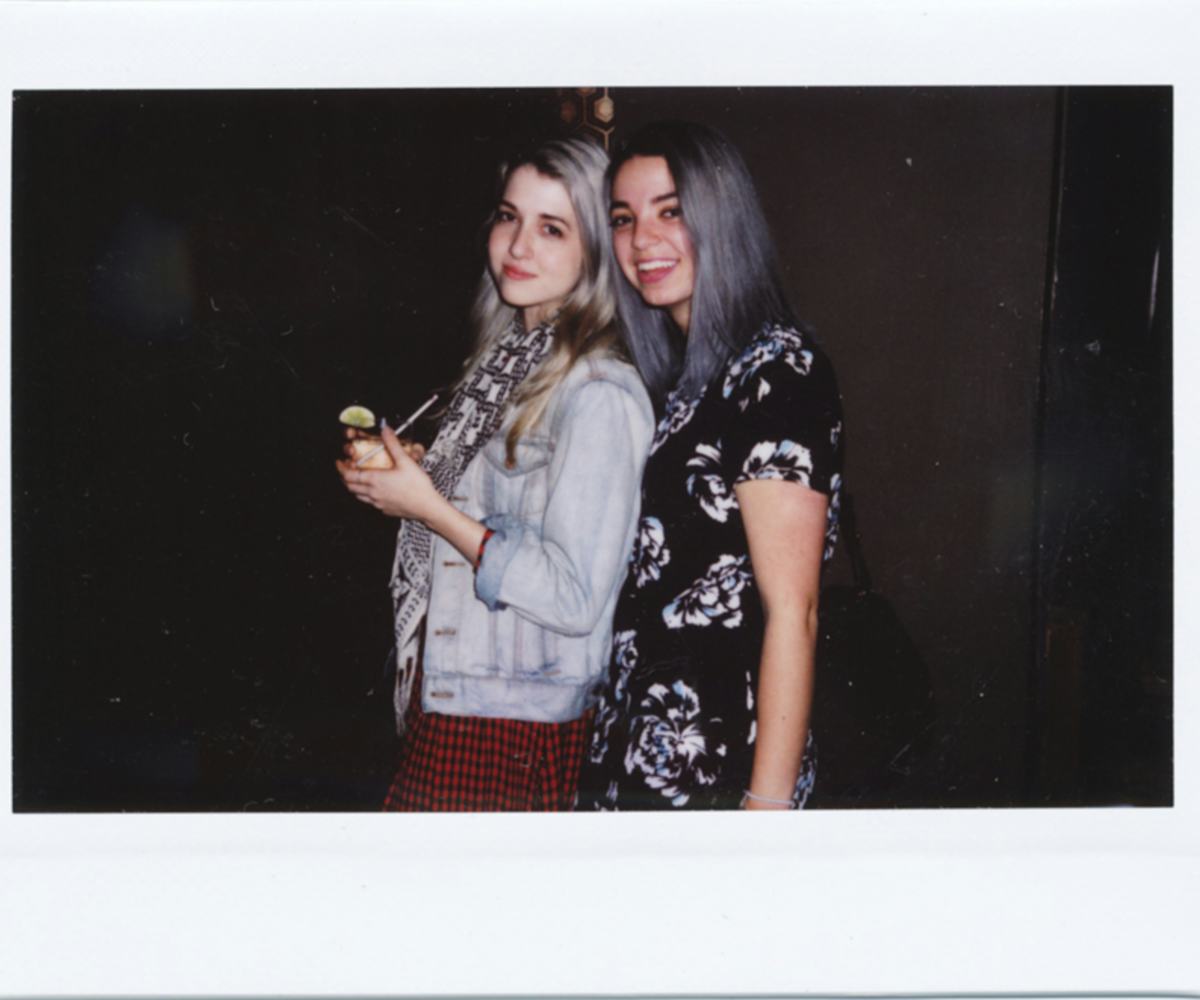 all photos by haley stark
how you can actually pull off gray hair
After a collective 13.5 hours—broken up over 2.5 days—moving back and forth between a salon chair and sink, my cacao-colored hair is now pale gray, every-so-lightly tinted blue. At the age of 22, I resemble the grandma emoji. And while I can say I did it all in the name of "investigative journalism," I have to admit that I had been thinking about what I would look like with gray hair for about two years, when I saw a silver-tressed manic pixie dream girl running to catch up with her friends on an intoxicated Shoreditch evening.
"Over the past few years there has been a big resurgence in a love of all things hair color. It all started with the ombré trend," says Ian Michael Black, North American Technical Director at
. "Gray has been so popular because it is unusual and obviously not natural on someone younger, but it is also less rebellious than green."
Seeing as I have had pink, turquoise, purple, and green hair the past—all at the same time, I might add—I decided to take the plunge at the request of my editor, but not before heading over to our gray-haired Art Director and begging her to show me what it would look like on Photoshop. Spoiler alert: It looked terrible. But, because of my general indifference towards my appearance, I agreed to it. The next week, I headed over to
to meet Black. Given that I am a) extremely lazy and low-maintenance and b) naturally dark haired, Black decided that we would leave my hair softly shadowed at the root, fading lighter with an unobnoxious ombré effect. According to Black, "This gives the hair more dimension and a sexier feel."
In short, I was to get the look of my daydreams: sexy grandma.
After an entire work day spent bleaching my hair, I was asked if I would mind coming in two days later to finish the job. Since my hair was essentially stripped of almost all color (and hence, health), we collectively decided to give it 24 hours to strengthen and harden again. "For those with darker natural hair, it is advised to take a slower-is-better approach," Black explains. "It is better to take your time in lightening hair as it will help maintain the hair's integrity." The next day was spent with a beanie on my head (there was no bleach at my roots yet and my hair was a nightmare-inducing, untoned yellow; you can witness the horror
). Unfortunately, on his way to meet me at the salon, Black fell down the subway steps and hurt his ankle. I was then passed to the (very capable) hands of stylist Eva Van Anglen, who made somehow all of my dreams come true—I now had really, really (did I mention really?) cool gray hair.
Since then, I've spent most of my time dodging strange glances from middle-aged graying women, applying bold lipstick (gray hair, no foundation, and a bare lip tends to equal the Laura-Palmer-in-a-plastic-bag look), noticing that a majority of my wardrobe is gray, and generally being wiser. To maintain the health and color, I have been using Aveda's
,
(which brightens strands and maintains the silver tones),
Color Conserve Daily Color Protect
as a leave-in conditioner, and
Dry Remedy Daily Moisturizing Oil
on both damp and dry hair (and occasionally as a nightime conditioning treatment) daily. Then, once a week, I mix a small amount of the Blue Malva Conditioner into the
Dry Remedy Moisturizing Masque
treatment and slather into my hair from root to tip for around 5 minutes.
When my roots start growing out, about 1cm or so, I'll get to see the wonderful Saint Laurent backpack-toting Black. "Try never to go over 8 weeks for lightening your roots," he says. "This will ensure that the color always lifts evenly in that area. For adding the tone, you can refresh more often, the products used to achieve the gray will not be strong or damaging and so can be re-applied when is needed." It's a bit of a commitment, but it's totally worth it.
If you're thinking about going gray, just do it. In my experience, people will think you're really cool, interesting, and wise—even if you're not. They will also find you more approachable, even if you have the worst resting b***h face on the planet. 
At press time, approximately 12% of NYLON staffers have gray hair.