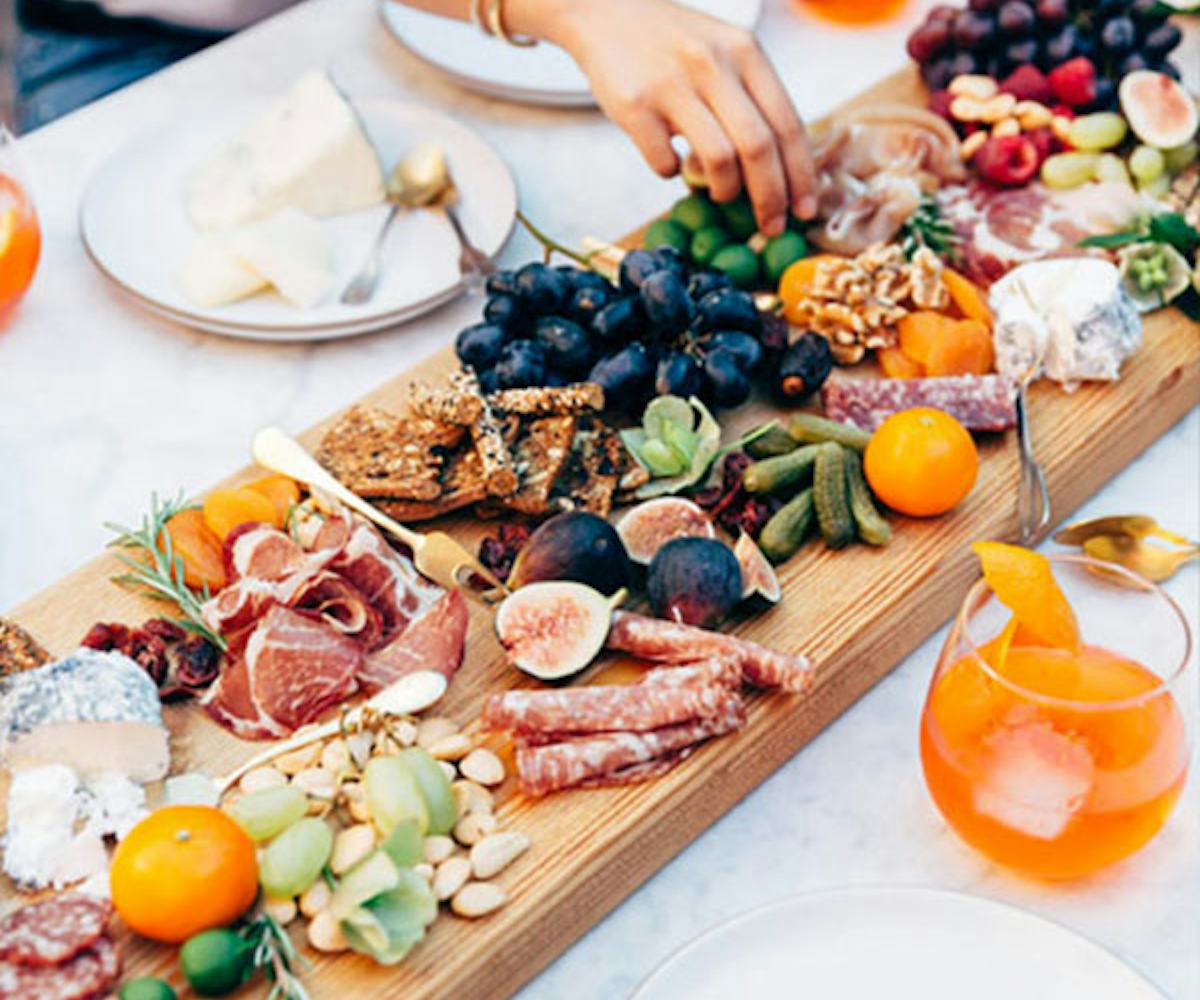 Photo via The Zoe Report / Pinterest
How To Throw A Dinner Party On A Dime
From our friends at the Zoe Report
Curated by Rachel Zoe and her team of editors and stylists, The Zoe Report is not only your stop for all things fashion and beauty but all-around lifestyle as well. Check out their site for everything from shopping tips to dating advice, to the latest in celebrity news.
Ever daydreamed about having your friends over for a little seasonal soirée? Your mind wanders through images of fresh flowers and cocktails, your best pals laughing and toasting the night away while delicious aromas waft in from the kitchen. You excitedly grab a pen and paper and start jotting down menu and decor ideas, barely keeping up with yourself! This is going to be such a great night! That is, until the costs and logistics swoop in and put a rain-cloud right over that daydream. Here we share a few tips for throwing an effortless bash without going broke.
Guest List
Pick your favorite pals, and be careful of over-extending the guest list. Keeping it small and intimate will help you stay sane when it comes to preparation, and also takes the pressure off—remember, these are your closest friends.
Drinks
There's no need to offer an open bar when it comes to beverages. Edit your options down to one cocktail–like a Greyhound, or lemonade mixed with vodka–or one budget-friendly wine. Better yet, ask your guests to bring themselves and their favorite bottle of bubbly.
Food
For the menu, keep the dishes simple, satisfying and beautiful to look at. Choosing dishes with less than five major ingredients and less than five steps will keep you relaxed and able to enjoy your own party, and will also keep your wallet happy. Try a simple caprese to start—it's colorful and a surefire taste-bud winner. When it comes to the entrée, try a fresh pasta dish with veggies, or go ahead and make (or order!) some pizzas. Create a toppings bar where guests can fancy up their slices with add-ons like truffle oil, pepper flakes, pineapple, freshly shaved Parmesan cheese or creamy ricotta, exotic mushrooms, basil leaves and precooked prosciutto. For dessert, serve scoops of vanilla ice cream (or maybe Wildberry Lavender) in white ramekins or small drinking glasses. Add a drizzle of honey, and then top it off with a mint leaf or edible flower for a pop of color. Ta-da! You've gone from kiddie cups to ice cream sophisticate.
Decor
The trick to elevating your dime-worthy dinner party is ambiance: As long as you're setting the perfect party vibe, everything else, from the menu to the cocktails to the conversation, will fall into place. You don't have to go overboard, but putting a little effort into your food presentation and your tablescape will go a long way. Don't forget string lights! Everyone loves them and they instantly give you that soft mood lighting, where everyone looks fabulous, no Instagram filters needed. Ditch the paper plates, plastic cups and pizza boxes in favor of vintage mix and match plates and platters from your local flea market. Usually you can find these on the cheap, and the hunt can be just as fun as throwing the party. Or, treat yourself to an affordable set of dishes that bring their own personality to the table and will hopefully motivate you to throw dinner parties on the regular. For drinks, it's easy to find budget-friendly glassware, so serve those pretty-in-pink Greyhounds in whiskey glasses, and have glass bottles for water and other beverages set along the table–it all feels very fancy, for just a few dollars.
Tablescape
When it comes to your table decor, this is one of the rare times where quantity wins over quality. There's no need to buy bunches of peonies and candlesticks–your table will be just as inviting when it's filled end to end with tea lights in simple votives and with single buds in vases. If you're not in the market for new vases, start collecting your used wine and beer bottles and give them new life with a hit of spray paint in your favorite color. Lay down a simple table-runner in a solid color, a fun print, or even just get a roll of Kraft paper to ground your candles and flowers, and you're done! DIY personalized place cards for each of your guests can add a little extra polish to your party, and, while you're at it, go ahead and create labels for each of your dishes, if you're presenting them buffet-style. This step is so simple, but can really elevate a party. It's easy: Just open up a blank document on your comp, choose your favorite font, space out the text accordingly on your page, print at home on some card-stock, and then cut to size. Or, if you have great handwriting, go ahead and write these out yourself. You can even add a twig of lavender, or one of those carnations, on each card, and voilá!