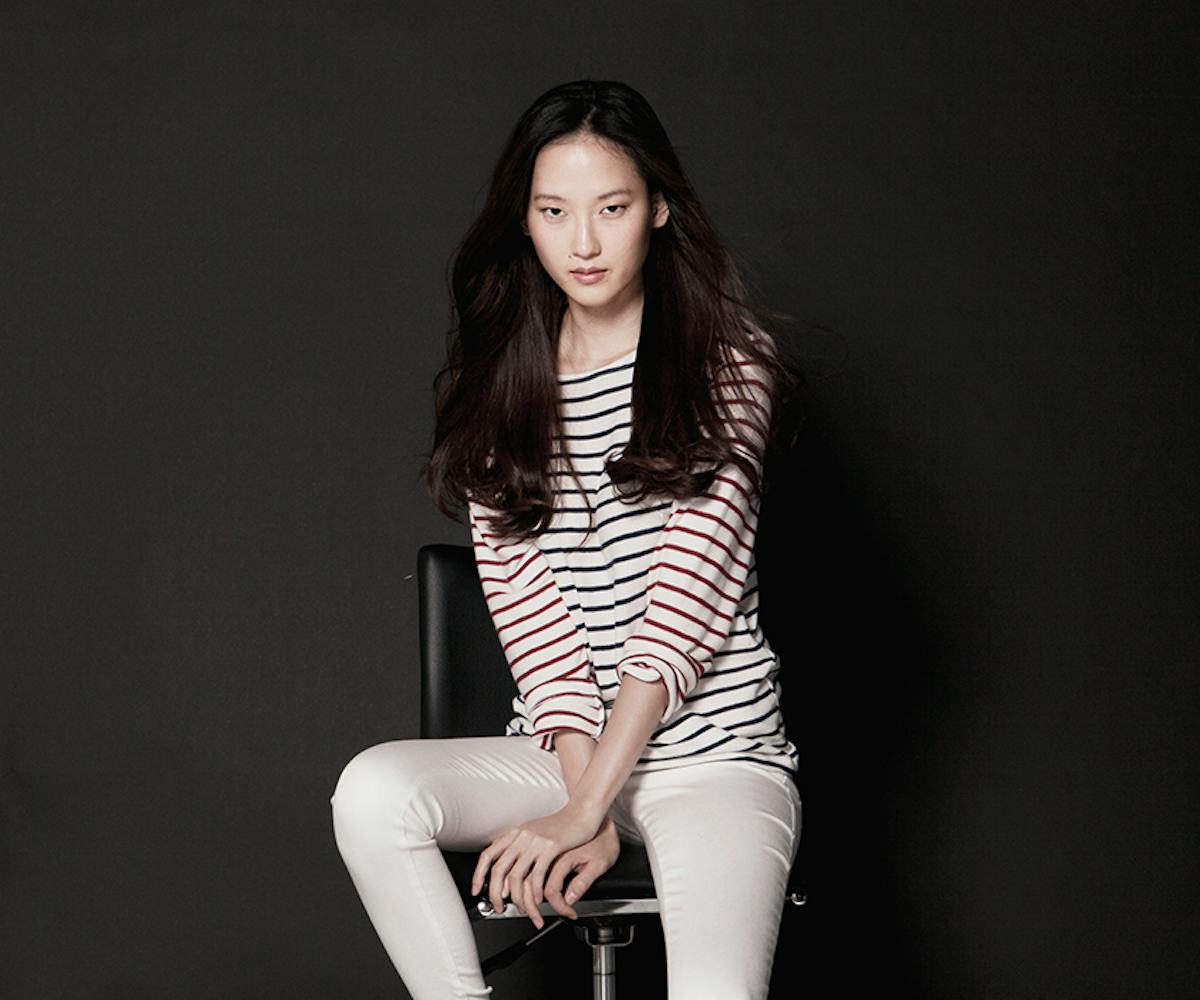 photo courtesy of hye park for lune
fly me to the moon
check out hye park's new line with lune.
We've known Hye Park was cool since she started modeling in 2008. The Korean model has everything that makes a model a star, but it's her effortless street style that we've always envied. (Turns out we're not the only ones though--
seem to agree.)
After years in the industry working with designers like Givenchy and Rad Hourani, Park is turning her attention to design with a new line of awesome tees and jackets in collaboration with Lune. And, yes, they are majorly cute. Like blow-your-salary cute. From a striped tee that's totally Jean Seberg to a star-printed one that is truly stellar we pretty much want every single piece. After jumping on the phone with Park, who is spending time in Seoul for Fashion Week, we only want to be a part of her cool-meets-casual world. 
As a model you have to travel so much were these the sort of essential things you always packed with you in your suitcase?
From my own brand, I always pack the "Pluto" tee, it's a striped T-shirt with a pocket. I can wear that with jeans, shorts, skirts, leather pants, leggings--with anything! I take those two of those shirts everywhere that go. Before starting my own line I usually wore the striped t-shirts almost every day. They're comfortable and go with everything. That's why I decided to make striped T-shirts in my line because I really do love them. 
Do you have a style icon who you like to dress like?
I love Kate Moss. I always follow her paparazzi pictures and look up her style. She mostly wears comfortable looks that are so chic and still casual. She's my icon.
If anyone in the world could wear one of your designs, it could be a real person or an imaginary character, who would you want it be?
I would say Twiggy. Before I started modeling I saw her picture--before I knew what modeling was--in some magazine and I was instantly obsessed with her and how she looked. If it's possible, I would want her to wear our line. It would be great.
I've seen so many pictures of celebrities wearing your designs; it must feel really crazy to see people like Jessica Alba in one of your T-shirts.
It does! I couldn't imagine all the big celebrities wearing my clothing line. It's really great and such an honor to see them wearing my line. I have many model friends who have worn my clothing line too and put pictures on Instagram and Twitter which really makes me happy too. Some of the Korean K-pop singers are also my friends and wear my line--that really means a lot to me too.
If you had to make a playlist for your collection, what songs would you put on it?
Bruno Mars, "Just The Way You Are," Maroon 5's "She Will Be Loved," and John Legend, "All of Me". These are the songs I listen to the most, so they'd have to be on my playlist.
Shop Hye Park and Lune
!