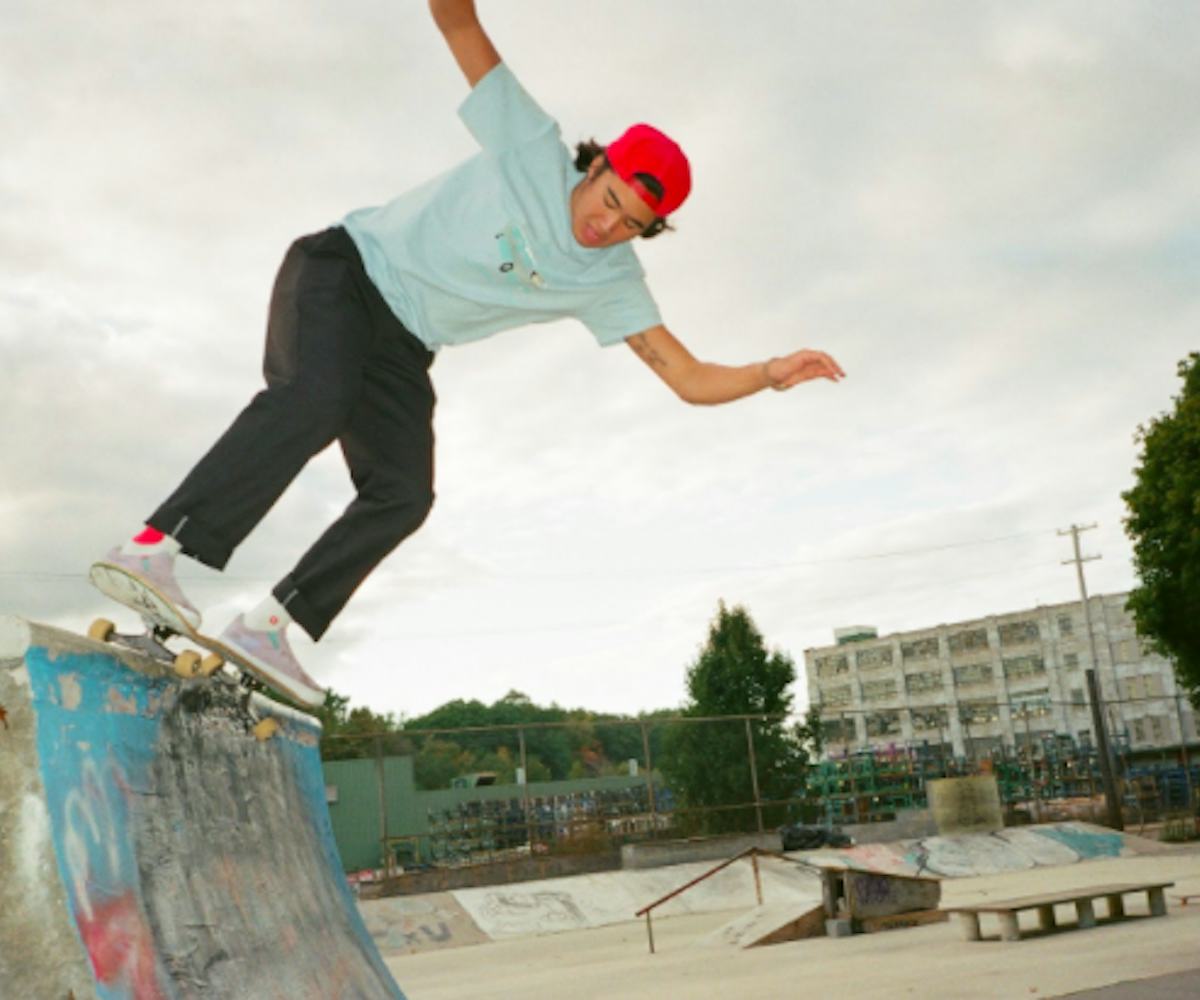 Photos courtesy of Illegal Civilization.
Meet Illegal Civilization, The Skate Crew You Wish You Knew
The group doubles as a creative collective
A few years ago on the outskirts of L.A., a group of people brought together by their love of skating formed Illegal Civilization, and on that day a skate crew and a creative collective was founded. Founder and North Hollywood native, Mikey Alfred, envisioned Illegal Civilization as an entity that could produce films, design clothing, and coordinate some kickass tours—and that's exactly what's happened. You may have caught the members during their most recent Illegal Civ Cinema Tour, or seen them around L.A. working with Jonah Hill on his upcoming directorial debut, or maybe you came across the shoot they did with Tyler the Creator and Kendall Jenner for Vogue. From its involvement in skating, film, fashion, and beyond, Illegal Civilization is flexing its multihyphenate muscle in true entrepreneurial spirit, proving that being told you can do anything, means that you can also do everything.
We spoke to Alfred and some of the other members about working with music's and film's biggest names, the impact skating has had on their lives, and how this is just the beginning for the crew.
Mikey Alfred
How did Illegal Civilization come about?
In 2011 I made a skate film called Spark of Life. All my friends and I hosted a premiere at Active Skate Shop in Burbank, California. Ten people came to the premiere, and we decided we needed to think of a more compelling name for the next film to attract a bigger crowd. The morning after the premiere we sat around our friend's backyard and tried to think of a new name for the next film. Names like "Illegal People," "Illegal Crew," and "Caution Tape" were spewed over the next few hours, and finally "Illegal Civilization" was birthed. We ran with the name for the rest of time. 
What role has skating played in your life? 
I started filming skating when I was 12, hanging out at Active Skate shop in Burbank every day. Through this consistent loitering, I started to meet other skaters, and we would venture out of our neighborhoods—North Hollywood, Burbank, Glendale area—and go into Central and South L.A. to skate. Through venturing out, I met Na-Kel Smith, a skater who introduced me to Tyler the Creator, and through Tyler, I met some of the pillars in my current friend group today. The first time I met Jonah Hill we talked about two things: film and skating. Everywhere I travel in the world, skaters will leave their job to drive me around and make sure I go to eat at good restaurants. Skateboarding is not only something I'm thankful for, it's something I'm indebted to.
You recently toured with Frank Ocean and Spike Jonze. Can you tell us a bit more about that experience?
Touring with Spike and Frank was life-changing—being in the presence of greatness makes me want to be great. Frank is someone that makes me feel like I need to step it up. No one is more tasteful, no one is a better conversationalist, and no one is more focused than him. I think back to being driven in a town car speeding down the FDR Drive [in New York City] with Spike and hearing him tell old stories about trying to get Being John Malkovich made. Every time I've hung with Spike, he wears skate shoes, and that constantly reminds me how tangible all my goals of directing and producing features are. 
What would you consider your biggest accomplishment so far?
Co-producing a movie with Jonah Hill and Eli Bush. Since I've been 10 years old, I've had a YouTube channel, and every day of my life since then has been committed to making films, editing them, writing them, watching them, etc. To be able to work on a feature with my hero, Jonah, learn so much from him and Eli, and cast all my best friends as the actors and extras was a dream come true.
Who have been some of the most influential people in your life?
Jonah Hill, Tyler the Creator, my parents, and Na-Kel Smith have had the biggest impact on me in my life. From Jonah, I've learned about being an adult; from Tyler, I've learned how to enjoy life; my parents taught me a lot about confidence, and Na-Kel Smith is someone I've been able to confide in and build pyramids with. 
You've directed films, designed clothes, curated events, put together tours, and tons more. Is there any avenue that you are looking to explore more, that you haven't explored yet?
Ultimately, I want to focus 100 percent on film, but the goal is to set up different entireties within Illegal Civilization to run self-sufficiently. The touring, clothing, and film will always have my stamp of approval, but the more I can empower others within the organization to make decisions, the better it is for all parties.  
What was one of your favorite tour moments from the Illegal Civilization Cinema Tour?
The show in Montreal. It was the first stop, and we sold out the venue at 600 tickets. Throughout the packed show, all I could think about was one thing—it's only the beginning. Selling out a 600 capacity venue is awesome to us, but Jay Z sells out 30,000 seater venues, so to him it's nothing. The tour was so unorthodox because no one treats short films, and the night goes as followed: short film plays first, opening band, closing rapper. Often patrons were confused at the beginning of the event but left craving more. We're the first people to ever do a tour like this, and I can't wait to do it again. 
What are some of yours and Illegal Civilization's upcoming projects?
Next, we are releasing a short film with The Fader, and looking for funding on more shorts. IC3, our most anticipated skate film, is coming out in 2018. Lastly, we're excited about partnering with Zumiez for all of 2018 on our clothing. Things are looking up, and 2018 is the year for us to execute! 
Nico Hiraga
How did you get involved with Illegal Civilization?
I met Mikey when I was younger through skating, probably around 15 years old. We pretty much skated, filmed, goofed off, etc., together, and now we are here. Magical! [laughs]
Favorite tour moment: Probably every time we would all be in the van, whether it be sleeping, playing video games, blasting music, or raging when the tickets sold out. It's when everyone was really together.
Aramis Hudson
How did you get involved with Illegal Civilization?
Through skateboarding, been knowing Mikey forever!
Favorite tour moment: 
Most memorable moment on the IC tour was when I was about to fight some dude in the crowd because he was bullying people.
Kevin White
How did you get involved with Illegal Civilization? 
I was at Lafayette Park one day, and I was already friends with Nak, but he introduced me to Mikey. They invited me to Berendo School, I didn't end up going with them that day, but the rest is history. 
Favorite tour moment: 
Watching Nak perform his songs—that shit was sick! He even had me and Will come out and turn up with him in NYC.
Ryder McLaughlin
How did you get involved with Illegal Civilization?
I met Mikey through my friend, Henry, randomly skating down the street. We started hanging out and skating a lot, and now, two years later, he's my close friend and I skate for his company. 
Favorite tour moment: Watching Aramis, Gary, and Denzel rapping outside the venue in San Diego, just talking shit to each other.
Davonte Jolly
How did you get involved with Illegal Civilization?
Mikey asked me if I would be down to be in the skate filmer for IC and, of course, I was down because it was with all my friends. 
Favorite tour moment: 
Watching Nak perform at the NYC show. 
Zach Saraceno
How did you get involved with Illegal Civilization: 
Kevin White hit me up to skate. I then started skating with him and everyone a lot. 
Favorite tour moment: The mosh pit. [laughs]