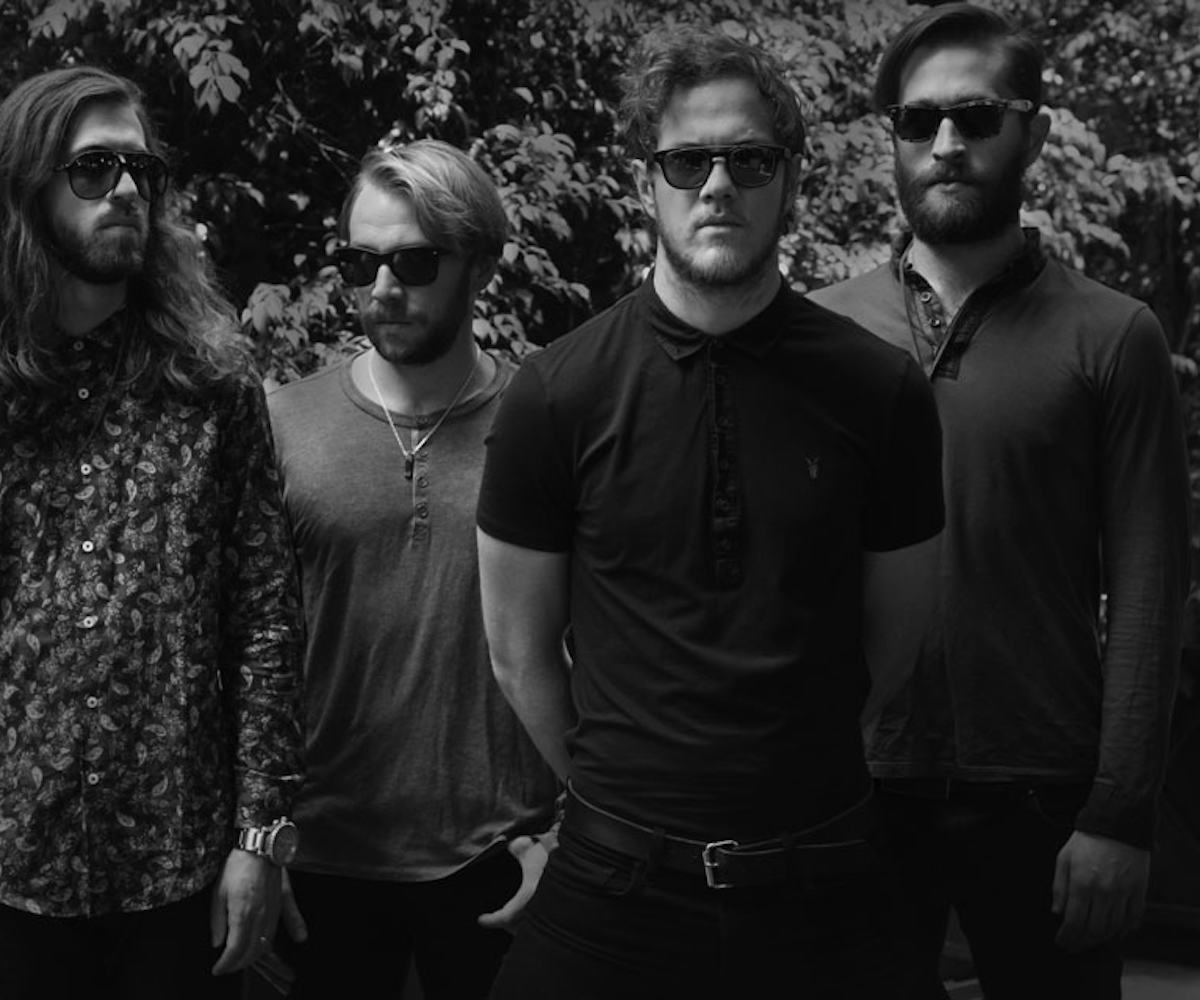 Photo by Napoleón Habeica
imagine dragons come clean on $1'smoke + mirrors'
That first big payday for a rising band usually comes right before some reckless spending and a trip to the exotic-car dealership. Not so for Imagine Dragons.
"Nothing can beat my 2003 white Subaru Outback," says Wayne Sermon, the band's guitarist, via phone from Colombia, where the band is nearing the end of a short tour of Mexico and South America. "All of us have the same car we had before," adds frontman Dan Reynolds, also on the line. "Our goal was just to be able to make enough money to support ourselves. But who knows, maybe I'll talk to you in five years, and I'll be like, 'Oh yeah, I have five Lamborghinis.' But none of us have done anything wild with our money. Plus we haven't had a minute to spend it."
Since the rock-pop crew—which also includes drummer Daniel Platzman and bassist Ben McKee—released their debut album, Night Visions, in 2012, Imagine Dragons have erupted. Propelled by the rock- and dubstep-fused hit "Radioactive," the record went double platinum. And they transitioned from playing covers in Vegas lounges, beginning in the summer of 2008, to performing at the Grammys with Kendrick Lamar in 2014. 
Nowadays, most karaoke bars have the certified banger in heavy rotation. "We had no damn clue that 'Radioactive' would be as big as it was," says Sermon. Lucky for them they never felt the weight of creating another megahit. Smoke + Mirrors, their second studio album, was written while touring their first. "We wrote over 100 demos, and there really wasn't this pressure on one song where we went, 'OK, this better be 'Radioactive 2' or else we're sunk,'" adds Sermon. "It was just like, 'Let's write, and whatever songs turn out best will be on the album.'"
When the Night Visions trek wrapped, it was back to Vegas to build a studio in a renovated house in a residential area. "Some weird, perverted bachelor used to own it," says Sermon of the house they revamped. "There was a hot tub in the living room. It's pretty bizarre, but it sounds amazing when you stick a mic in there. It's all drained. We try everything. You never know what's going to work." 
Smoke + Mirrors was overseen by Rihanna and Eminem producer Alex Da Kid, who also worked on Night Visions and signed Imagine Dragons to his Interscope imprint, Kidinakorner, in 2011. The album sees the band's mix of synth-rock, folk, and hip-hop return. But the record is deeper and darker, a quality that, in some part, can be attributed to Reynolds's melancholy. He has struggled with depression since adolescence. 
"In a lot of ways I've achieved everything I could have ever hoped for," says the singer. "All my wildest dreams have come true. Yet I still get depressed, the exact same as I did back in high school. It's really a chemical thing that people deal with. People face it in a million different ways, and it's not like there's some item or object that's going to bring you happiness."
The album made for some pretty uncomfortable conversations between Reynolds, who grew up in a Mormon household, and his family. Imagine Dragons' latest single "I Bet My Life" is about his troubled relationship with his parents. "I know I took the path that you would never want for me/ I gave you hell through all the years," sings Reynolds. 
"There are certain times when you grow up in a really conservative home where you're going to feel like you want to rebel," explains Reynolds. "You could say my mom was overprotective. But now I have a two-year-old daughter [Arrow, with wife and Nico Vega frontwoman Aja Volkman], so if you ask me what I would do for my daughter to protect her from the world, I would do anything. This record dives into self-conflict and coming out on the other side with a more solid understanding of self. But spiritually speaking, I feel like I'm still figuring myself out." 
Smoke + Mirrors also digs at the band's transition to fame. "When we were on the road, things started to change for us," says Sermon. "Things were blowing up faster than we expected. It made us question, 'I know I'm not as fun as I used to be, so why are people laughing a little bit harder?' I feel like Dan captured that lyrically, and it became the linchpin of the album."
In June, Imagine Dragons will hit the road for their Smoke + Mirrors tour. "We've been robbed, broke, rich. We've experienced a lot of life together," says Reynolds. "When people ask me what's the greatest therapy for depression, I say that there is nothing that brings me more peace and freedom than performing live. It's healing."