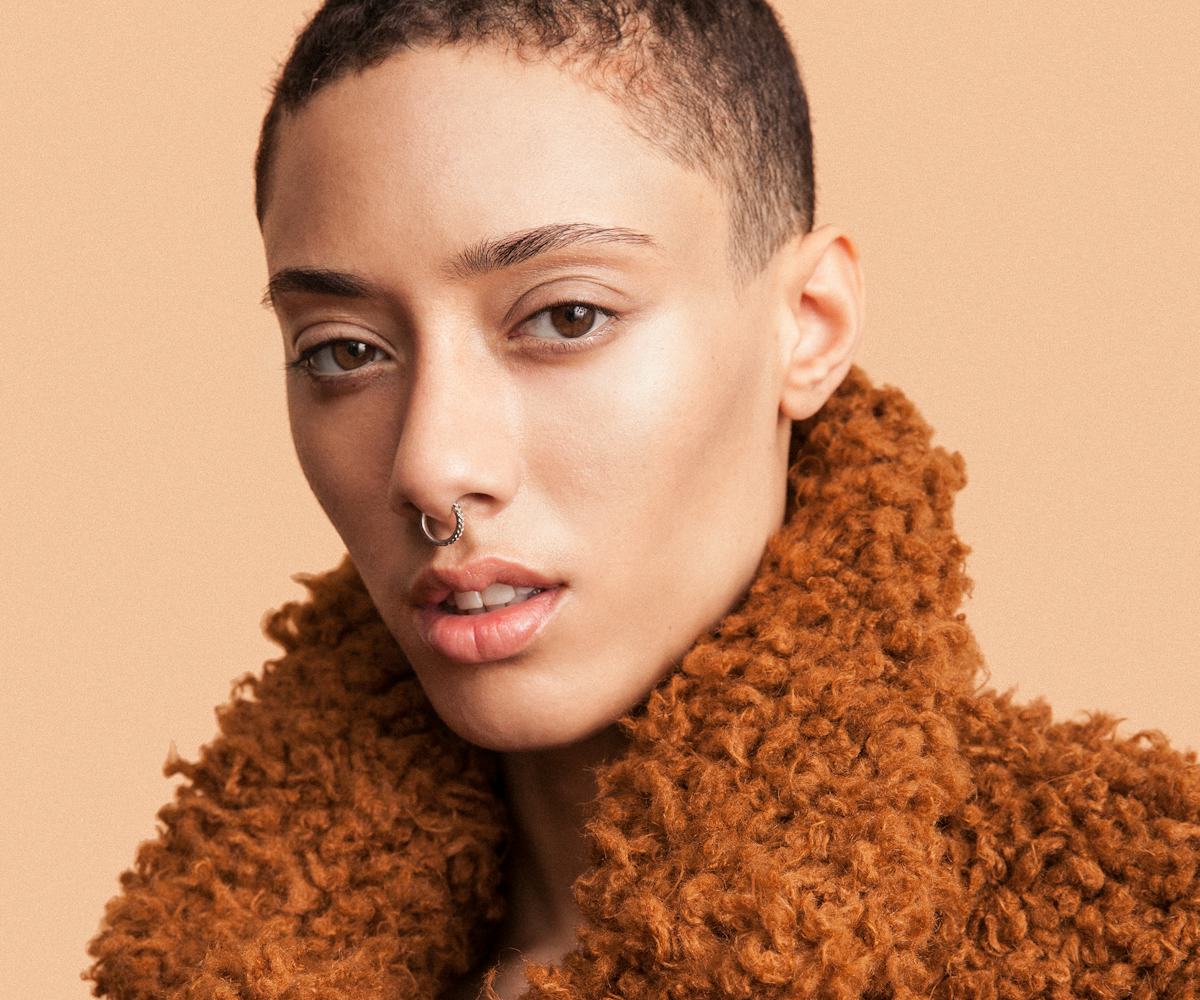 Photo courtesy of Indi Irvin
Indi Irvin Gets Real About Inclusivity In The Fashion Industry
"We have to keep being seen and keep being heard"
Back in March, all eyes were on India "Indi" Irvin when she and a group of black models gathered outside of the Balenciaga show for a "Black Models Matter" protest. Their message was heard loud and clear as they put on a passionate display to point out some of the systemic racism issues at Paris Fashion Week and beyond. Irvin organized the event to raise awareness about the lack of diversity and inclusivity in the fashion industry. Even though calling out an industry that she is very much a part of was a potential risk for her modeling career, Irvin carried on rallying with her peers.
Prior to the Black Models Matter protest, the 26-year-old was heavily involved in the Free the Nipple campaign. She even appears in the short documentary in which a group of women is shown marching through New York topless from Times Square to the Lower East Side. 
"I felt really strongly about that because I'm all about equal rights. I always thought it was unfair that a guy could do something and a girl was looked at totally differently for doing the same thing," she says. "A guy can go to the beach and be topless, and then a girl does it, and it's this big deal. It's not like I really want to be topless, it's just I want to be able to have the freedom to do it."
Irvin identifies as a unisex model and compares herself to Mulan, the only Disney princess she has ever related to. In addition to chopping off all of her hair so she could secretly join the military and honor her country, Mulan was fighting for something that she believed in. She adds, "That was always me." The main difference here though is that Irvin isn't in disguise—she wants the world to know exactly who she is and what she stands for.
Lately, Irvin has also been using art as a way to channel her frustrations with society. We spoke to the model to learn more about her journey in the activism space and find out some of her plans for dominating the fashion and art world.
How early did you start learning about activism and getting involved with protesting? 
If I try to look back, I think my activism and protesting kind of started with my mom. I was always arguing with her, asking her why I had to do certain things. I was a tomboy growing up, and she'd always want me to wear dresses, and I was just like, "Why? Why do I have to wear a dress? Why can't I wear jeans? Why can't I dress the way I want to dress?" Going back and forth with her, that's kind of like my early protest. 
In general, it's hard to get work as a model but especially as a woman of color. Why did you feel like it was more important to speak out and to protest than to be a part of Paris Fashion Week?
The industry is very trendy, so they'll use the same one girl, and they'll just keep using her and using her until she's all used up. I went to so many castings in Milan, and I really put my all in, and it was just the same five models who came from New York. They came through, and they took it over. In Milan, there are no black models, so I was like, "Oh, I have a really good shot this season." I did okay, but I didn't do as well as I wanted to, so by the time I got to Paris I was fed up and I only had one show. 
I really wanted to speak out and encourage the big models who are walking for these shows to say something about what's going on in the industry and how they're only being used as trends. Paris, they always have been the same way—they don't really change that much. It was the perfect place to do it out of all four of the big cities because this year they said New York Fashion was the only fashion week to have transgender models. No other industry or city has done that, so I just felt like Paris was the perfect place.
What you're doing is so necessary right now. If people in the industry don't speak up, nobody's ever going to care. 
Yeah, exactly. I called [my agent] before I did the protest. I was just going to do it, but I was like, "I should actually ask for advice." I called him, and I was like, "Do you think I should do this? Do you think it'll ruin my career? Do you think I'll never get a job again and no one will ever want to work with me?" He was like, "Honestly, I think you should do it. Visibility is better than no visibility." 
When I did this protest I kind of put everything out on the line. I was telling myself, If this was my career and I did nothing after this then I'm happy, I'm cool. I could stop modeling now and be fine. And it's actually been amazing, it got way more coverage than I thought. I had no idea that it would turn out like this, so I'm really glad I did it. 
Why is protesting important for you? 
I used to protest a lot with Black Lives Matter, and I kind of stopped 'cause I felt really discouraged. When we were out there, [the police] were just arresting us... Nothing was happening. I kind of gave up on protesting for awhile, but coming back to it, it actually does matter. We have to keep being seen and keep being heard. We have to be unmoved, and they have to kick us out and arrest us, and we have to come right back the next day.
Where are you seeing the most improvement in the industry in terms of visibility and representation?
I definitely think New York. It's getting more popular for transgender models to be in shows; two transgender models were in Marc Jacobs' show. But it's still two out of so many girls who've been trying so hard. I think New York is definitely at the top as far as diversity, and the worst is probably Milan.
Are things improving backstage with the hair and makeup stylists that are being hired?
I don't think so. I don't even think that people are thinking about it this far. I see now that it's becoming a trend, Black Models Matter. A lot of people are talking about it, but I don't think it's reaching backstage. Hairstylists sometimes have no idea what to do with curly girls hair. All the makeup, all the hair, everyone will be white or Asian. We won't have anyone on set who knows exactly what they're doing, which is kind of crazy. 
Can you tell me more about your art exhibit that's going to be opening this summer?
It's basically going to be an exploration. I still haven't really completely come up with the concept, but I want to go more into performance art. I want to do something with low lighting, dramatic music, African drums... I want to tell a story, without saying anything, through movement and touch on the struggle of being trapped within your own body in this world. It seems kind of vast, and I still don't have everything together, but I want to do a lot of mirrors; I really want the show to help people to look more within themselves. I think the whole world will change after that 'cause it all comes from within.
What keeps you motivated to get up every day and keep pushing through to do what you love to do?
I believe in God, and I believe in Jesus. Spirituality keeps me very motivated. I always think that I was put on this earth for a reason. Sometimes I get distracted, but the older you get, the more you start to realize that we're all here to love each other and to help each other out. I'm motivated by the fact that I'm still here and I know that I'm supposed to be doing something great. If you are true to yourself and you have faith, then all the little things fall into place.
What are your methods of self-care during this time?
Art therapy is probably my biggest thing. I haven't been an artist for too long. I started showing my work maybe four or five years ago, but that's probably what keeps me focused. Also traveling. With all the things that are going on with Trump right now and being in a big city like New York, you can feel really trapped, so that's why I've been in Europe for the past six months. I left on a whim, I had no idea what I was going to do, and everything fell into place so magically.
What are you hoping to accomplish by the end of this year? 
I would really hope to get an agency in more countries, especially Paris and London. Honestly, I take everything how it comes. I just hope that I'm healthy and alive and my family is well; I don't really ask for too much. I'm trying to go with the flow. I hope Trump gets impeached, that would be amazing.
My mentor right now is in Africa. She is one of my biggest inspirations, and she's been going through a spiritual transition... She went to Africa, and she's just really killing it over there. She's with this one village now, and she's helping get water from the top of the mountain. She's just doing things that really matter. A family adopted her, and she kind of disappeared, I haven't seen her in so long but I want to make it over there. I would love to stay there for six months, get adopted by a village like her, and use my network or popularity to try to get some help and funds to places that really need it.