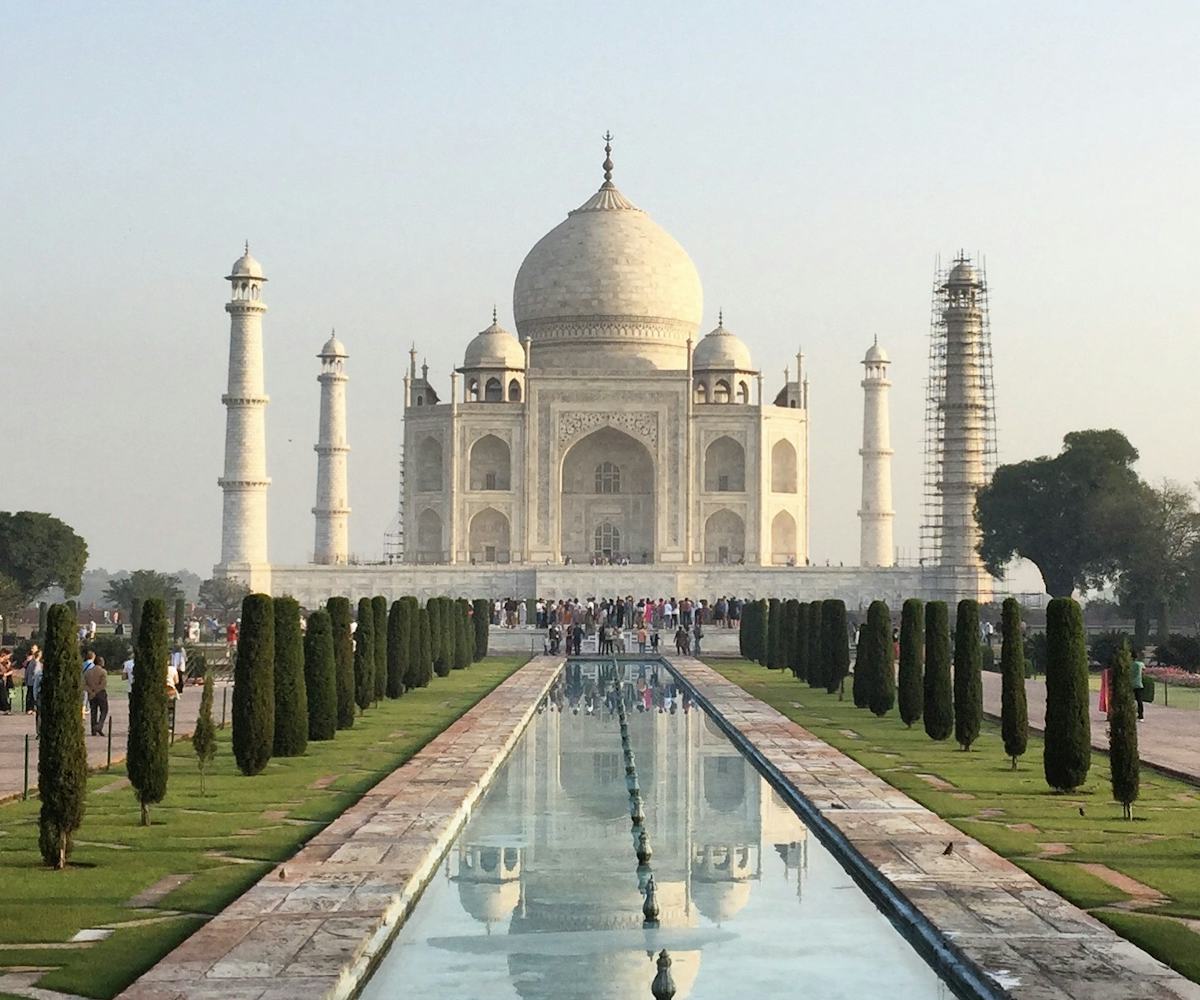 Photos by Laura Itzkowitz
You'll Want To Leave Room In Your Suitcase For These 5 Things From India
Pack light on your way there
Before I embarked on my voyage to India—a whirlwind trip to Mumbai, Udaipur, Agra, Chandigarh, and Delhi—an editor I work with gave me a piece of sage advice: Bring a half empty suitcase and go shopping. Now, I'm not really into shopping based on specific trends or brands, but shopping in India has nothing to do with that. Don't get me wrong, you can find luxury designers like Gucci, but why would you want to? India has a wealth of gorgeous traditional items made by insanely skilled artisans. I was happy I listened to that editor and left plenty of room in my suitcase. Here are five items you should bring home and where to find them.
Jewelry
Rajasthan—aka the land of kings—is India's gem capital, so you can find lots of unique and beautiful jewelry here. At Gem Arts Emporium in Udaipur (known as the city of lakes), pieces range the gamut from Western-style necklaces to those gold bell-shaped earrings you see actresses wearing in Bollywood films. I bought a dramatic silver necklace made of small interlocking flower-shaped pieces with teardrop beads hanging off the ends, and people always ask me where I got it. For something more affordable, pick up colorful, papier-mâché bangles and cuffs hand-painted with intricate designs for just $5 to $10 at Tijori, the boutique found inside Oberoi Hotels.
Clothes & Textiles
After visiting Gem Arts, my Abercrombie & Kent guide led me to Rama Krishna Textiles, which is hidden away on the second floor of a nondescript building in Udaipur. The choices are overwhelming—shelves upon shelves of colorful block-printed cotton fabric waiting to be transformed into made-to-measure tunics that they'll deliver to your hotel, beaded bags and wallets, embroidered pillowcases and bedding, and a whole room full of pashminas. Be warned: The salesmen will charm you with stories of the jackets the shop made for Judi Dench and try to up-sell you. Don't be afraid to bargain—they expect it. Or, for something more modern, check out Neel Sutra inside the Oberoi, Gurgaon just outside Delhi for creative frocks, saris, scarves, and jewelry by contemporary Indian designers.
Marble
Agra is India's marble capital, and the level of craftsmanship is astounding. Photos usually show the Taj Mahal from afar, but get up close, and you'll notice the intricate floral inlays made with lapis lazuli, mother of pearl, malachite, and other semiprecious stones. At Kalakriti, craftsmen still use the centuries-old method of carving floral motifs into the marble and affixing stones to it. Items range from small jewelry boxes you can easily fit into a suitcase to massive tables that cost as much as a car.
Indian Miniatures
If marble inlays don't blow your mind, intricate Indian miniatures surely will. Artists have been painting incredibly detailed scenes in this distinctive style for centuries, and they still use traditional paints made of crushed stones like lapis lazuli and malachite and brushes made from chipmunk tails. At Mayur Arts in Udaipur, you can find a range of pieces from small, affordable paintings of elephants or birds to large scenes depicting Rajasthan's palaces and royal parades.
Spices & Tea
This is kind of a no-brainer—inexpensive and easy to transport, spices and tea make great gifts (or keep them for yourself, I won't tell). Masala chai, earl grey with bergamot, cardamom, cloves, curry leaves, garam masala—I can't explain it, but these things just taste better in India. Plus, shopping in Delhi's bustling Chandni Chowk bazaar is an epic adventure. It's worth it to hire a local guide to navigate (I was extremely grateful for mine). You have to get on a bicycle rickshaw pedaled by a guy who will somehow magically weave around three lanes worth of cars, auto rickshaws, motorcycles, handcarts, and pedestrians all squeezed into one lane and drop you off at the entrance to the busy spice market. Seek out A. Kumar Spices & Teas, where you can buy vacuum-sealed bags to take home on the plane.