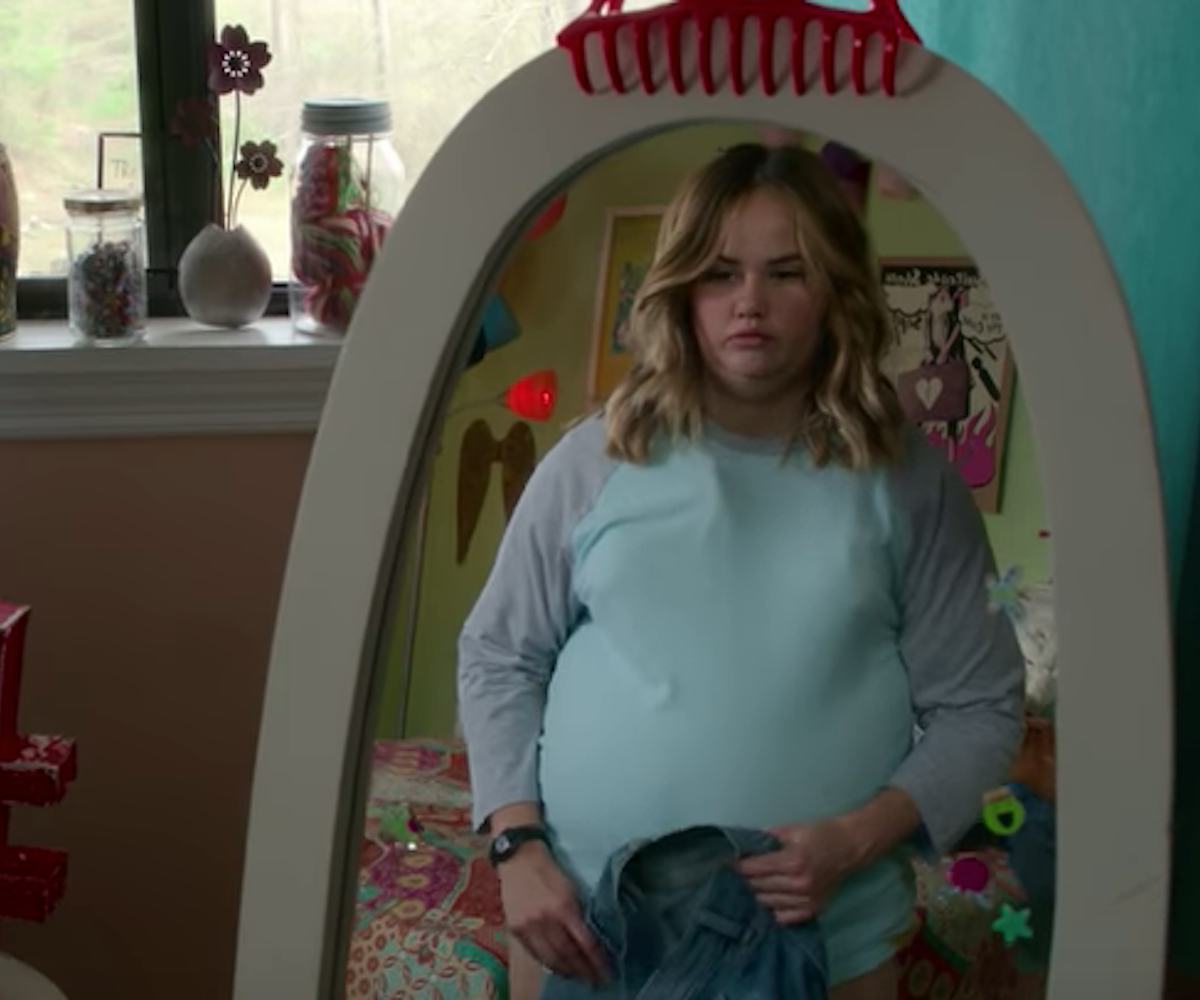 Photo via Netflix
Is 'Insatiable' Fat-Shaming?
Twitter thinks so, but the show's cast members say otherwise
Last week, a trailer for Netflix's new show Insatiable was released. The show stars Debby Ryan as Patty, a high school student who goes from being overweight to thin over her summer break and whose social standing rises with her body transformation. And even though, as she says in the trailer, she could have been in any clique she wanted once she made the change, she chose to seek revenge for those who wronged her when she was heavier.
After the trailer was released, many found flaws in the way that the show handles the topic of body weight. And it does make you wonder: Why do we always see weight shown as an issue that needs to be changed, as something that is shamed and mocked? Twitter users are now calling for the show to be canceled, pointing to the bullying that Ryan's character undergoes pre-weight loss, the use of a fat suit, and the lack of firsthand experience by the cast of being overweight.
In response to the sharp criticism that the show has faced, Ryan released a statement in defense of the show and her character's treatment. She describes her experience with body insecurity and assures her audience that the show does not in any way shame her character for her weight. Actually, she says, it does the opposite. "We're out to turn a sharp eye on broken, harmful systems that equate thinness with worth," she wrote in her statement released on Instagram. 
Ryan's statement is promising, but it seems to be in conflict with what the trailer depicts. She claims that the show works against body shaming by "identifying the bullies and saying 'this is not okay.'" She also notes that when her character was depicted as heavier, she "didn't have the same opportunities, and she was treated worse, which is what triggered her rage." This paints the story in a much brighter light, which is either an accurate representation of the show or a result of Ryan being too close to the material to see the problems within it. 
Alyssa Milano, who plays Patty's mother, also responded to a Twitter user calling the show "disgusting," by claiming that the show's use of satire sheds light on the issue of fat-shaming. "We are addressing (through comedy) the damage that occurs from fat shaming."
As pointed out by Twitter user @IWriteAlDay_, the actors likely have never experienced what it means to actually live as an overweight person. Here's to hoping that Insatiable isn't just another series that paints heavier people as necessitating physical change, and actually does what the showrunners claim it does: shows the fact that no woman is free from judgment based on her body.