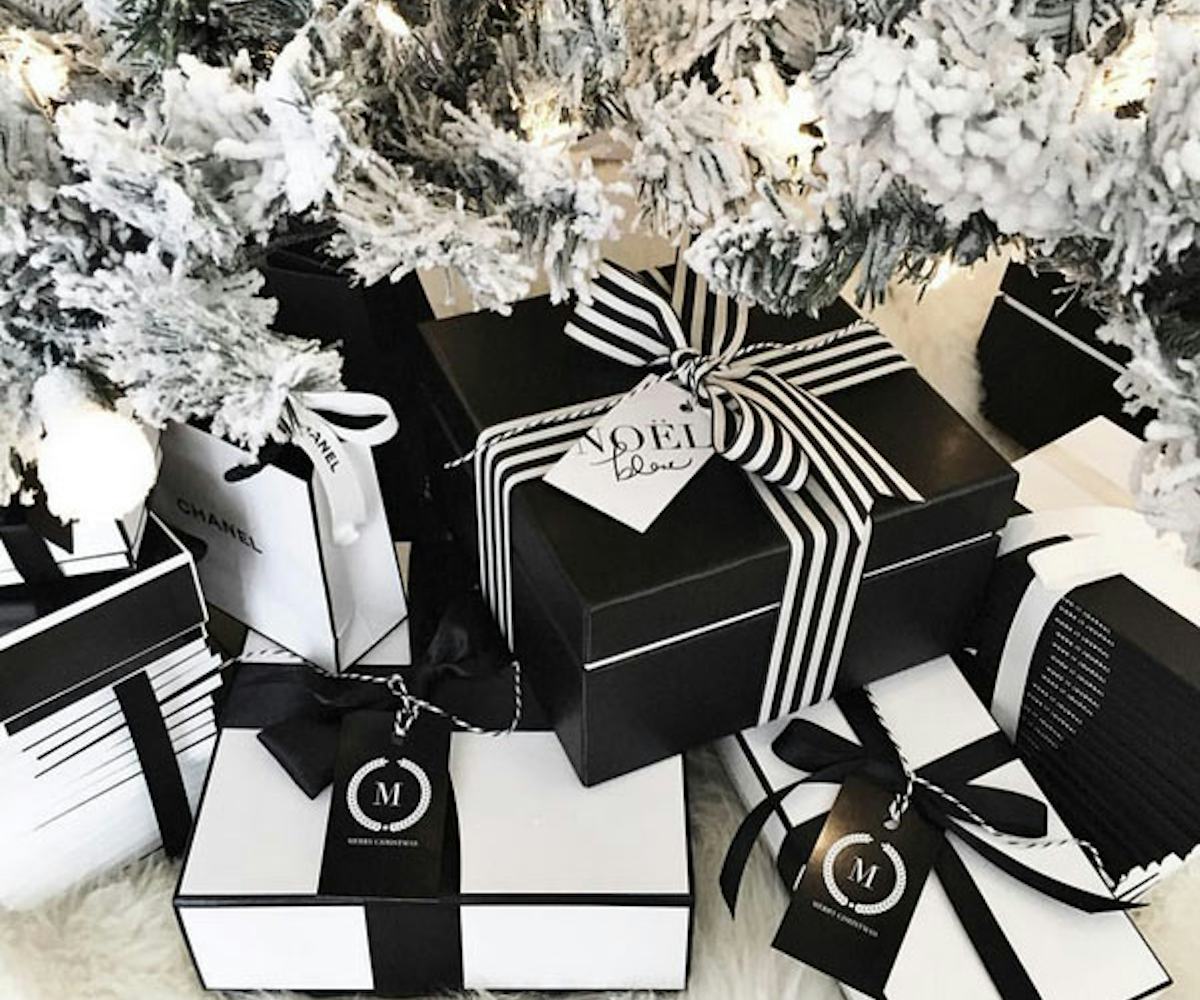 Photo via @kaleidoscopeblog_/Instagram
Insta Files Friday: The Ultimate Gift-Giving Inspiration
by Lara Adekola, Carly Valentine + Sarah Weldon
With Black Friday officially upon us, it's safe to say that holiday season has arrived. Whether you are shopping for your bae, your best friend, or your family, finding that perfect holiday gift can be stressful. So stressful that you may even forget one of the most crucial (and arguably best) parts of gift giving: the packaging. Sure, you could go to the drugstore and purchase generic wrapping paper, but that's so last year. Step up your holiday gifting game—frankly, the presentation should be just as special as the present. If you're looking for fun, unique, and creative ways to set your gifts apart, check out these 12 Instagram accounts in the gallery above. They're guaranteed to give you a small dose of major holiday #giftinspo.
Danish lifestyle brand Ferm Living offers up a sleek, modern take on the traditional holiday cheer. They have a self-proclaimed "graphic touch" that brings a new edge for gift-wrapping inspo. They've recently just published their online magazine, but there's no need to look any further than their Instagram for some perfectly sleek and curated scenes.
Yes, the entire account is only in German, but you will most definitely feel a newfound love for the advent calendar without needing to understand any of what's written because, clearly, the language of holiday cheer and presents is universal (who doesn't love stuff?). Between the cute cards and baskets of gifts, your group will achieve #holidaysquad status with all these cute gift-wrapping ideas.
If you didn't know, we love pink over here. Nothing says, "Mom, look how put-together I am" than a pristinely cut, shiny ribbon with some festive plants to match. Add the ornament for some definitive holiday decoration, but why not keep this in mind for any day of the year? And, if you're at a loss for what to get your mom, Wickbox is a luxury-candle subscription service. You're welcome.  
Susannah Carpenter, the #bosslady behind Hello Ginger has curated the perfect non-holiday, holiday wrapping. Both the plaid and the floral aren't generally associated with the season, but when paired with a shiny, bright-red bow, the themes are perfect. Besides, don't we all just dream of spring and flowers when we're buried in 10 feet of gray, winter slush? And because we all want to be the best friend there ever was but things like ~procrastination~ get in the way, check out tons of cute, last-minute gifts for your girls on her website.
This gift wrap from Third + Bird is the definition of simple rustic, and definitely is for your friend who eats only farm-to-table but still indulges in some peppermint mochas when the season comes around. Plus, mistletoe is always a win in any situation.
All the snowflakes! All the Christmas trees! Maeberry Lane is where all the holiday decorations went after they left Starbucks. While their Instagram offers up gift-wrapping inspo that literally anyone will love, the brainchild behind this lovely account, Kelly Manning sells all of the festive tags you see in her posts on her Etsy store for a pretty killer price. 
Amanda Fuller is taking her branding and blogging expertise to the gift-wrapping game. The black-and-white wrapping set is a super-sleek and perfect for a very fashion-forward holiday season. Decorating with winter whites and black accents screams sophistication. (It almost doesn't matter what's underneath the wrapping paper!)
Melbourne Gift Wrapping is serving up classic holiday gift inspiration. Their Christmas motif wrapping paper will make you want to curl up in front of a fire with a mug of hot chocolate immediately. Definitely a must follow if you're going for the "Christmas overload" look this holiday season.
Zeeta Hansen has you covered this gift-wrapping season. Give each friend in your #squad a uniquely wrapped gift courtesy of Hansen's many wrapping guides. If you are having some serious winter denial, definitely use Hansen's floral ribbons and embossed wrapping paper. This delicate take on gift wrapping will make you feel like winter is long gone.
DianaMae Robbins is giving us gift-wrapping envy. Her fun gift-wrapping 'gram is perfect if you're looking to do something a little more artsy. Start a new holiday trend with this colorful wrapping idea, we know we'd be pumped to see this painted paper in our stocking.
All that is missing from this picture is a giant wreath and some mistletoe. The classic red ribbon with gold trim and reindeer wrapping paper is the perfect festive pairing. Moms and grandmothers everywhere will rejoice at this Pottery Barn-esque wrapping paper and ribbon combo. Seriously, is it time for the holidays yet?
This is some real life Pinterest gift-wrapping inspiration. From the crafty gift tags with festive holiday sayings to the gold ornaments on top, this golden gift wrapping idea is perfect for all the special people in your life. Adding a cool feather definitely adds a unique twist to your gift. After all, nothing bad ever comes wrapped in gold.