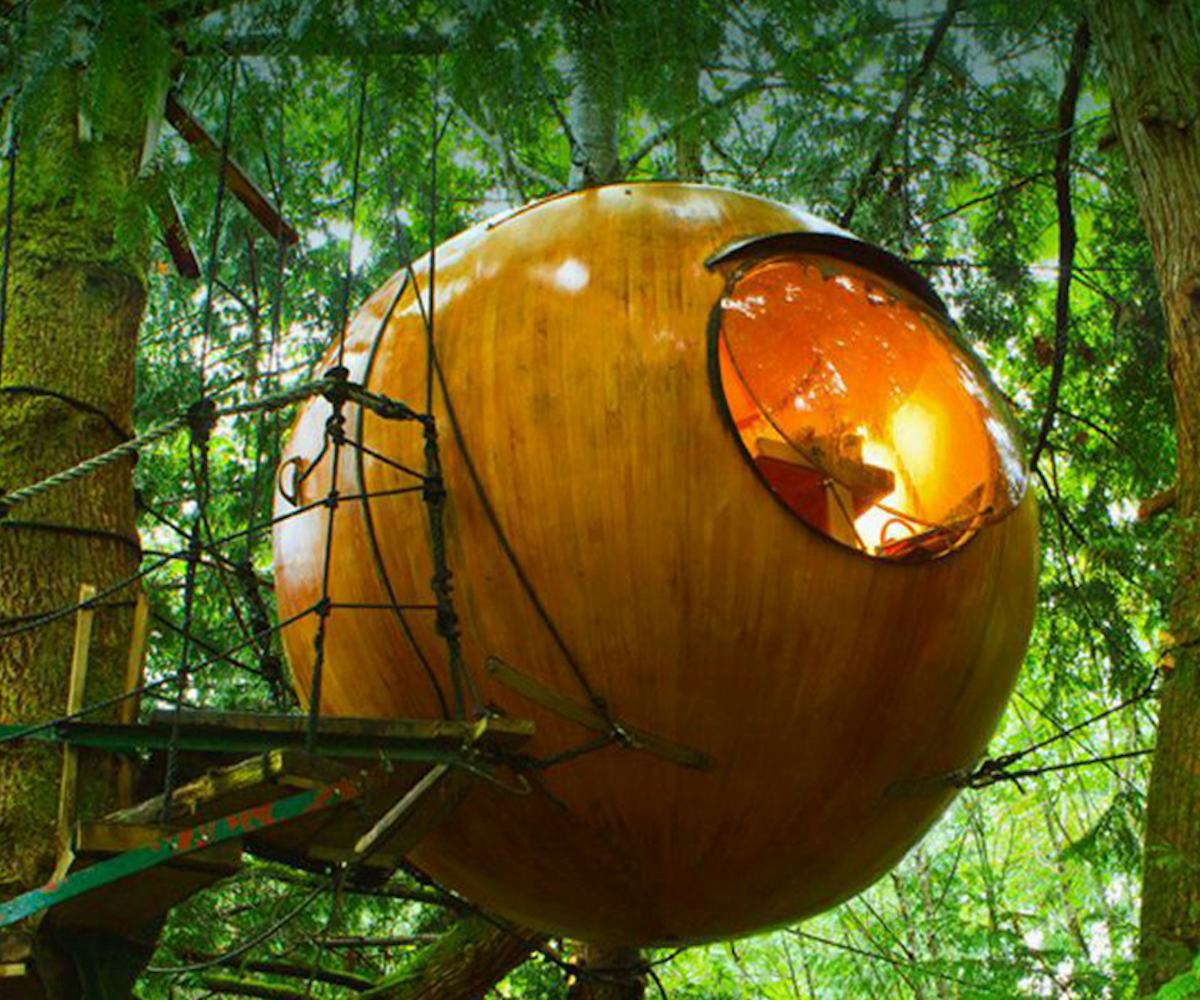 For Your Next Vacation, Stay In One Of These 10 Amazing Treehouse Resorts
These will look great on your Instagram #treelife
Pop open your Instagram feed any day, and you'll likely come across a stunning photo of a treehouse. There's just something about communing with Mother Nature that's so... aesthetically on point, probably because every night spent in the woods is an opportunity to witness something magical.
It's hardly a surprise that more hotels are taking to the forests to set up shop and offer that experience, albeit on a more luxurious scale than what your backyard treehouse was like when you were a kid. In fact, treehouse slumbers are the new camping, and they're here to stay. So pack your bags now and go on your very own treehouse adventure. These 10 spectacular options are a good place to get inspired.
Lion Sands Game Reserve, South Africa
The highly acclaimed South African game reserve, Lion Sands, is brilliant at blending rugged experiences with luxury pampering. And their treehouses are proof. They feature three bedrooms, all romantically flourished with canopy beds, gourmet picnics, and unobstructed views of the night sky and the bushveld.
It isn't easy to compete with all of Tulum's many brilliant eco-resorts. Yet Azulik somehow makes it look effortless, thanks to its Mayan and Aztec-inspired villas. A few of these take to the skies in treehouse fashion so that, in addition to mosaic tiled bath tubs, artisanal furniture, and in-room swings, you'll also score amazing views of the jungle and the Caribbean Sea.
There's no doubt that when it comes to a luxury vacation in Phuket, breathtaking Keemala comes to mind. The entire resort is an ode to the Maritime Silk Sea Road, and the treehouse villas are inspired by the clans that traversed it. Keemala boasts four different treehouse-style accommodations, but the most stunning might just be its Bird's Nest Pool Villas.
If a blend of modern architecture, minimalist interiors, outdoorsy vibe, and Nordic flair is your thing, there's no better choice than the Treehotel in Harads. Each of the seven tree rooms, rising 13 to 19 feet above ground, open onto a different exterior. The coolest among them might just be the UFO, the Bird's Nest, and the Mirrorcube.
Arctic TreeHouse Hotel, Finland
Though if you're seeking something cozier, the Arctic TreeHouse Hotel in neighboring Finland just might give it a good run for its money. Snug comfort and spectacular night skies take the spotlight at this Arctic Circle hotel. The treehouses here are fitted with warm fur throws, nest-like beds, and elephantine glass windows, for luxurious Aurora Borealis viewings.
While you might not get your own private treehouse, Nothofagus Hotel & Spa does flawlessly bring not only the treehouse concept but also rainforest elements into the hotel, finishing the blend with all the modern comforts that guests will ever need. And the rustic result, tucked into the heart of the Chilean Patagonian Forest, is quite enchanting.
A single night in Nihi's Mamole Tree House is an incredible experience; you'll realize that the first time you watch the stars from your balcony and fall asleep to the sounds of the ocean and forest in your lovely canopy bed. You've even got access to a private plunge pool. What's not to love?
This eco-friendly yoga retreat, nestled about an hour's drive from Zihuatanejo, is mostly a casitas resort. However, its treehouse, the only one on property, might just be its most popular room. The hollow tree trunk-shaped accommodation is certainly its most Instagrammed, what with its in-floor hammock, its open-air concept, and a "balcony" that looks out onto the ocean.
EcoCamp Patagonia Domes, Chile
Being name-dropped as one of the best hotels in the world certainly warrants EcoCamp Patagonia a place on this list. While its domes are not technically treehouses, they boast the same elements, including that high perch, which offers excellent views of the surrounding wilderness. Their cozy, yurt-like interior, with Patagonian flourishes, is remarkable as well.
Speaking of round accommodations, any treehouse list is amiss without the whimsy of Free Spirit Spheres. The rainforest resort boasts three spherical treehouses, suspended in a canopy of trees. The interiors of these quirky sleepers are a bit of a tight fit, but from the outside, it feels as if you've just stumbled upon a magical fairy village.