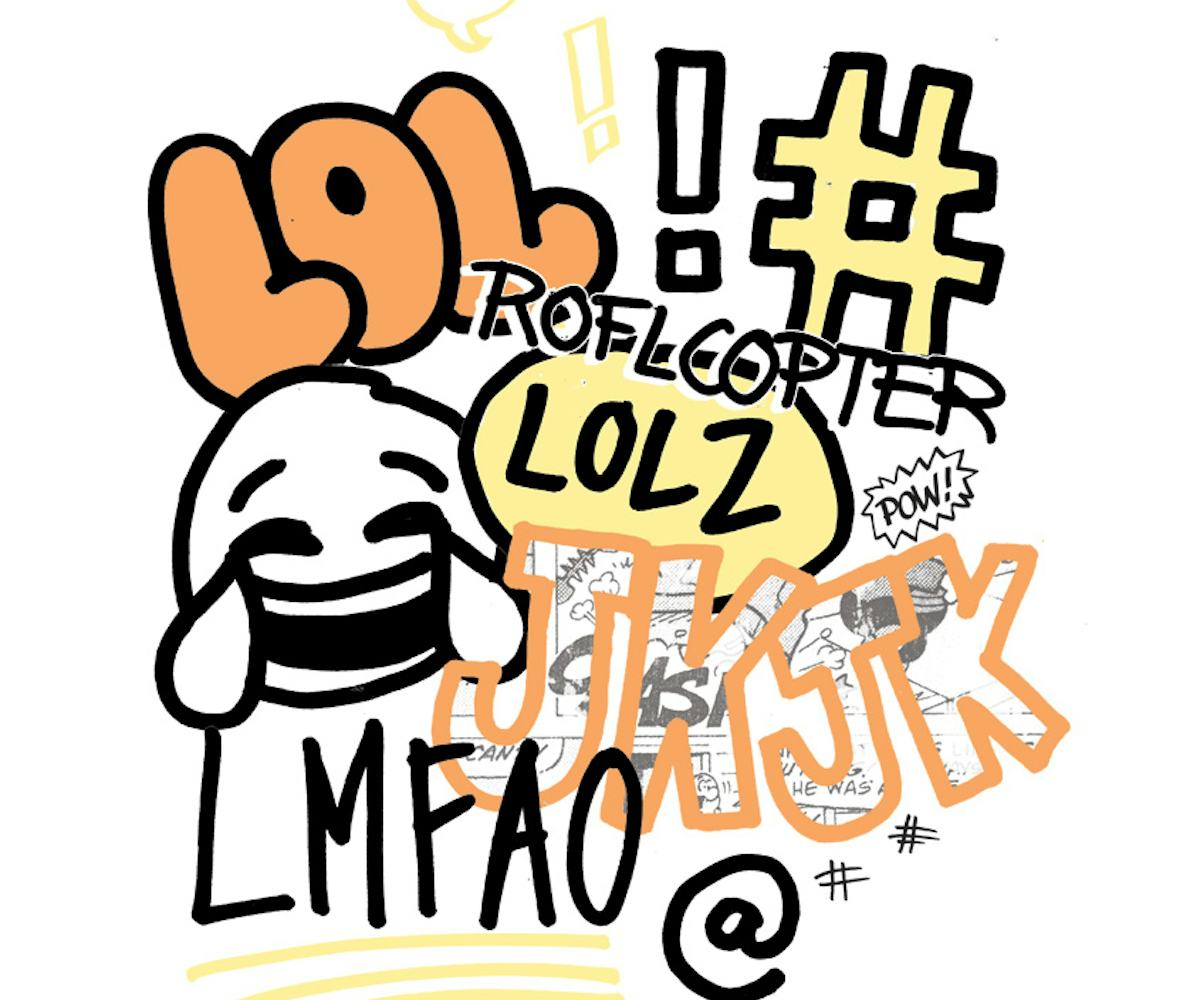 illustration by Kelly Shami
meet the internet's best comedy stars
everyone's favorite online jokesters
From the dawn of time to about 10 years ago, not much changed in comedy. People stood around being funny, sometimes with friends. Other people laughed, within earshot, on the sofa, or stuck in traffic. Then we saw the potential of the Internet for more than porn. Podcasts became the new radio. YouTube showed up and nobody knew what to do with it—at first. Ditto Twitter. Five years ago Instagram arrived, giving credence to doughnut pics and selfie sticks. Vine's only been around two years and has already launched careers—even in porn: grunt, moan, sigh, repeat. 
In late 2006, a 16 year-old Bo Burnham set a camera on a pile of books, perched at a keyboard in his Smurf-blue bedroom, and recorded a song about how his family thought he was gay. It was just over a year after YouTube was launched, and weeks after Google bought the platform for $1.65 billion, catapulting the site into an everyday utility for cat videos, twerking tutorials, and cringe-inducing confessional videos from across the universe. Over the next few months, Burnham published a handful of silly songs ranging from an acoustic number about dating an 83 year old to a nerdy rap about his lack of gangster cred. Somehow, something clicked, and Burnham was one of YouTube's first viral hits, earning him millions of views immediately, and subsuming him into the generation of content creators, who showcase talent in rawly produced, but earnestly authentic videos. Primordial YouTube was the folk art of comedy, providing bad lighting, askew angles, and image quality blurrier than pixilated genitals.
Now Burnham flaunts nearly 900,000 subscribers, a million followers on Twitter, and two million followers on Vine. At 18, he was one of Comedy Central's youngest comics to be given a special. He also released an album on Comedy Central records, and has crossed the country with his live act, a raucous compilation of his musical comedy stylings. By 22, he wrote, executive produced, and starred in Zach Stone Is Gonna Be Famous, which aired for one season in 2013.
Today, Burnham is focused on lunch. He's snarfling down a sandwich in the living room of his expansive Hollywood house, his glimmering backyard pool rippling under the sun. At 24, his still-boyish looks are disarmed by his towering height and lanky figure. Soon he will be heading out on tour again, bringing his songs to stages around the States. "I have a space now that is interesting," he says between bites. "I don't have to go into the comedy clubs. I can do these in weird little rock venues or colleges, and I can kind of work [material] out there."
Burnham grew up in the Boston area and went to an all-guys high school, where he cultivated the dorkish persona that he says is a hyperbolized version of himself. "There was no coolness there. I was the theater kid. I was obsessed with putting on a show, that is what I wanted to do," he says. Then his videos exploded. "In high school, I would go open for Joel McHale somewhere, like I would go to Vegas, I would perform at the Mirage, and then I would come to sit in my history class on Monday like, 'No one knows what I did.'"—DREW TEWKSBURY  
He says his exposure online became the scaffolding to build his comedic success.  "I had an audience before I had an act," he says. Just don't call him a YouTube star. "I have 23 videos on my YouTube channel," he says. "There are other comedians that have hundreds of videos; they are more YouTube comedian than I am."
In the time since his first online videos, Burnham says he's been focusing on creating new material for television and films. He says he's currently writing scripts that he hopes to direct, and "won't have my face attached to it." But for now, Burnham is all about getting onstage.
"It is meant to be an honest simulation of what it feels like to be alive right now for me, which is that, like, shit is changing really quick. You are going from loud to quiet, you are going from huge to intimate, things are flashing in your face and they are big and silly and they are weird. For me as a 24-year-old kid in 2015, that feels honest." DT
Elliot Tebele a.k.a Fuck Jerry
On the arctic midwinter day that Elliot Tebele meets me at a packed coffee house in SoHo, his online alter ego—Fuck Jerry—has just hit three million followers on Instagram. To test his newfound reach, I ask him to post something now and see where it's at when the interview is over. "I usually find content on the spot," he says, flipping his phone over. The screen is a shattered mess. "I never have it, like, ready to go." Forty-five seconds later he and Elie Ballas, the childhood friend seated next to him who became Tebele's business partner last year, find an image they like, a smiling Tyga and Big Sean, captioned: "After dropping off Kylie Jenner and Ariana Grande at daycare." "I'll give it a test run," he says. "See how it goes in the first minute." He hits refresh, refresh again, and says, "This one's doing relatively good. Twenty-five hundred likes in less than a minute."
We've all felt the thrill of something we've posted going viral, even just a bit. But few of us have figured out how to turn this Warholian capital into cash money, so that we might focus all of our attention on giving the people who like what we do a few moments of joy each day. This is what gets Tebele out of bed in the late morning. Lest you think what he does with his Fuck Jerry properties (which now include fuckjerry.tv, a video-based Instagram account Tebele started while waiting for a haircut) sounds a lot like what you do on social media, know this: Tebele doesn't take his role as curator lightly. "I work all the time," he says, which means every waking moment and some that fall in the dead of night. "I go through a shitload of terrible content and try to pick what I think is the best of all the bullshit, and just feed five photos a day."
Halfway through the interview, 34,000 people have liked the Big Sean and Tyga post. That means that every single minute since it appeared on Fuck Jerry, 2,000 people have hearted it. Tebele surveys his domain and proclaims the reaction thus far "a little above average." Most of Tebele's posts could be considered a little above average. He has a formula for success. "Content first. It's gotta be right. And consistency." He pauses, two long fingers extended, before unfurling the third and last. "And enough content. You gotta get those core followers looking forward to your posts every day, and make sure it's on-point every time." 
Born and raised in Brooklyn, Tebele had no idea what he wanted to be when he grew up. "I was working with my brother selling cell phones. It was fucking shit. I got on the Instagram game early and was lucky enough thatI could focus on it full-time." Tebele's role from the start has been curation. But he will soon leap into creation, with Ballas at his side. People will be hired. Content companies will be partnered with. Fuck Jerry won't just be a destination for funny photos, viral videos, and clever merchandising, it will be "a platform," according to Ballas. "Whether it's an app," says Tebele, "or just, like, fuckjerry.com, a destination where you come for the best humor on the web. We'll have editorial, video, photos. We'll control the content." The content will be a reflection of the brand. And the brand, as Ballas sees it, is another formula—"comedy, hip-hop, New York."
Tebele checks his most recent post one last time. Twenty-six minutes have passed. He reads the tally. "It has 45,325 likes," he says. "And 6,500 comments." Tebele shrugs, pocketing his old, busted phone. All in a
day's work. —MH 
Megan AmramIt's the picture worth a thousand tweets. There it is, tucked in the corner of Megan Amram's profile, a photo that bends perception. Perhaps it's a human-size thumb with smeared drag queen makeup, or is it even a person at all? "I liked that people didn't know if I was a real crazy person, or a fake, crazy writer person," says Amram, who has cultivated almost half a million Twitter followers who tag along for her non sequitur jokes, dark humor, and so-bad-they're-good puns. The 27-year- old moved to Los Angeles years ago with hopes of becoming a television writer. When Amram's Twitter feed gained momentum, she landed a choice gig writing for the esteemed shows Parks and Recreation and Childrens Hospital. She recently released her satirical book Science...for Her! which skewers the pedantic tone of women's magazines such as Cosmopolitan.
In person, Amram looks nothing like her avatar, not that it matters at all. But over coffee at a sleepy Burbank café, she says that smooshed face is indeed her. "For a long time, there weren't any real photos of me online, which I love. There was just this horribly ugly profile picture." The picture is an ingenious way to divorce her appearance from her creative output. She unravels the twisted marriage of physical looks and entertainment- business success. Her Twitter persona isn't gendered; she's not "funny for a girl." Here, her tweets stand alone, tossed like messages in bottles into the tides of social media.
Before she tweets, sometimes she texts an idea to her twin brother. "He will rate them on his scale: good, which means tweet it; meh, which means meh; and ugh, which means no-go."
Her most retweeted post: "At what age does Ryan Gosling have to change his name to Ryan Goose?" "This is the stupidest dad joke, but it got retweeted a zillion times," she says. "I make so many puns, and I hate myself for it."
The anonymity of her character has become a kind of subtle feminist satire that she infuses into much of her work. "I wanted [the book] to be indistinguishable from a women's magazine. There's no bio of me as a real person, it's all about the fake Megan Amram who wrote the book." Science...for Her! offers entries like "What religion is right for your body type?" and "This Summer's Top 7 Birth Control Methods." Amram says sometimes she will be approached by people who don't grasp her satire. "It makes me so happy," she laughs. "I love when women get mad and say, 'Who is this Megan Amram? She's setting back women so many years.' I want to be like, 'I'm on your side.'"
When she commits to a joke, she's in it for the long haul. For Throwback Thursday on Instagram, she has posted the same black-and-white photo of herself for the past two years. She celebrated 104 consecutive weeks of the image by printing the photo on a cake and Instagramming it. "I seem like great wife material because I'm so dedicated to my pictures," she says.
As Parks and Recreation comes to a close, Amram is focusing on new writing projects including a film, a television show, and even an opera. On the eve of the finale of Parks and Rec, she says it's especially bittersweet following the recent death of show writer and co-executive producer Harris Wittels. Before his death, the writing staff planned to watch the last episode at his house. "We were all going to gather, but now it's for a completely different thing. Our writers' room is like a family. I keep crying about it, then I have to ask my friends to talk to me about dumb stuff. This makes you see that you're incredibly lucky to be alive, and that little things don't matter." —DT 
In the nascent days of film, the intersection of Hollywood Boulevard and Vine Street was the epicenter of 1920s entertainment industry, home to movie theaters and radio broadcasters who would send programs out to the universe. So it's fitting that a Vine Street Starbucks is the neighborhood haunt for Andrew Bachelor, a new generation of broadcaster whose cartoonish, comedic alter ego KingBach has earned more than 11 million followers on the fittingly-titled video sharing outlet Vine. And Bachelor is killing it.
His six-second sketches are the video equivalent of one-liners, offering single-scene scenarios that skewer ordinary moments or deliver outlandish antics. His personal favorite: "[the Vine] showed me crying," he says energetically, adjusting his signature fro comb, "and you pan out and you see that I am on a toilet, and you pan out even more and it shows that there is no more tissue left. So I was crying because I ran out of toilet paper." 
Leveraging his devout following online, Bachelor has earned crossover success too, landing recurring roles on Mindy Project, Adult Swim's Black Jesus, and MTV2's Wild 'n'n Out. He's also starring in the upcoming dorm-room comedy, Resident Advisors and Mike Epps flick, Meet the Blacks.
While Bachelor's rise seems meteoric, he sees it as a long time coming. "I am classically trained, I have been studying acting for over 15  years now." Bachelor went to undergrad at Florida State University and performed in different improv troupes around campus. One particular group helped him hone the rapid-fire wit he wields on Vine. "We did 30 skits in 60 minutes, so it was us against the clock," he says. Then he moved to New York to pursue an an acting MFA at New York Film Academy. After school, his success was slow to start. "They are just teaching you all the traditional stuff, 'you have to do the auditions, you have to do this, that is the only way to do it.' I was trying and I was failing, so then I said, 'let me try YouTube.'" 
He built up around 20,000 subscribers, and developed a skeleton crew production team to create the videos. Then he discovered Vine. "[When] Vine came out, I was the fastest moving on the platform. I was getting fifty-thousand followers a day. So I went from three-thousand followers to a million followers in less than a month." His prolific output fuelled a conflagration of followers, who tuned in for his hyperspeed, non-sequitur surprises and hilarious micro-stories. Today, he makes about three videos a week, but at the beginning, he made three Vines per day. 
His process is simple and streamlined, he storyboards in his head and shoots it all on his phone. Off the cuff, he pitches his big-budget-blockbuster Vine: Black Spiderman. "There would be some criminal activity involved, and me climbing up walls and doing flips, webs coming out," he laughs, "It looks like I am going to save someone but I am distracted by a pretty girl walking by with a big booty, because Black Spiderman loves big booties."
On Vine, views and followers are a kind of currency, the more you have, the bigger chance you have to make real money. Advertisers such as sandwich chain Jimmy John's, Disney, and Axe Body spray have signed on to use his innovative platform to gain visibility the old fashioned way: product placement. He's also cultivated a cadre of notable friends who have appeared in his Vines, ranging from Justin Bieber to Key and Peele, the later of which, he says, have become mentors to him. "When I have a big career decision to make, they are the first people I text."—DT
"Kyle's dress is hiked up and I'm basically fucking him from behind," say Nick Rutherford. He's squished into a booth at a diner a dozen feet from Times Square with Beck Bennett, Dave McCary, and Kyle Mooney. They've come here on a break from their new job to talk about their work as Good Neighbor. "At some point I take my pants off and shit in the yard."
"Fake shit," interjects McCary, the man behind the camera, always. 
"This is broad daylight," adds Rutherford. 
"The simulated sex was very explicit and on-point," says Mooney. By way of example he clutches the table and banshees a primal moan. The wholesome ears of tourists twitch. 
"You blew me at some point," says Rutherford, pointing over an enormous kielbasa to Mooney. "Anyway, we're wrapping when the cops show up. Someone had told them we were shooting a porno in the front yard." The police demanded to see the footage. "We were like, 'this is an Ethernet camera; you got a cat 9 cable?' We just gobblygook techno talked them out of it." Eventually they left with a warning: "Watch what you're doing," they told Good Neighbor. "There are kids around here."
Naughty, raw, tricky, clever—this is Good Neighbor. And the deft comingling of these elements in over 50 videos have entertained millions. McCary, Rutherford, Bennett, and Mooney met at the University of Southern California. Their onscreen chemistry is a similar combination of unlikely elements: Bennett's frat boy looks; Rutherford's watchful frailty; Mooney's geeky abrasiveness; McCary's seamless sleight-of-hand. After USC they formed Good Neighbor in gritty South Central Los Angeles and quickly developed an online following, racking up millions of views for their work. "I think of our YouTube experience very much like a gym," says McCary. "We were practicing and getting stronger with each rep." Even their early videos showcased a vision that complicated sketch comedy and carried a subtle commentary on their chosen medium. "What if we could make a video," says Bennett of what they were after, "that people didn't even know was a sketch." 
"We like the idea of confusing people who stumble across our shit," McCary says. 
In the beginning the group admits to aping the style of The Lonely Island, the comedy group—formed by cover star Andy Samberg, Akiva Schaffer, and Jorma Taccone—that rose to celebrity with viral videos, like "Dick in a Box," made for Saturday Night Live. "We thought that's what you needed to do to go viral," says Rutherford. McCary adds, "The path that Lonely Island took got us excited to think we could get somewhere legitimate by making little videos." So it's either ironic or prophetic that SNL hired Good Neighbor in 2013 to replace the outgoing members of Lonely Island. Despite the major leap forward in exposure, credibility, and budget that comes with network television, Good Neighbor has experienced some growing pains since relocating to New York, and it's not just the difference between life on opposing coasts. 
"A lot of our videos would play well on the Internet," says Bennett. "But they test first in front of a live audience." 
 "What we do is so nuanced that you want to watch it a few times, but it's put up on these little monitors after a big musical sketch," says Mooney. "We don't really make it easy for an audience to come in. You're either on board or you're lost." 
"It's kind of frustrating," says McCary. "But laughter has become something I'm so much more aware of. We have to adapt. We still have a lot of work to do." 
The golden age of podcasting shines on. In the world of radio, the fervent cult following of Serial was a bellwether for the future of the medium. The proliferation of storytelling showcases like the Moth or science programs including Radiolab has changed the consumption habits of listeners, offering on-demand, in-depth, and intimate ways to experience audio. In comedy, too, podcasting has become another essential weapon in comics' arsenal of hilarity. Comedian Duncan Trussell is a prolific joke- thrower who built a reputation the old-fashioned way: start in stand-up, get bit parts on TV, guest on radio shows. But his podcast, Duncan Trussell Family Hour, pushed him to the next level.
"If not for podcasting, there would be nothing for me," the Los Angeles-based comic jokes on the phone, while on vacation in California's idyllic Big Sur. His weekly podcast is simple, capitalizing on the structure of classic radio. Trussell often opens with an extended ramble, weaving his humorous and insightful takes on everything from bike culture to Buddhism. Then he interviews an ever-interesting, slightly psychedelic spectrum of guests, which has included indie crooner Father John Misty, marijuana delivery man Gene Gentile, and spiritualist Maja D'Aoust, the "White Witch of Los Angeles."
"This comedian told me, 'Whatever you do, never talk about aliens, ghosts, or Bigfoot because it will ruin you,'" says Trussell. "Since then, I am so happy to say that talking about aliens, ghosts, and Bigfoot, among other things, has been the key to whatever success I have had."
In the early days, the North Carolina-raised Trussell honed his chops as a regular at Hollywood's Comedy Store, a veritable college for comics. "The Comedy Store is just an incredibly demented Hogwarts for comedians, where you sort of end up getting a job there. From the job, you will get a very tiny amount of stage time, which is all that you should have when you are first starting comedy," he says with a laugh. "Then you get to watch comedians go from being completely broke and starving to suddenly pulling into the parking lot in some kind of super-nice car."
But Trussell says that the status quo of comedy success has been disrupted by podcasting. "It is shifting the idea of what a comedian even is, which is a really interesting thing to watch," he says. "That definition of what a comedian is is widening so that it is no longer a guy who performs in nightclubs or at colleges or on TV, telling these jokes. It has now turned into podcasters, Instagrammers, and Viners. I think that is a wonderful thing."
In 2010, Trussell embarked on podcasting with a show called Lavender Hour with his then- girlfriend, actress Natasha Leggero. When they broke up, Trussell started DTFH, which he still produces and edits entirely by himself. "You just sit down, record a conversation, and then upload it to the Internet. You get the kind of weird pleasure that comes from people reacting to whatever point you were making. That deadline of getting it out [weekly] creates what I like in podcasts: a kind of lo-fi production, which I think is awesome." 
Trussell's podcast has earned him a devout following, which he often meets on his stand-up tour, bridging the digital divide between online comedy and offline audiences. "One of the curiosities of technology is that the most high- tech stuff is returning us to the most basic way of communicating and of living," he says. "The sort of disconnected life that is common becomes more connected because of all the online communities that are springing up around podcasts. Thank God for podcasting. It is just everything." —DT