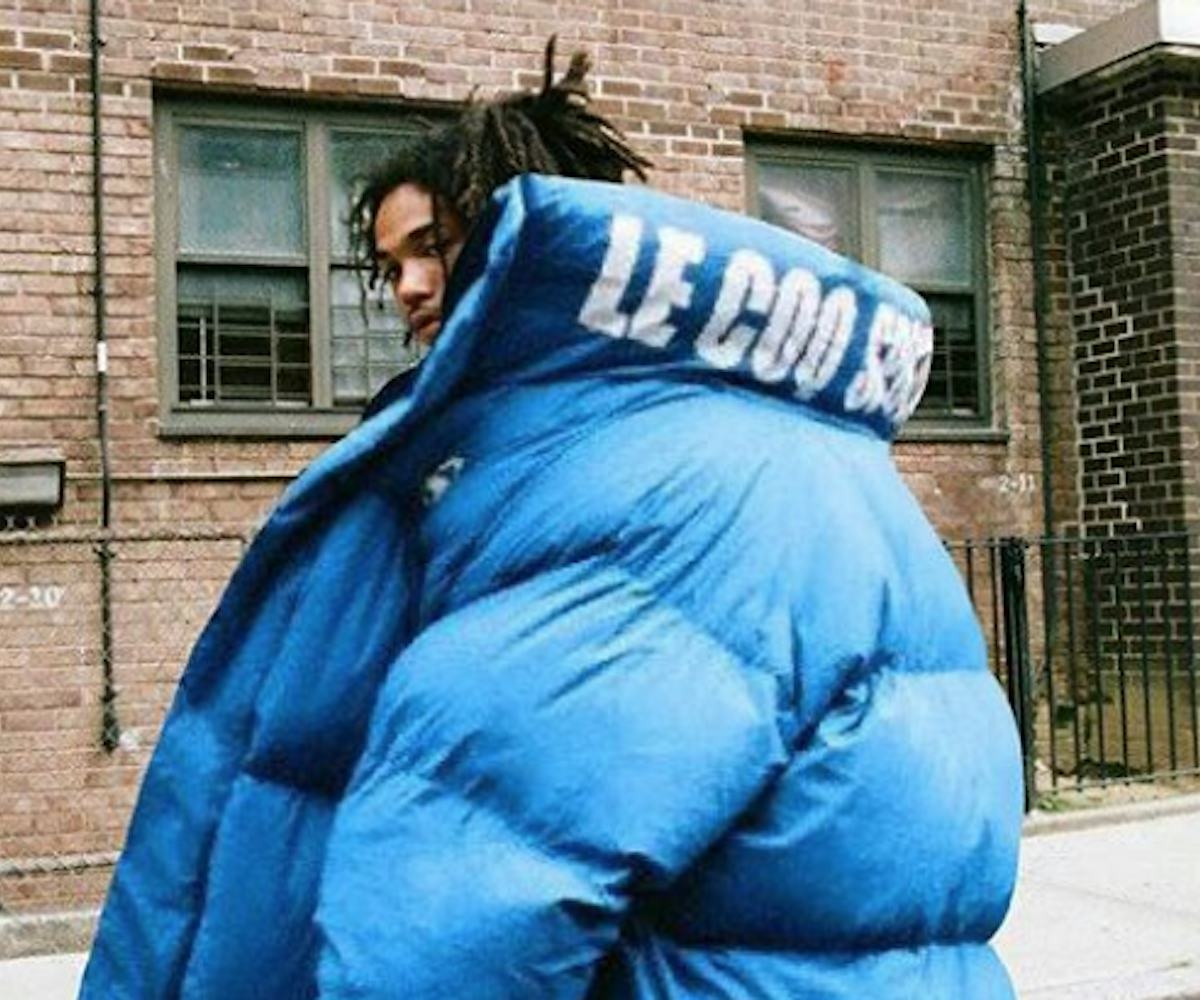 Photo Via Instagram
Meet The 17-Year-Old Behind The Enormous Jacket Memes
@ItsMaysMemes inflates Vetements, Acne Studios, Balenciaga, and more to XXL sizes
We have become accustomed to oversized fashion, what with super-big clothes not only infiltrating the runways of brands like Balenciaga and Acne Studios but also, quite literally, taking over the streets. You could say oversized jackets are the new norm. But it wasn't until recently, when I stumbled upon @ItsMaysMemes, that I understood the true meaning of "the bigger the better" in the fashion realm.
The account's creator, May, is a 17-year-old, Hawaii-based meme genius, who splits her time between school and blowing up—and occasionally shrinking down—the silhouettes of street style's most vaunted stars, like Kendall Jenner and Luka Sabbat. From miniature versions of Travis Scott to extra, extra large jackets on Hailey Baldwin, the account offers a jaw-aching laugh with each and every larger-than-life photo. The celebrities are here for it—and so are we. Sabbat, a frequent commenter, practically begged May to keep blowing up pictures of him in his Vetements jackets. While giant coats are May's specialty, she has gained fame from other XXL fashion items, including her blown-up version of Kanye West's much-critiqued "tiny slides" that West retweeted and then replicated in the "I Love It" music video.
In honor of jacket season finally being here, we spoke to May about how the account started, how she gets inspiration for each post, and her take on the future of fashion. Check out our Q&A, below.
Can you tell me about yourself and the initial process of creating the account? How did you come up with the idea?
I was born in Vancouver, Canada, but live on Oahu, Hawaii now. I grew up in a creative household. My dad is a skateboarder and graffiti artist. My mom was in the fashion industry. Art was always encouraged and supported in my home and amongst my parents' friends. My Instagram page blew up in March of 2017, which took me by surprise. I started the account for fun as a fake Instagram for my friends. There wasn't much action on it, and I didn't have a real focus or intention for it. Then a few months later I came across Luka Sabbat in a Vetements jacket, and I just got inspired to blow it up. Things just snowballed from that point on. Now, here I am. I've stumbled into this amazing world where I get to do something I love.
When was the moment you realized the account had blown up? Do you ever feel like, Wow, I've created something really cool and different?
It was a couple photos after [Luka's] picture went viral, and I started gaining crazy amounts of followers. It totally caught me off guard. I enjoy doing my thing with the edits, and I'm just excited to create some funny original content for people. Never ever did I think it would come of anything.
What is the creation-of-a-post process like? How do you edit them?
I'm self-taught and literally just learning as I go along. The edits can take me anywhere from one to four hours. I like to look at my feed and explore page. For the most part, I edit the people I follow. Usually, something will just click when I see the image, and I will automatically know how I want to edit it. I like to keep it fresh. All my edits are usually made the same day as I see them posted. I like getting it up on my feed close to when the original was posted.
Have you developed a relationship with any of the subjects you've featured?
Yeah. I'm extremely lucky that the people in the community have presented many opportunities for me to grow. I'm pretty young and new to this scene, and I intend to just get better with each move I make.
What's your take on the fashion world and the future of fashion?
I currently like where the fashion world is at. I see a lot of big jackets coming up again this season, bigger than last year. Fashion is constantly evolving and pretty fluid and I, for one, can't wait to see what some of my favorite designers have up their sleeves.
Who are your favorite designers?
I like Balenciaga, Off-White, Maison Margiela, and some smaller independent lines like The Spaghetti Boys, Imran Potato, and SlumpyKev.
What's been the biggest challenge of running the account?
People trying to imitate what I do. Also, people not really feeling people what I'm doing—especially corporate brands who don't give credit for their "inspiration." I've even had people try to copy my Instagram handle. Oh, and the crazy DMs I get!
On the other side, what's been your favorite part about creating the memes?
Definitely the opportunities, and the love and support from the community I've received. It keeps me inspired and wanting to keep up with it all.
Do you have a favorite post? What posts perform the best?
My favorite would be the photo of Kanye and Kim at 2 Chainz's wedding. At that time, people were making fun of his small slides. Well, I made them bigger in my edit. Little did I know he was going to tweet my photo and replicate a real-life version of the slides in the "I Love It" music video. There is no telling the success of a post. It just kind of happens. I can't predict if they will go off.
What's next for the account?
I'm here and open to anything that inspires me. I'm hoping to see more jackets as it gets colder over [on the East Coast.] I'm taking it day by day and really just excited about the future of fashion and meme culture.
For more giant jacket memes, follow May on Instagram.