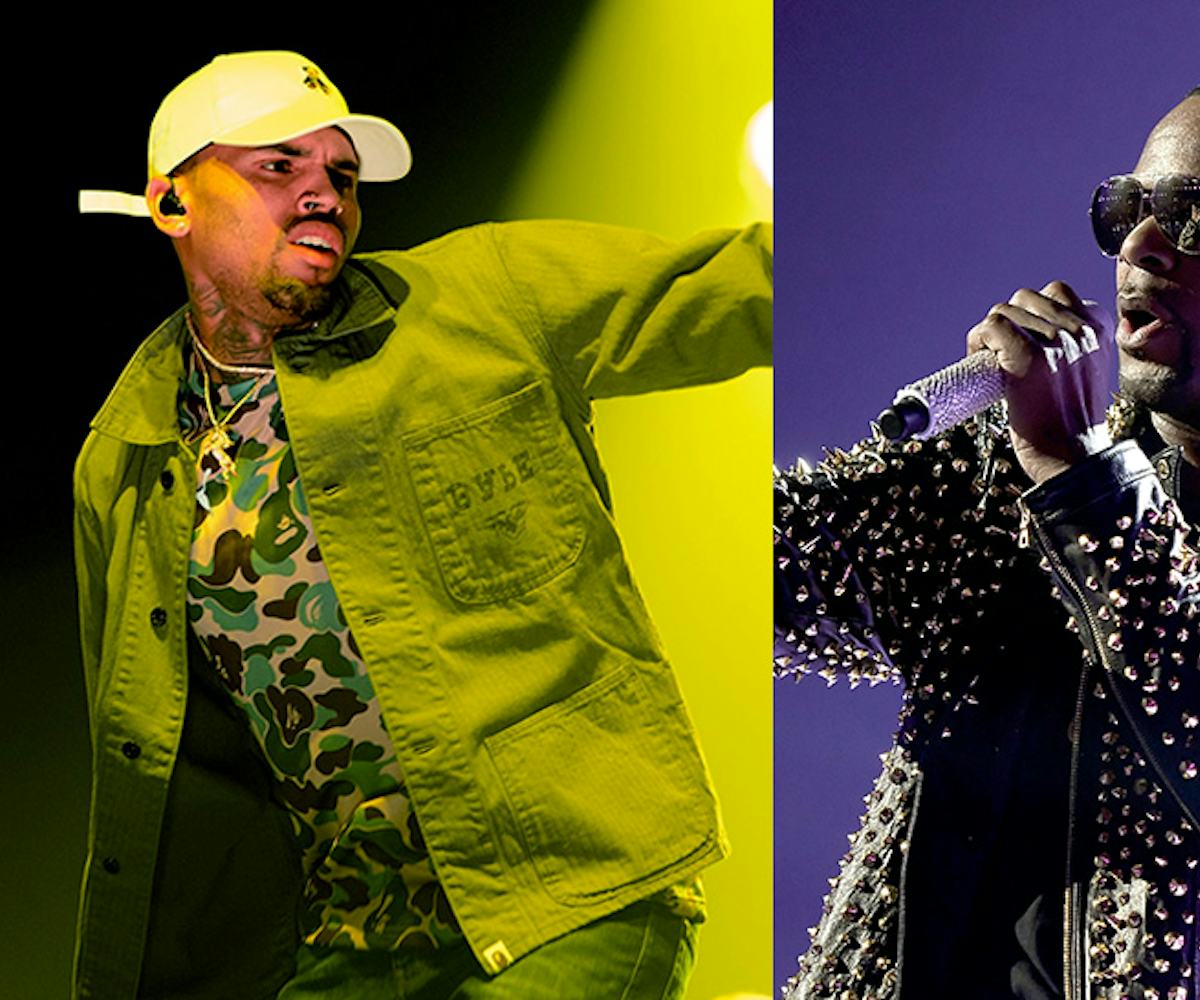 Photos: Daniel Boczarski and Kevin Winter/Getty Images.
Should Musicians Have A "Do Not Work With" List For Problematic Artists?
because we have a few ideas.
List, if you didn't already know, is a fun little app notable for giving celebs the chance to share their lists of things with the public. Load it up and you'll get song suggestions from Lena Dunham, reading picks from Judd Apatow, and, oh, this list of people fun. and Bleachers lead singer Jack Antonoff will never, ever work with.
Antonoff limited his picks to just two performers: R. Kelly and Chris Brown. Both artists have a documented history of attacking or violating women. (Brown assaulted Rihanna en route to the 2009 Grammy Awards and Kelly has been accused of sexually abusing multiple underage women.) Regardless, fans have continued to support each of these singers and musicians continue to collaborate with them.
Recently, Rita Ora brushed off the many attendant issues of working with Chris Brown when she told Refinery29 that, "I didn't think that far ahead…I'm just a fan of his music and I wanted to work as a musician with another musician, really. All that other stuff has nothing to do with me." Over here at NYLON, we just stirred up a whole nest of angry hornets when we called out Tinashe for working with both Chris Brown and R. Kelly.
Antonoff's List post is not a huge statement in and of itself. Yet, in a time when many artists seem quite happy to collaborate with Kelly and Brown (together, both have put out over ten new songs this year, alone), it's timely that someone would publicly announce their intentions to never step into the studio with either one of them.
Antonoff's post also begs the question if artists should publish "do not work with" lists. Perhaps if the public and the industry saw who didn't support such characters as opposed to who did, the collaborations we often bemoan wouldn't happen and fans would have a clearer notion of how a problematic artist's peers view them. It would, at the very least, be interesting.
(H/T Brianna Burke)