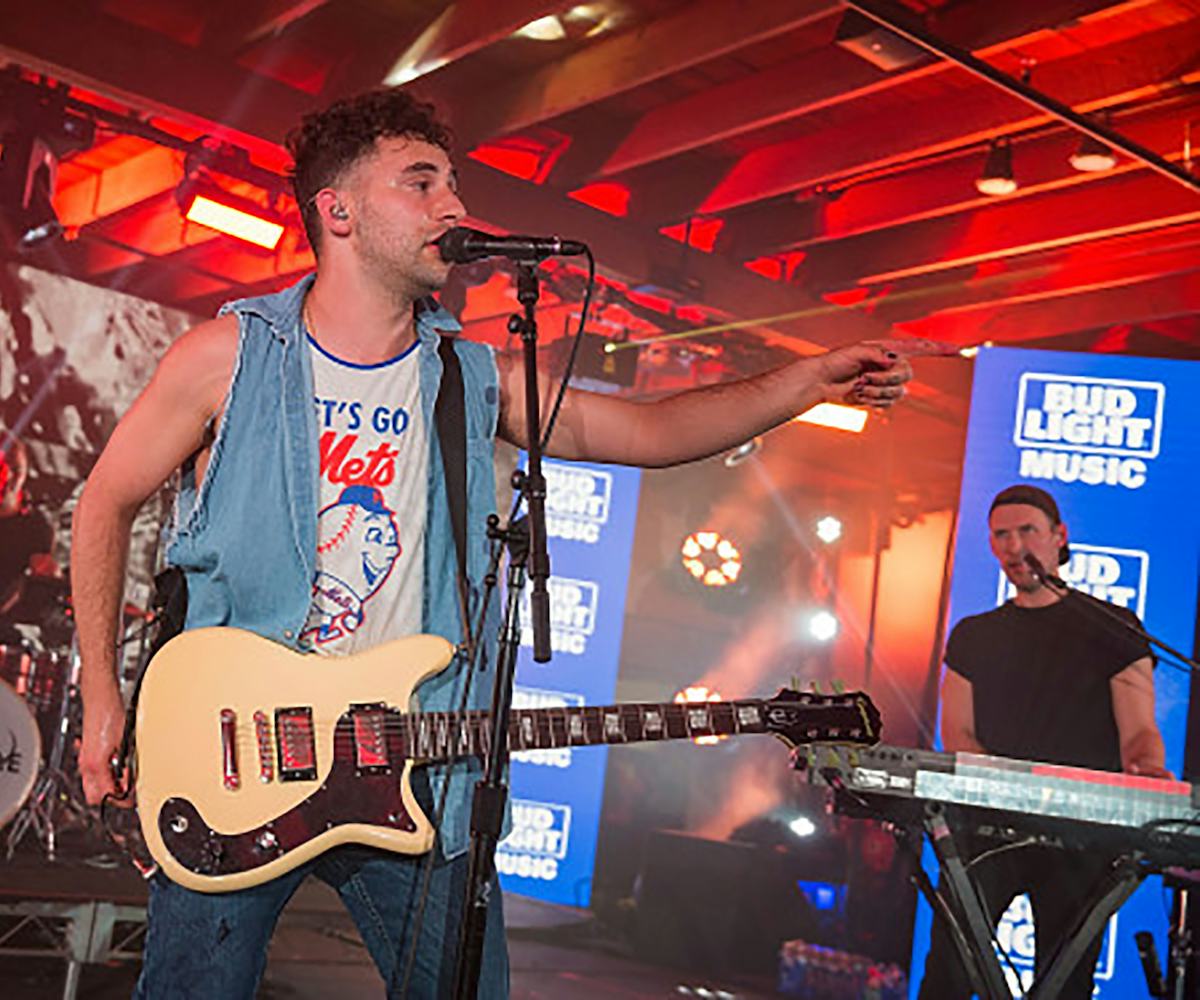 Photo via Getty Images for Bud Light.
Jack Antonoff On The New Bleachers Album And His Summer Festival
Catching up with the busy musician at SXSW
Any SXSW pro can confirm: Nailing down an interview during the beautifully chaotic music festival is no easy feat. Luckily, our friend Jack Antonoff was down to meet up before Bleachers closed out Friday's Bud Light Music Showcase, which featured performances by Transviolet, Emily King, Bob Moses, and MisterWives that literally shook the floor of Brazos Hall in downtown Austin (aptly dubbed "Bud Light Factory"). It was the first time the band had been on stage together since they started to work on their upcoming album, making the wait for the release all the more difficult. (If it's any relief, though, Antonoff's Shadow of the City festival hits New Jersey on June 18.) Here, Antonoff tells us which artists are currently on his playlist, what he's working on for Bleachers, and what we can expect from his second annual Shadow of the City festival.
So who are you listening to now? What are some artists that you like?
Stuff that's happening now? Or just what I'm listening to right now?
Let's do both.
Fuck, um… Well, ELO put out a record, and I think that age and time with songwriters is always a weird thing, like, people always tend to get worse, and Jeff Lynne has gotten better. The record they put out really blows my mind, so I've been listening to that, which is modern. And then all their old stuff because of it. [Bruce] Springsteen just did The River tour, so I've been listening to The River nonstop. But who are new artists? All the things that Charli XCX has released recently have been wild. It sounds a lot like what the future might sound like. I've had a huge personal OutKast renaissance. They meant a lot to me when I was younger, and then I just kind of went back in and thought a lot about Organized Noize and their production. That's about it right now. Honestly, I only listen to my own music when I make records because the more I listen, the better it gets, and I get wrapped up [in it]. And if I get too into something else, then it's hard to separate.
What have you been working on?
Just mostly the Bleachers record. I'm really far along with it and it's just an everyday thing.
What sounds and themes can we expect from it?
It's hard to talk about it yet because I don't know. Sometimes you do something and then you define it in your head after, so at this point I'm just in this phase of, "Wow, this sounds really different and out there for me," and I've done a lot of strange things that I'm really interested to see how people react to. When I made the last record, I didn't know what I was doing. I was just making the record, and then I finished it, and it was like, now that I'm done, I can step away from it. [There was] almost a specific moment: It gets mixed, mastered, and then you hear it for the first time outside of working on it, and you're like, "I totally get this. This is, like, some sort of love letter to where I grew up and the time period I grew up in with these futuristic elements." I knew exactly how to describe it. So now I'm just in this phase of recording and pitching all these bell sounds, and doing all these things that define the sound but not knowing what to call it yet.
I haven't heard someone describe their work like that before, where they put it together after.
It'd be like if you cooked something, and then you'd say, "What does it taste like?" And it's like, "I'll tell you when it's done and I eat it."
You have your festival coming up soon in New Jersey. What can you tell me about that? 
This year is the second year—which is interesting because doing something twice feels like it's something you've done your whole life. Doing something once, [you feel like] you could never do it again, but when you do it twice it feels like a tradition, and then people are excited in the way that they know what it is. They've defined a culture around it, and now it's happening again. It's just exciting. I've always dreamt about doing that, and sometimes the things you dream about doing involve so much work that you rarely get to just look at it and feel the excitement. But [the festival is] pretty easy, because I'm slightly removed. It's not just about me; it's something I put together, but it exists without me. I'm not headlining it, I'm just a part of it.
Could you tell me a bit about who we're going to see during the festival?
The 1975 is headlining, who I love. Carly Rae Jepsen's playing, who I love so much too. BØRNS are playing, my old band Steel Train is getting back together for just that day to play, Shamir, who I love, is playing.
I love Shamir.
Huge Shamir fan. This girl, HAHA, who's incredible, who I discovered through Grimes; Bishop; Frank Iero. The whole theme is—I grew up in Jersey, and when you play a show here, you can't play anywhere for 100 miles. That's the rule.
Oh, I didn't know that.
Yeah, it's like a radius clause. Otherwise, you could play a million shows. But promoters want to concentrate everyone going to one place. So the greatest cities in the world—like, Chicago, New York, Los Angeles, San Francisco—there's this funny thing that happens where all the areas right around them get no big live music. How often does a band play in New York City on their tour? Always. You would never miss it. But do you play New Jersey? No, because you're playing New York City. And especially in the face of this big New York City festival war that's happening, I just want to have my small festival in New Jersey, so the younger version of me could look forward to a really great show there every year.