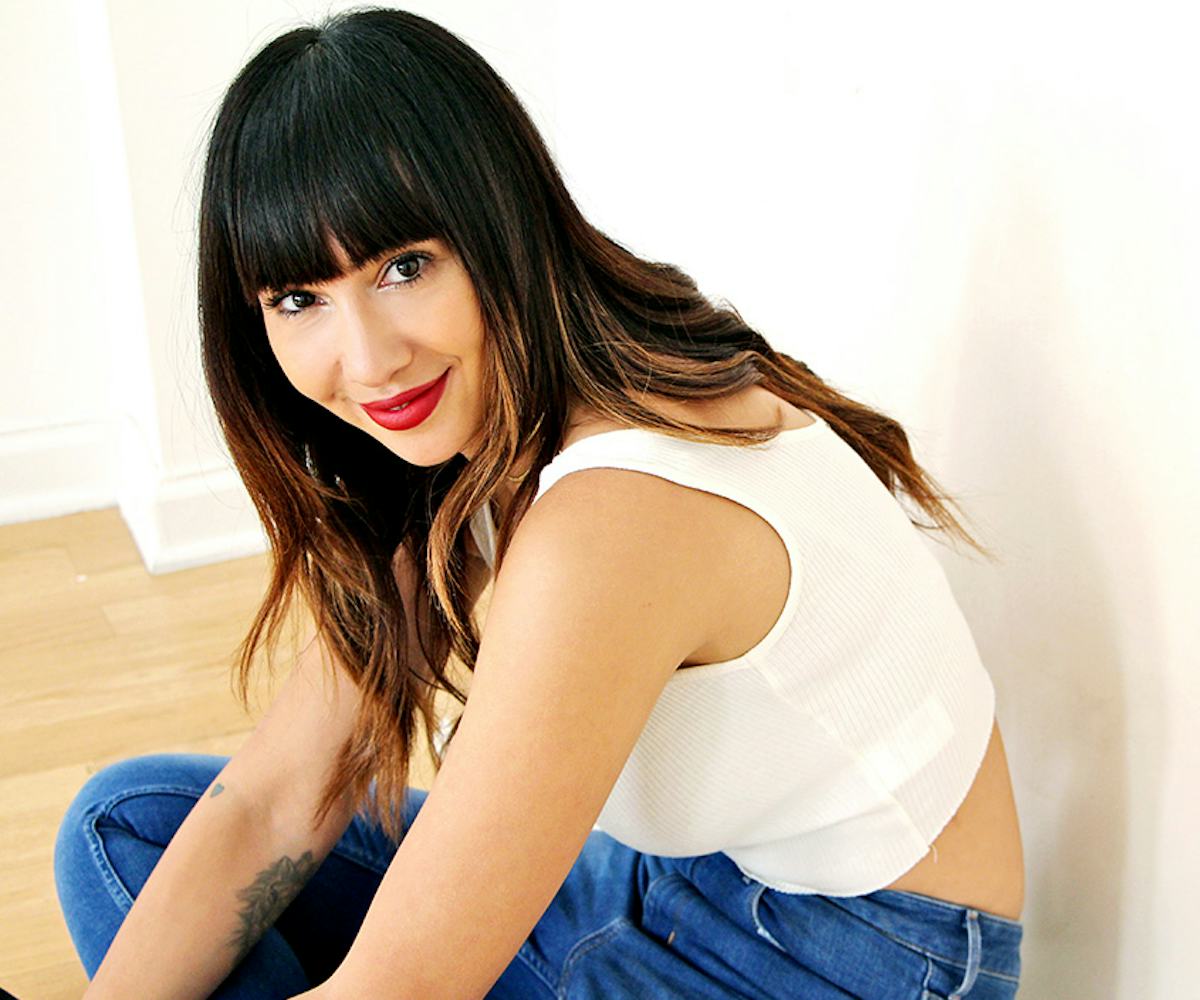 Photo by Tina Turnbow
get to know oitnb's jackie cruz
Back in 2013, Netflix introduced a little show called Orange Is the New Black. Over one long binge-watch weekend, the series became a full-on hit, introducing thousands of viewers to the vast, cliqued-out ladies of Litchfield Penitentiary. With her distinct personality and comedic timing, Jackie Cruz has become one of the most recognizable, standout stars of the series. This Friday, she returns to Netflix in season three. In the gallery, she tells us what to expect on the new season and shares her personal journey.
Click through the gallery to read our interview.
PHOTOGRAPHY CREDITS
photographed by tina turnbow
makeup by tina turnbow
hair by marc mena
styled by wendy mcnett
Congrats on the promotion to series regular for season four. Are you excited to start filming soon and get your Flaca on? I miss Flaca so very much. I'm so ready to get back to her! I'm so excited to be a series regular starting with season four. It's awesome to know the fans love Flaca as much as I do…
What are your favorite parts of set life?Well, I get to be surrounded by my beautiful and talented cast members, but another favorite thing of mine is sandwich o'clock and the cheese plates.
You have been acting and singing your whole life. Was it your parents that spotted a spark of talent and helped to get you going in that direction?I actually told my mom I wanted to sing after I watched The Bodyguard in the Dominican Republic. [The movie was] dubbed in Spanish, but Whitney [Houston] sang in English. I was obsessed with her and tried to imitate her at seven — the key word is tried… But I found my own sound; [Whitney Houston and I] shared the same passion for music. As a little girl I was always dramatic, so acting was just a given.
White jacket - KTZ
You've had to face some pretty rough times, including a near-fatal car accident. Do you think the challenge of surviving something like that has been positive for you, personally?I absolutely think that everything happens for a reason. After overcoming such a difficult time in my life, it's amazing to be able to share my story with the world and make an impact on young, aspiring actresses' and singers' lives. I just returned from my first TEDxWomen talk in Switzerland. It was such an amazing experience to be among such strong women, and to be a new member of TED.
Would you share some of the meanings behind your tattoos?I have been through a lot in a short time, so all of my tattoos mean something special. The first one is a small set of angel wings I got after my accident, and it's hidden just for me to see. My second one is an anchor I got it with my best friend while filming my music video "Like a Drug." We decided to get it because we fell in love with NYC and we anchor here. My third tattoo is a lightning bolt with "TCB" on it which means "Taking Care of Business." I got it because I love Elvis…alright, alright I'm obsessed with Elvis! It was his motto and the name of his band. The last two tattoos mean so very much to me because I got them with another best friend from high school. I put a heart on my sleeve because that's exactly where I wear it; it's blue because that's the color of loyalty. Now, the lion is so special to me because it has a few different meanings: I am a Leo, but it's more than that — it means I'm a survivor and leader. It is also hidden and is a reminder to keep my head up and be strong, even if it looks impossible. 
Who are your musical inspirations and favorites to listen to these days?I absolutely love Etta James, Tracy Chapman, Elvis Costello, and Fiona Apple to name a few. My character also has a passion for music. I have been listening to The Smiths, Depeche Mode, and Erasure, so I have a wide selection now. I am kinda obsessed with Allen Stone and James Bay.
You've got a very cool sense of style. Who and what influence you most when it comes to your style, and are you loving any particular designers or staples for your wardrobe?Well, funny enough, my mother saved all of her cool leather jackets from the '80s. They are in great shape, so she's my number-one inspiration. I like to stand out, so I wear a lot of vintage. My closet has some great staples in it, but Nicole Miller has recently been a big inspiration for my style and has supplied me with some great looks!
I love that you love makeup! What are some of your go-to products and favorite looks?I have a friend who makes the organic line RMS beauty, and the Living Luminizer is my little secret. It gives me what I call my "J.Lo glow." All of my friends [are] hooked! Eyeliner is in my purse 24/7; I use Chantecaille's Le Stylo Ultra Slim Liquid Eyeliner. My other obsession is every matte Mac lipstick made, but my ultimate secret is keeping my skin clear with hydrating facials by Theresa Pinson. She has a skincare line that I love, Virtual Medspa.
You have many creative sides. Do you sometimes explore the fine artist in you with painting or drawing?I love every kind of art, so yes! I have been inspired by my special someone who is an artist. I share my feelings and passion through my music, so watching someone draw and paint from their soul was exhilarating. I have been trying it out — it feels so peaceful.
Can you give us a sneak peek into some goals and dreams floating around that pretty head of yours these days?Well, I'm excited to start filming season four soon. After that, I hope work on some independent films that I have in the works. I have been lucky enough to share my personal story with universities across the United States, and now overseas in Switzerland with TEDxWomen. I want to continue to inspire women around the world. At the moment I'm working on my EP, and hopefully it will be out by this summer.  
White dress - Georgine, Necklace - Alibi