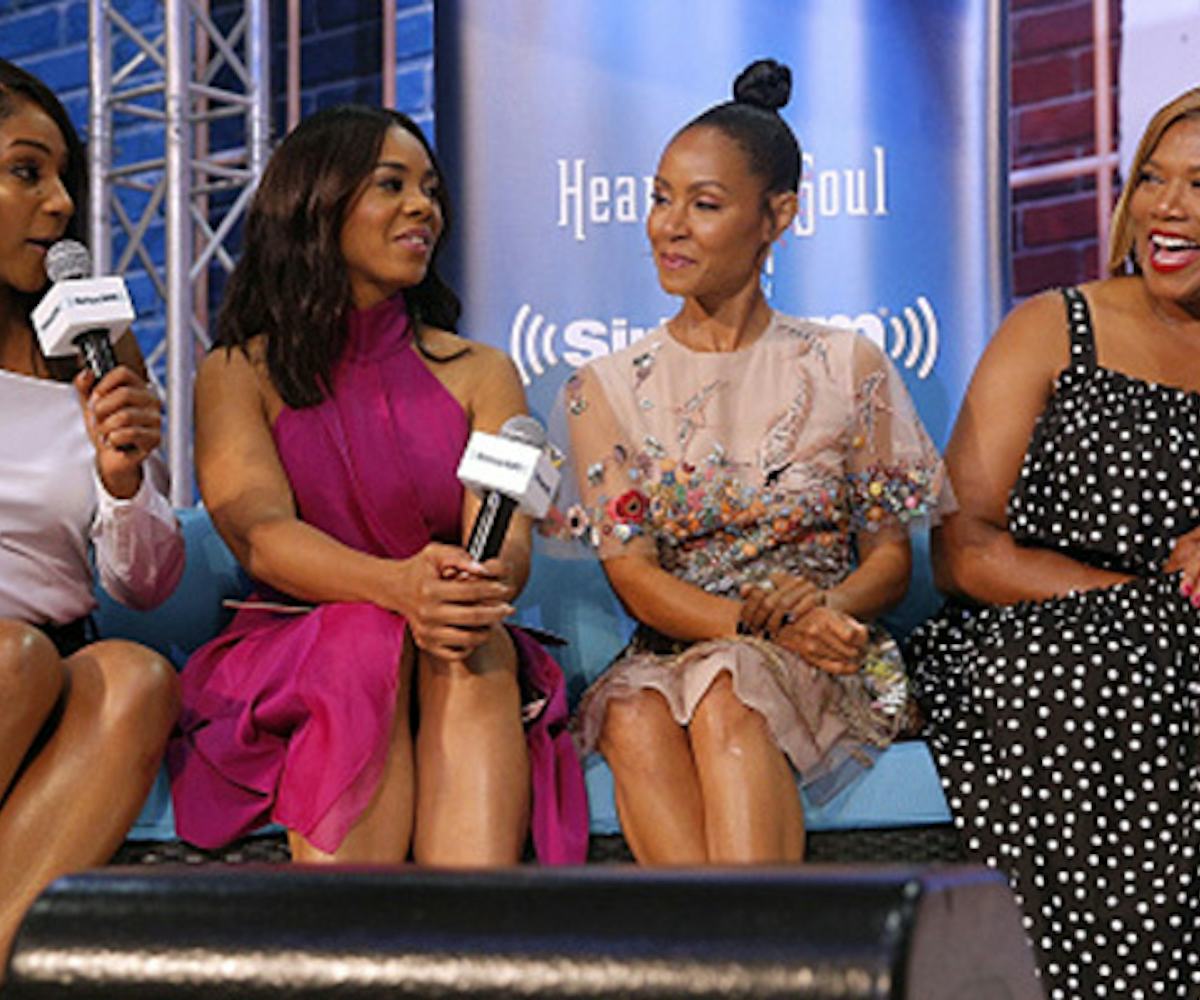 Photo by Jonathan Bachman/Getty Images for Universal
Jada Pinkett Smith Says Racism To Blame For 'Girls Trip' And Tiffany Haddish Snubs
"This is about the need for discussion of an antiquated system"
After Golden Globe nominations were announced on Monday, Jada Pinkett Smith had a lot to say about why the Hollywood Foreign Press snubbed Girls Trip, which had the largest opening weekend for a live-action comedy in 2017, and one of its stars, Tiffany Haddish. What upset her the most wasn't that the team didn't get any nominations, but that the Foreign Press wouldn't even watch the film.
"Girls Trip was one of the most successful films this summer & Tiff was hands down the funniest person on screen in 2017 and we couldn't get eyes on the film or a press conference," she wrote. "How could a nom happen & how much more critical acclaim must a movie have to simply get a screening?" She also noted that the Golden Globes asked Haddish to present at the ceremony. "This isn't about shaming, this is about the need for discussion of an antiquated system."
She said the issue can be defined simply as "racism," as many journalists and fans of the film have said. "Hollywood has systems in place that must learn to expand its concepts of race, gender equality and inclusion in regard to its perceptions of art across the board," Pinkett Smith wrote. She went on to name other films by artists of color that didn't receive nominations this year, like Kumail Nanjiani's The Big Sick, and noted that Jordan Peele's Get Out is being considered a comedy. This "illuminates the depths of the sunken place... for real," she wrote. The "sunken place" being a metaphor for the oppression of black people. 
The actress said she didn't want to just drag the Golden Globes, she wanted this to be an important lesson and a time to reflect. The Globes is just one of many award shows, including the Oscars, that neglects to properly recognize the talent of people of color every year. "Moments like this occur so that we have an opportunity to discuss, recreate and regenerate old paradigms," she concluded her thread. "It's all about growth. Love."