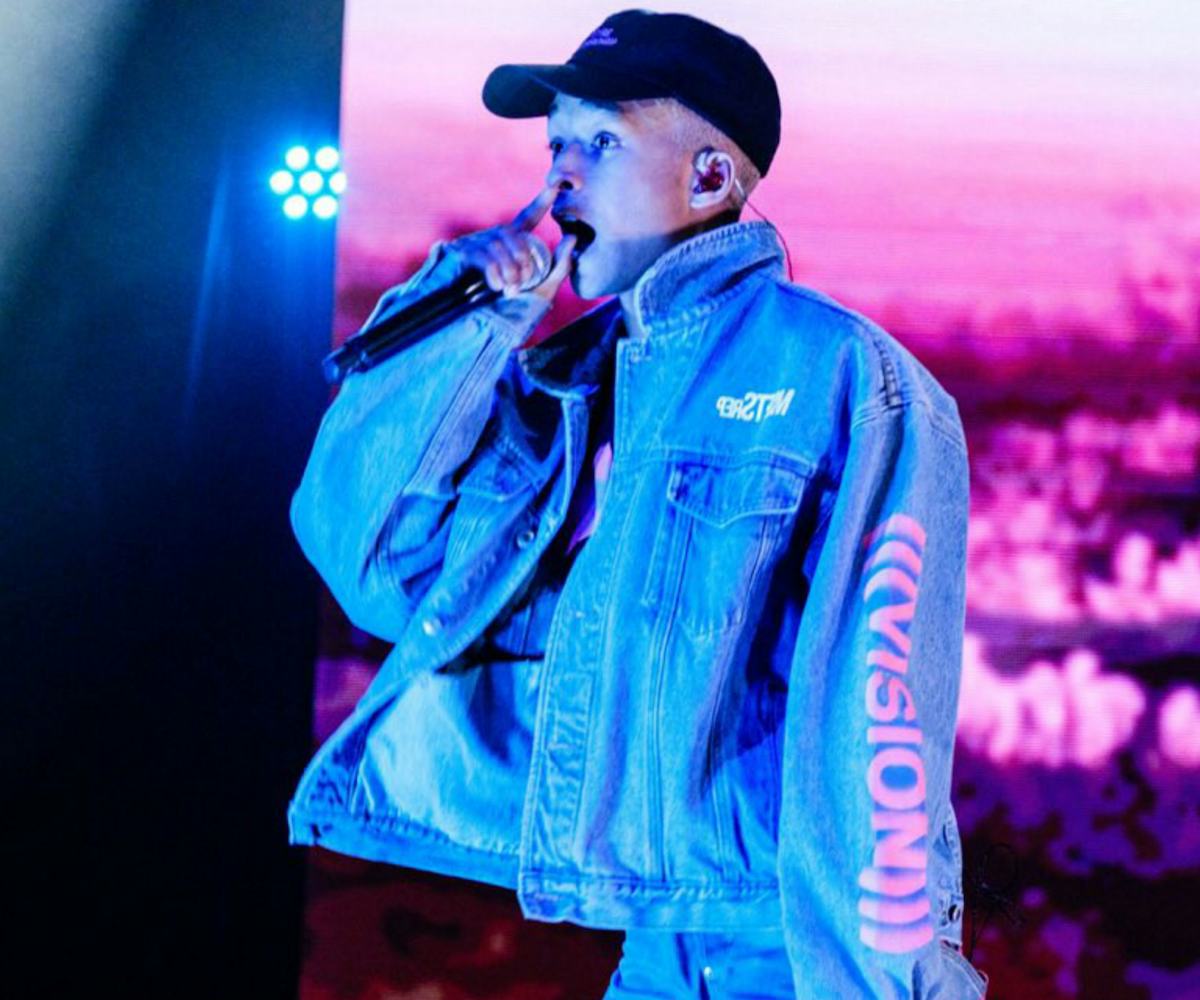 Photo Via @officialjaden.
Who Is Jaden Smith, The Musical Artist?
For over a decade, we've come to know Jaden Smith the actor, the philosopher, even Jaden the environmentalist who owns a... water company. Jaden the musician, however, is a little trickier to identify.
There are a couple of phases to Jaden's musical career. There's the 2011 version that finds a young 13-year-old standing alongside Justin Bieber and innocently rapping, "Now I got the world in my hand/ I was born from two stars, so the moon's where I land." This is the artist before puberty, before the swag and hot beats. To be fair, this is also Bieber before all of those things. You can't expect much from boys coming of age in front of millions of people. But they both grew as artists, and fast.
At 14, Jaden dropped his first mixtape, The Cool Café: Cool Tape Vol. 1, and the second volume a couple of years after that. At this point, his voice had deepened, his lyrics matured, and he was starting to take rap a little more seriously. Still, though, these releases were mostly dismissed as merely side projects from a rich celebrity kid with too much time on his hands.
It's hard to take anyone with an automatic headstart in life seriously, especially one who has his hands in so many different cookie jars. How can someone truly master the craft of making music when he's also lending his voice to anime projects, designing clothes, and, you know, building pyramids? Are we really going to take a boy who writes All OF His Tweets Like This and declared, in a truly bizarre 2014 New York Times interview, that his goal in life is to be the "most craziest of all time" seriously?
Well, we might have to. His three-year-in-the-making project, Syre, comes at a perfect time. Hip-hop and rap music are evolving at an ever quicker rate, and Syre fits right in with those trends. A lot of tracks borrow from rock or include a guest appearance from a pop star or infuse electronic music into its choruses. And Jaden's music fits into the genre-fluid moment that's happening. He's experimenting with a new style called "Pop Runk," as he dubbed it in a recent interview with High Snobiety, admitting that not even he knows what that means exactly. "It's pop mixed with something you don't understand that you cannot describe," he said. "I'm trying to take popular culture and mix it all together and give something new to the world."
This phase of Jaden's musical career happens to be the most exciting. Last month, when he released seven videos that teased the songs from Syre, each demanded your attention. Some included trap-music beats with Jaden's aggressive rapping layered over it; others were driven by a soothing guitar and emotionally charged singing. It wasn't clear what you were going to be met with when you pressed play, providing an intoxicating rush of unpredictability with each click.
Jaden the musician, then, has evolved into an enigma. For the time being, that's a good thing. It keeps those watching and listening eager to see what his 19-year-old brain comes up with next. "I created a new game," he told High Snobiety. And, as of now, he's the only one with the playbook.