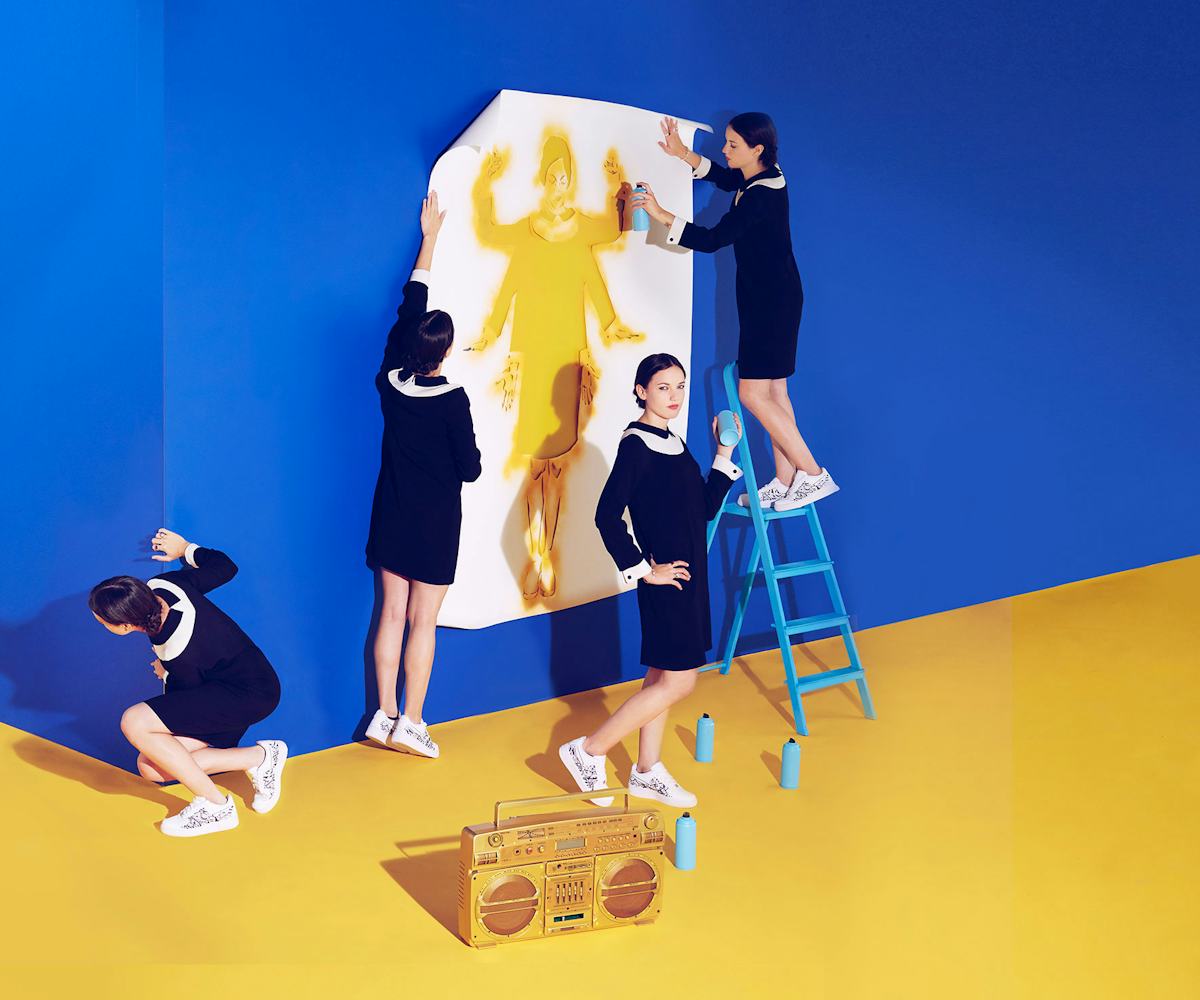 Photo courtesy of JAIN
Meet Jain, A Musician Of The World
Get in a 'Zanaka' state of mind
Jain walks into the NYLON offices quietly, wearing a pair of black sunglasses to shield her eyes. Though otherwise unassuming, the big, dark eyes that sit behind those shades have seen a whole world, and just how quickly that world can change, revealing an artist who is looking to create changes of her own. And now, following the release of her debut album Zanaka, Jain is starting to make it all happen.
From the mountains of southwest France to the beaches of the Congo, Jain lived a peripatetic life as a young girl, never staying in one place for too long. It was during this time that Jain picked up the various languages and learned about the many cultures and lifestyles of the Arabic, European and African cities she would inhabit. Living life as a nomad during such a formative period of her life contributed to making Jain not only a woman of the world but also something of a universal musician. 
"That multiculturalism is a part of me. It's how I built myself, and it's also why I've decided to sing. It's the center of this album," Jain says to me. "I don't know if I would have done music if I haven't lived in different countries."
Following a long stint in Pointe Noire, Congo, with knowledge of rhythm and Arabic percussion fresh in her mind, Jain began composing her first songs and subsequently met her future manager and producers after posting her work to MySpace.  
The vagabond within Jain shines through in her music—a culmination of the genres that swaddled her as a child and rocked her to sleep. Her sound has elements of Europop, rock, Arabic percussion, with a dash of reggae all mixing together for the perfect musical storm. This sound is evident on Zanaka, an album seemingly with no limits, pushing the bounds of genre identity and utilizing an English that Jain admits "is not a perfect one," but rather multicultural in which she still feels "understood."
Jain's emphasis on cultivation and growth, rather than perfectionism and absolutism, is what ties the tracks of the album together and is why the politically charged "Heads Up" seamlessly matches both the funk of the irreverent "Mr. Johnson" and the uplifting and carefree sounds of "Hob" and "Come."
Though her day-to-day life is still constantly changing, Jain brings with her a consistency in spirit, one of hope and resilience. '"Don't be proud if you gain, nor be sorry if you lose,'" Jain quotes aloud. "I often repeat this sentence to myself."
In the midst of a European tour, and looking forward to a newly announced North American tour that touches base in Oregon, Montreal, and New York amongst other cities in 2017, Jain will end her year in her home base of Paris, a proper endpoint for celebrating her "album full of contrasts." With an aim to "do something original that can move everybody," Zanaka, with Jain at the steering wheel, reminds its listeners that though it's easy to feel trapped by the restrictions and boundaries that society places on us, we actually live in a world where spreading "hope around" is key and "an open mind is stronger" than the opposite.