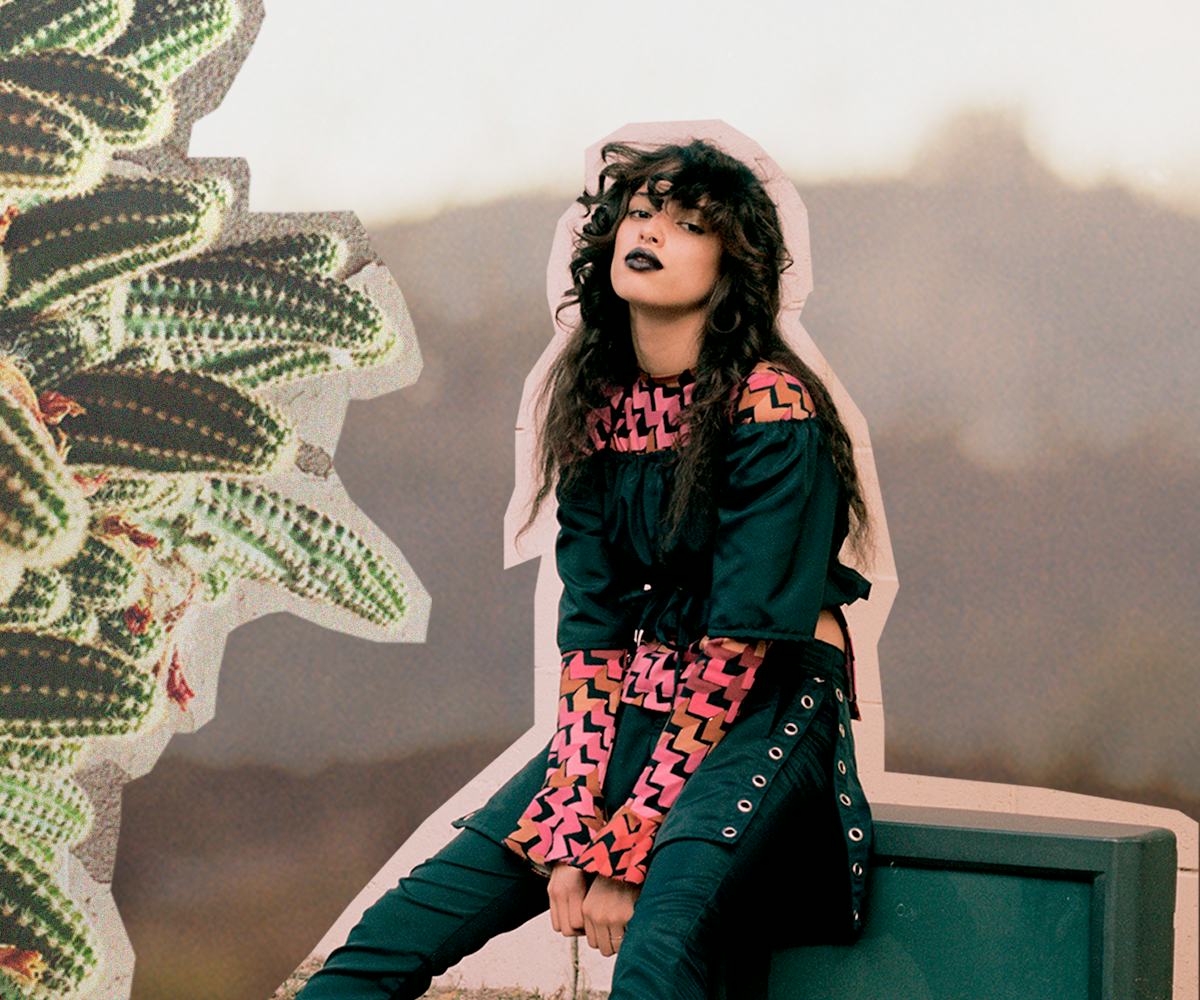 Meet The Man Behind The Avant-Garde, Androgynous Label PHLEMUNS
+ see an exclusive shoot by Jin + Dana
Although James Flemons doesn't actively follow the latest fashion trends, his label
unquestionably feels very of-the-moment. His denim patchwork pieces could live on a Tumblr dedicated to the early aughts, and his camel-colored looks summon visions of androgynous modernism. His clothing has caught the attention of everyone from Solange Knowles to Zac Efron, and Miley Cyrus wore one of his crop tops in the booklet for her album
Bangerz
. Here, alongside an exclusive shoot featuring the PHLEMUNS Spring 2016 collection shot by
, we spoke to the L.A.-based designer about his love of thrifting, androgyny, and why clothes matter on everyone but himself.
It seems one of the most important themes in your work is recycling fabrics and reclaiming them for your own creations.
I really hate shopping. And I only buy thrift. There's so much junk out in the world, especially now with fast fashion, and it's insane the amount of waste with clothes that there is. Thrifting and recycling fabric is what I see as my way of giving back for the small amount of damage that I'm doing for being a designer.
Because my clothes have a vintage feel to them, it might trigger someone to go out and look for something vintage. T
hrifting is rewarding. The
chances of seeing someone else in it is
slim to none.
If you won a million dollars today, what pieces would you buy?
I'm so out of touch with shopping in stores with regular clothing, I'd probably go to a thrift store. 
That response was so quick, I actually believe you.
It's what I'm so conditioned to do
now,
it would be my initial thought! I don't have a wishlist because I really don't know what's out there. I mean, I know what's going on in the fashion world, but I'm a little bit disconnected.
Why's that? 
When I was in college, I was such a fashion freak—I could name any piece from any collection. But it was a problem because all my grinds were coming out referential of another designer and I wasn't inspiring anymore. I had to take a huge step away from being so on top of things. I use social media as my outlet to what's happening. You're not fully engulfed because you choose who you follow, instead of pouring over every fashion magazine. 
When I first saw your denim patchwork, the first thing I thought of was Britney and Justin.
It wasn't a direct reference for me. I definitely get the correlation, but I started the patchwork as a way to recycle denim. The early 2000s is a secondary reference. 
And your yellow and plaid outfits gave me Clueless vibes. 
Again, not intentional, but it's something that's brought up so many times. I had a presentation in New York, and my friend put it together like an old-school salon thing, where we had someone cutting people's hair on stage. Then someone wrote up an article about how we were referencing the scene in Clueless where Dionne's boyfriend shaves his head. We weren't! But we can roll with it.
I don't want to suggest anyone's sexual identity as trendy, but a lot of celebrities are coming out as gender-fluid. Your clothes have a lot of androgynous themes. 
Yeah. And I don't view it as a trend thing, but at the same time, there's awareness of it right now. People are being receptive to this idea of challenging what a male is supposed to be, what a woman is supposed to be, and hypermasculinity. I've constantly worn women's clothes since I was maybe 19 or 20. They tend to fit me in a certain way because I'm really skinny. And there are styles for women I can't really find elsewhere. I'm heavily influenced by Prince, Michael Jackson, and David Bowie, people who play across that line. 
What do you wear on an average day? 
I've always wondered, like, "Why do designers have such bland normal basic personal style?" I've gotten to the point where I'm realizing why: because so much of the creative energy is expelled into what you're creating that you have no time to put in effort into what you're wearing. I wake up and throw on the same pair of jeans and a vintage T-shirt and Vans. I'm trying to make more time for me again so I'm getting back to not being so blase but it's pretty non-intriguing. I have my work to speak for me and I can kind of look like shit and not really care because I have this portfolio of clothing that's somewhat interesting I can fall back on. Like, I was invited to this black-tie affair recently. I didn't end up going, but I wouldn't have had anything to wear anyways.
Photography: Jin Kay Lee + Dana DeCoursey    
Stylist: James Flemons 
Clothing: PHLEMUNS 
Hair: Rachel Lee Brady at Bumble and Bumble 
Makeup: Hinako Nishiguchi @ The Wall Group
Model: Khadijha @ Photogenics
PHLEMUNS Spring 2016
PHLEMUNS Spring 2016
PHLEMUNS Spring 2016
PHLEMUNS Spring 2016
PHLEMUNS Spring 2016
PHLEMUNS Spring 2016
PHLEMUNS Spring 2016
PHLEMUNS Spring 2016
PHLEMUNS Spring 2016
PHLEMUNS Spring 2016
PHLEMUNS Spring 2016
PHLEMUNS Spring 2016
PHLEMUNS Spring 2016