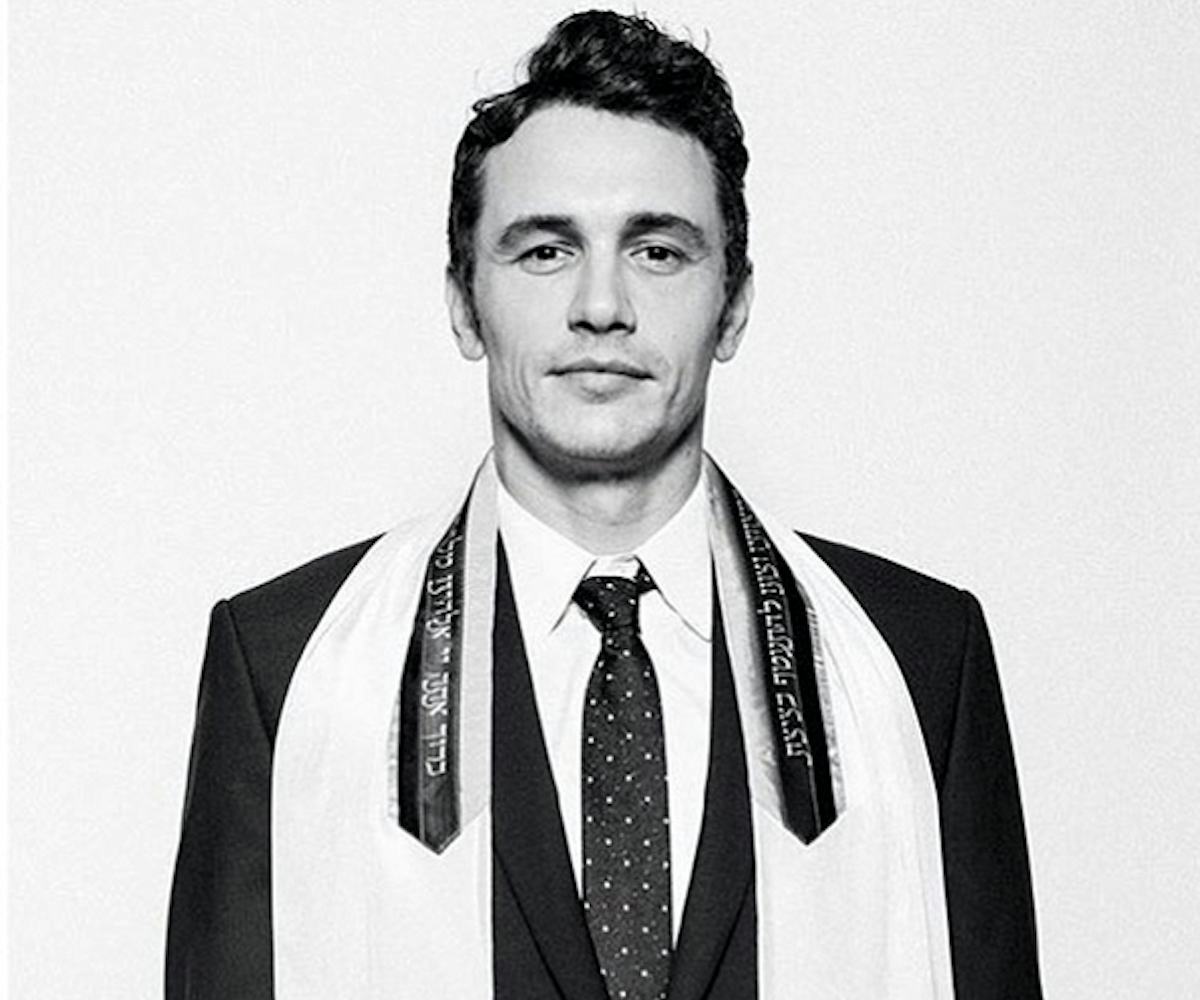 Photo via @jamesfrancotv Instagram
James Franco Became A Man This Weekend
at his bar mitzvah for charity
For many people, the days of attending bar and bat mitzvahs ends after seventh grade—but really, in the Jewish faith you can have the celebration anytime after you turn 13. So at the age of 37, James Franco finally, truly became a man with his variety-show bar mitzvah hosted by Hilarity for Charity—and it wasn't your typical middle-school affair.
For a musical component, Franco opted to go traditional with a twist. Haim performed "Hava Nigila," ultimately leading the entire audience to dance the Hora and lift up the bar-mitzvah boy in his chair, as you do. But later, Miley Cyrus showed up in her blue Star of David leotard (with an attached "Shalom Y'All" cape) to take the bash to the next level.
Having waited until he was 37 to have his bar mitzvah, Franco also used this charitable opportunity to undergo another belated Jewish tradition: his circumcision. The "procedure" was performed by Jeff Goldblum as Franco's rabbi, and Zac Efron made a pleading appearance as, well, Franco's penis.
Photo via Jonathan Leibson/Getty Images 
While it's safe to say this may be the wildest bar mitzvah we've been witness to, it's not totally unlike the celebrations we attended many years ago. Like any nice Jewish boy, Franco donated his bar-mitzvah earnings to charity—in this case, over $2 million to the Alzheimer's Association. And, as it happens, the ceremony was also performed in good faith: Franco actually went through a real bar-mitzvah service a few weeks ago, so this could actually be a strange-yet-spiritual experience. "This bar mitzvah represents a fresh start for me," he said. "Everything I did prior to this moment I didn't do as a man but as a mere child. Therefore, any behavior that might have been questionable at any time, just know I wasn't thinking, I was just a boy with the cognitive capacity of a minor. I want to thank you all for coming and seeing me finally become a man."
(via Dazed)