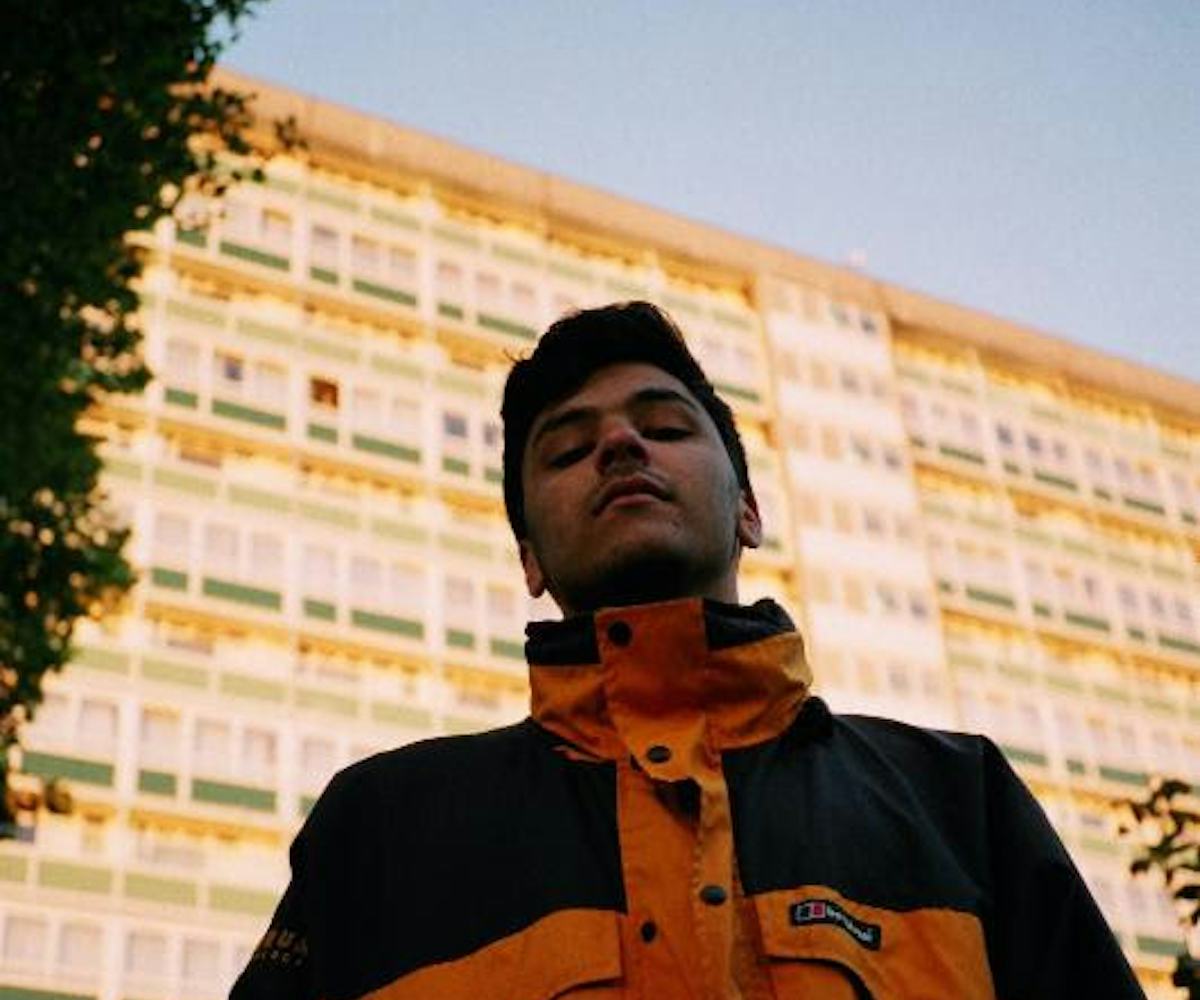 Photo by Ashley Rommelrath
Jamie Isaac Is Bringing Cozy Vibes To A Room Near You
Don't sleep on this 'Couch Baby'
Somewhere across the pond, you can probably find Jamie Isaac settled comfortably on a couch. The London-based singer-songwriter and pianist has been attached to this piece of furniture since he was a toddler, so it was only appropriate that he titled his debut album Couch Baby. 
Isaac's interest in music developed at a young age, but rather than go out to clubs, he kept busy by singing in the choir. "I was always going out and rehearsing, and my sister was more of a garage-listening [type], going out to a club on a Friday night wearing full Moschino," he says. "She was that side of South London I didn't see. I kind of lived vicariously through her, I guess."
We recently had the pleasure of chatting with Isaac while he was out for a stroll in Kensington. Learn more about this couch baby in the interview, below.
What's your earliest memory of music?
I remember the first time I played the piano; it used to be at my nan's house. She used to have an old piano in her spare bedroom, and she was the one who really inspired me to play. She used to play piano on Burmese radio with my great-grandad. He used to be a singer and then he [taught] her to play. She took that piano from Burma with her when she moved to London, and it just kind of stayed there.
Tell me about what it was like to grow up in South London.
Growing up is a bit of a weird one; it's a good area, but it has its rough spots. When you grow up in South London, you always have these images of rough London. It's like
Oliver Twist
. North London is where all of the rich people live, and East London has all the cool people there. But... people are gravitating toward the South now, and it has a pretty weird vibe. Growing up there was pretty much very secluded. Well, for me, personally, very secluded. I was a bit of a loner anyway, so I just stayed in my house, really. I was more of a bedroom bunny. That's not even a phrase, [but I was] a bedroom kid.
How long had Couch Baby been in the works? Tell me about the process.
It took me about two and a half years to write. It took me ages because I didn't really know what I was doing at the beginning, I didn't really know if I was writing the album or not. I just kind of had seven songs that I was doing and I thought,
Oh, hang on. I might as well carry on and write an album now
. So when the thought process of writing an album came in, then I started to panic quite a lot, because the idea of putting out your first extended piece of art is a very daunting process. Especially because I changed my music's style slightly, from my previous EPs. The problem was, as soon as I started, when I finished the last song, I kind of looked back on the first one like, "Oh, I can update that." And then kind of going to a process where you finish that song and then you go back to the penultimate song. It's kind of this thing where you don't know when to finish and when to stop yourself. That's how the writing really went. It kind of just came quite naturally; it was an enjoyable experience. It definitely wasn't hard work. I'm not in the studio every single day sweating. It is very much a laid-back chill in your bedroom kind of writing experience.
How did you decide on the title Couch Baby?
It was something that had resonated with me. My mom basically said it about me and my nephew; she was like, "Oh, your nephew is such a couch baby. You were such a couch baby." And that kind of resonated with me, and I was kind of thinking,
I don't think I've changed
. I still sit on the couch all day and I still smoke weed, like when I was 14 and 15—not doing much. The only difference is I am able to write music now. It's kind of an homage to the people who are lazy pricks, basically.
When I saw the title, I felt very cozy. I wanted to relax and lie down...
Exactly, yes. Smoking a joint, relaxing... That's exactly who I wanted to be
, 
just in the bedroom, maybe getting down, just something that would fall back fine
.
I really enjoyed your music video for "Find the Words." Why did you choose to film it in a barber shop?
It was my local barbershop. I used to live in New Cross in South London, and this guy who owns the barbershop is called Barber, and he has about 17 kids and 52 grandchildren, and he's like a legend in the area. Basically, it was [one of] those Afro-Caribbean barber shops; when you walk past them—they can be open at like 2am, and they're open all day—it's always packed, but no one is cutting any hair. They're just in there, watching football, drinking. It's always a good vibe. I was really attracted to the idea of like a space being misused, you know what I mean? It was kind of being used for anything other than the purpose it was built for. I just really liked that idea and the whole vibe of it. I thought it encapsulated exactly the essence of the track and the area in one location.
There are so many articles about how South London is this creative hub that's really thriving right now. Can you describe the experience of what it's like to be a part of that resurgence?
Yeah, I think it's because it's one of those areas that has been ignored for so long by so many people. I think South London was always making great music, always making great art; it's only now that it has become popular that people have caught onto it. I don't think it's a new thing, it's just been ignored for long. It's something that grows very naturally and organically. There's nothing that's too forced or contrived about it, and that's one of the best things about it—everyone is very supportive of one another, everyone really knows each other. It's a small, small community of people who are really making great music and great art. Everyone really knows each other and is supportive. I think that reflects in a lot of the art and music that is coming out of South London.
You're making this music that is very intimate. How do you take that into a live setting?
Obviously, when I'm writing it at home, it's a very personal experience. When I get to the time of showing it to my band, it feels quite weird; I'm not sure how they are gonna take it. I always think,
Oh, this is way too
slow for the drummer, he's not gonna like it.
Because drummers always love those big beats and it might not be enough. [But] I kind of made this album so that I could perform the tracks live
. 
I knew that once the album came out, I would be gigging more. There's definitely a change of feeling [when we play live], it's much more uplifting than it is on the record; it makes the experience a lot nicer.
What do you do when you're not making music?
There's a lot of stuff: make art, write. I write a lot of poetry, but nothing serious. My girlfriend makes films, so I'm helping on projects with her, trying to do soundtrack stuff. It always kind of revolves around music, there's nothing I really do that doesn't involve music. I like photography; I like going around taking photos. I like doing a lot of stuff, but I don't do a particular job. I don't have a job, I'm into music. Just going around, enjoying the days.