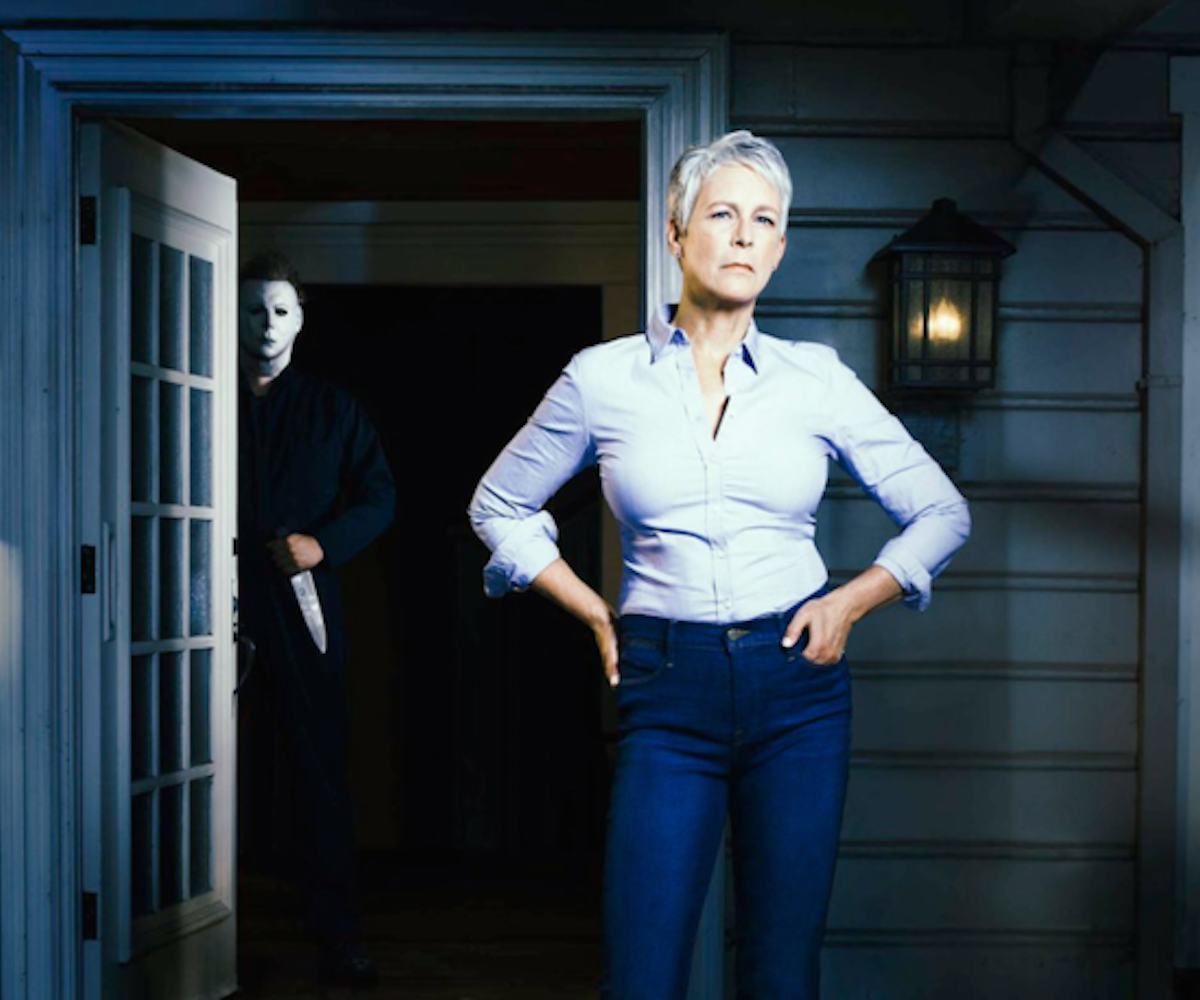 Photo via Twitter @jamieleecurtis
Legendary Final Girl Jamie Lee Curtis To Return For 'Halloween' Reboot
Will this be her last confrontation with Michael Myers?
In the insightful book Men, Women, and Chainsaws, academic Carol J. Clover posits a feminist archetype in horror cinema known as the final girl. This girl (usually sexually reserved, tends to avoid drugs, often leans towards androgynous, sometimes with a gender-neutral name) overcomes the film's monster through cunning, thus conquering a shadow version of herself.
Laurie Strode, the protagonist from the iconic 1978 slasher film Halloween, was one Clover's primary examples of the final girl. Now, decades later, Jamie Lee Curtis (who played Strode in the original film) is reprising her role as the plucky survivor in an upcoming reboot set to drop in 2018.
According to Variety, Curtis will have one last confrontation with Michael Myers, the vicious masked killer who has since haunted her through several films, before the franchise concludes for good. Horror staple John Carpenter (who both directed and scored the original) and newcomer to the series Jason Blum (who worked on Get Out, The Purge, Split, and The Paranormal Activity franchise) are teaming up to produce the film, which will be co-written by the director, David Gordon Green, and Danny McBride.
Curtis announced her involvement with the project over Twitter just yesterday:
Curtis had popped up a few times in the Halloween series, although her appearances in Halloween II (1981), Halloween: H20 (1998) and Halloween: Resurrection (2002) are nowhere near as beloved as her groundbreaking role in the first iteration of the iconic character. McBride recently explained where this new film will fit in the Halloween mythos, saying that the movie will not be related to the chronology or storylines of the recent Rob Zombie reboots: "You know, it's not a remake. It's actually, it's gonna continue the story of Michael Myers in a really grounded way. And for our mythology, we're focusing mainly in the first two movies and what that sets up and then where the story can go from there ... Green and I are definitely going to [do] a straight-up horror. Halloween has always been one of my favorite movies of all time. There's a simplicity and an efficiency to that first one that I think allows the movies just to be scary as hell. And so Green and I, our approach is to get back to that."
"I think it's much more horrifying to be scared by someone standing in the shadows while you're taking the trash out as opposed to someone who can't be killed pursuing you," he added.
This newest Halloween movie, which doesn't have an official subtitle quite yet, will be released October 19, 2018.