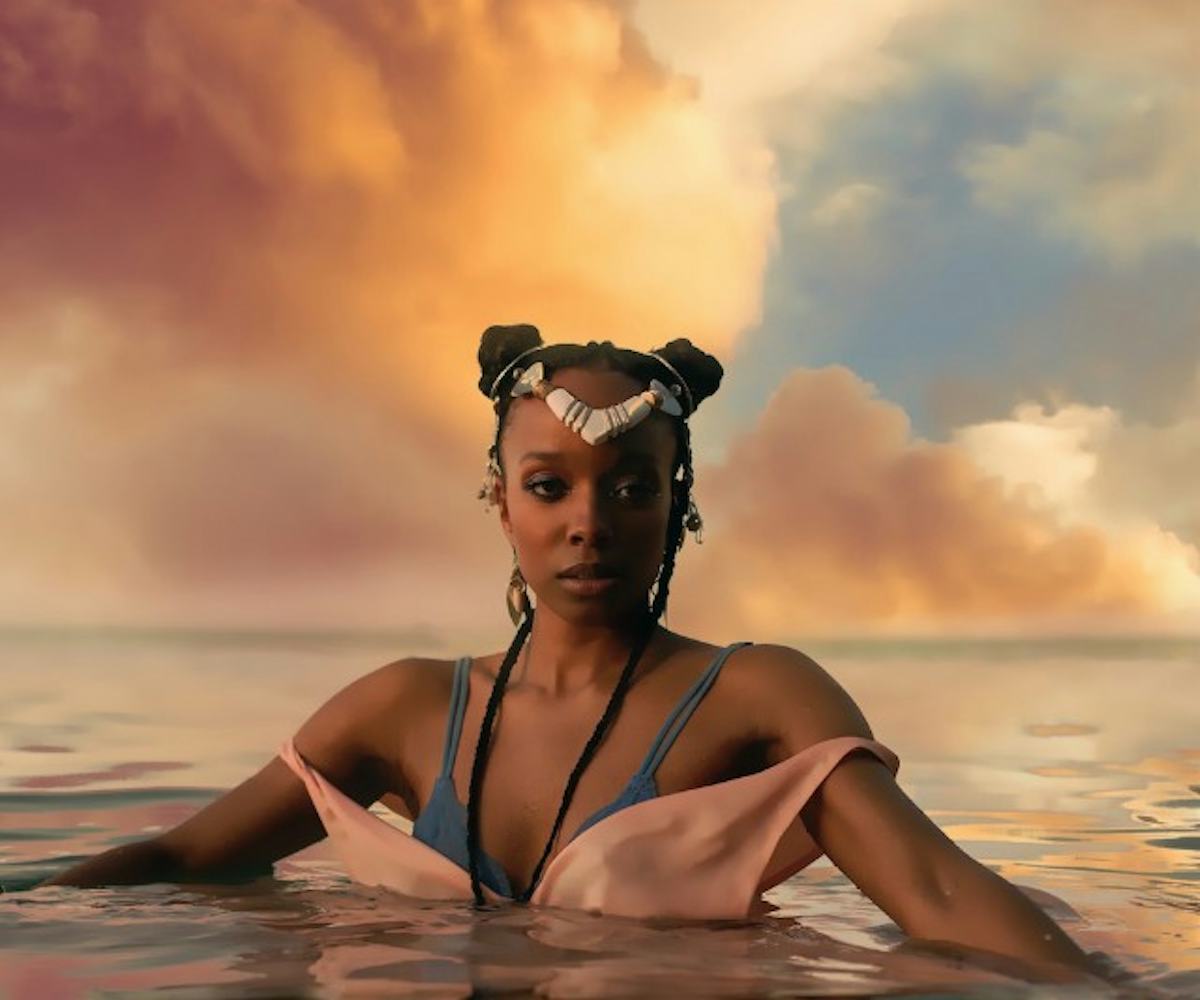 Photo via Bradley Murray/Whitney Middleton.
Jamila Woods' "Heavn" Is Like A Light At The End Of A Tunnel
And it couldn't have come at a better time
If Jamila Woods' name looks familiar, you probably recognize it from Chance The Rapper's "Sunday Candy" (she provided the warm, jazzy voice that was featured on the song's hook). Or from Macklemore's "White Privilege II," or her own "Blk Girl Soldier." The songs that she's chosen to create prove that she's far more than just a pretty voice. She is well aware of the hypocrisy that plagues race relations in America and is willing to use her talents to shed light on the subject. Her debut album, Heavn (released Monday), does just that and more. It doesn't only address topics like police brutality and cultural appropriation, but it also expresses Woods' pride in her hometown of Chicago—a city that tends to get more attention for its murder rate than, say, the beauty of its Lake Shore Drive—the importance of self-love, and the joys of being a black woman. Considering the current state of affairs in this country, it couldn't have been released at a better time.
History has consistently proven that the darkest hour truly is just before dawn, and while there's much to be done to improve relations between cops and black citizens—and to eliminate prejudice in general—it's important for black people to maintain their pride. Heavn inspires us to do just that.
Similarly to Chance's Coloring Book, Woods' EP uses childhood as a foil for the harshness of the world that we live in. "VRY BLK" reimagines the lyrics of the children's rhyme "Miss Susie" to address strained relations between police and the black community. "Hello, operator? Emergency hotline/ If I say that I can't breathe, will I become a chalk/ Line up to see the move, line up to see the act," she sings. The juxtaposition of the playfulness of her voice and the severity of the subject matter parallels how innocence can be stripped from black children who are made aware of the realities of prejudice, if not through warnings from their parents (see: Scandal's Rowan Pope telling Olivia that she has to be "twice as good" as her white counterparts), then from firsthand experience.
Woods also cites black girlhood as a source of empowerment. "Blk Girl Soldier" praises the powerful "freedom fighters" who prevailed in a world that is infatuated with the physical characteristics of black women, but ignorant of their plight. So while Heavn is empowering for obvious reasons, in its current context, it's more than simply moving. It's necessary.
At a time when unarmed black people are being gunned down for less than what white perpetrators have walked away from unharmed; when a non-violent movement created to ameliorate relations between cops and black communities has to go out of its way to separate itself from the deadliest attack on police since 9/11; when a black man is incorrectly marked as the suspect in said attack and receives no apology for the mistake; when people of color are pushed from their own communities to usher in richer and whiter residents, it's entirely understandable for members of the black community to be feeling downtrodden. Who wouldn't lose confidence when they have to beg for their inalienable right to justice, only to be told that their claims are invalid? Add to that the superhuman strength required of black women who have had to witness their loved ones fall victim to these acts—and the relative invisibility of those who are victims themselves—and that dejection intensifies twofold for us.
That's why Heavn shines particularly bright. Like Lemonade and Freetown Sound, Woods' EP is a much-needed reminder of the value of black lives. And for black women who feel as if we have to be particularly formidable in the face of oppression, it tells us that, yes, we are capable of following in the footsteps of the likes of Rosa Parks, Audre Lorde, and Assata Shakur, and it also encourages us to be the #CarefreeBlackGirls that we were in our youth. We can chuckle right along with Woods during the outro of "VRY BLK," in which she recalls connecting with other black women whom she had never met before over "Rockin' Robin." We can still love ourselves even though the "bad days may come." And though our physical traits are often imitated and objectified, there are certain aspects of black womanhood that simply cannot be duplicated. Because of that, from the frontlines of protests in Baton Rouge, Louisiana, to the tennis courts at Wimbledon, we will always prevail. Woods says it best herself: "For black and brown people, caring for ourselves and each other is not a neutral act. It is a necessary and radical part of the struggle to create a more just society. Our healing and survival are essential to the fight."
Stream the album below.