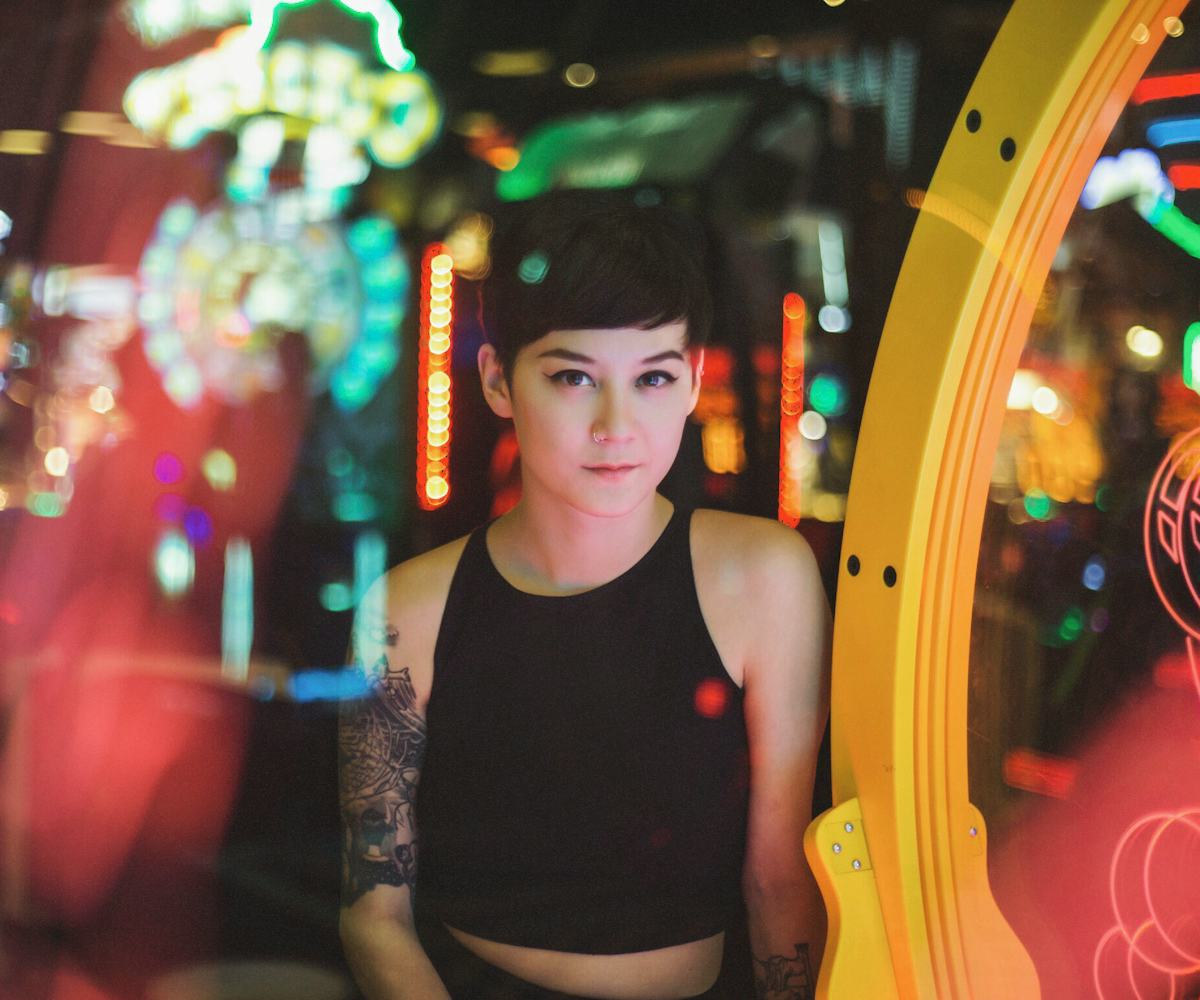 Photo courtesy of Dead Oceans
Japanese Breakfast Explores The Cosmos And Her Own Happiness
'Soft Sounds from Another Planet' is out now
Recently Michelle Zauner, who writes and performs as Japanese Breakfast, found herself enamored with the Mars One project, which plans to send humans on a one-way trip to colonize the red planet. Well… enamored in the abstract sense. Despite the extraterrestrial theme that lightly permeates her sophomore album, Soft Sounds from Another Planet, she has no plans to strap on a space suit. The Martian? Yeah—that's her idea of a horror film. 
"I feel like there's so many ways to take your life on earth that I'm more fascinated by that than being alone," Zauner muses from a tour stop outside of Los Angeles. "I also think human connection is such an important part of my life. I don't want to be limited to 20 people on a planet. That's terrifying! I don't want to be uncomfortable. I don't want to have trouble breathing. There's so many nice things here. How would you eat anything good up there? It would be terrible."
Even with her terrestrial worldview, the cosmos has still managed to find its way into Zauner's work. Commissioned by a blog to write a sci-fi song, album writing began when she penned "Machinist," a spoken-word/hip-hop/electro-pop hybrid that tells the story about a woman who falls in love with a machine—and then escapes on a rocket ship when she realizes it's a doomed affair. Her patron rejected the track, but it was enough to get Zauner thinking about the idea of symbolism and metaphor, even though Soft Sounds from Another Planet failed to develop into a full-fledged concept album. The poetic notion alone proved to be an assist in casting the emotions that drive her to make music into a different light. 
"There's escapism," she confirms. "But I think more than escapism, there's a lot of rooting around in stuff. A lot of sorting through what's there and digging it out and learning how to compartmentalize what you're feeling. That's more of my process. This is what's in front of me. I'm going to place myself in the thick of it and try to figure out what's going on." 
Psychopomp, Zauner's debut album under the Japanese Breakfast name, was a direct piece of lo-fi bedroom pop, written in the wake of her mother's passing, and colored by the grief surrounding that time period. With an assist from co-producer Craig Hendrix, the sonic landscape is bigger this time, populated with spiky guitar work, vocoders, reverb, orchestral passages, and, in the case of swoony ballad "Boy," big-band production work that brings to mind classic Americana singer-writers. (A partial tribute to Zauner's father, a devoted Roy Orbison fan.) Soft Sounds from Another Planet is still a thoughtful and occasionally heartbreaking collection of tracks (as Zauner pragmatically points out, her mother's death will never not be on her mind), but the album is also peppered with many moments of joy. 
"For a long time I felt very angry that this unfair thing happened to me," Zauner says of the emotional burden she was forced to sift through. "Over the course of a year and a half, I had more of an abstracted look on my pain compared to other people… I think the concept that came through that is feeling like you have a robotic body or floating through space because you're trying to deal with the pain of being a human being. How do I get through that? That universal pain is what makes me think of that album title. In some ways, suffering is like a soft sound on another planet. It's part of a much greater world."