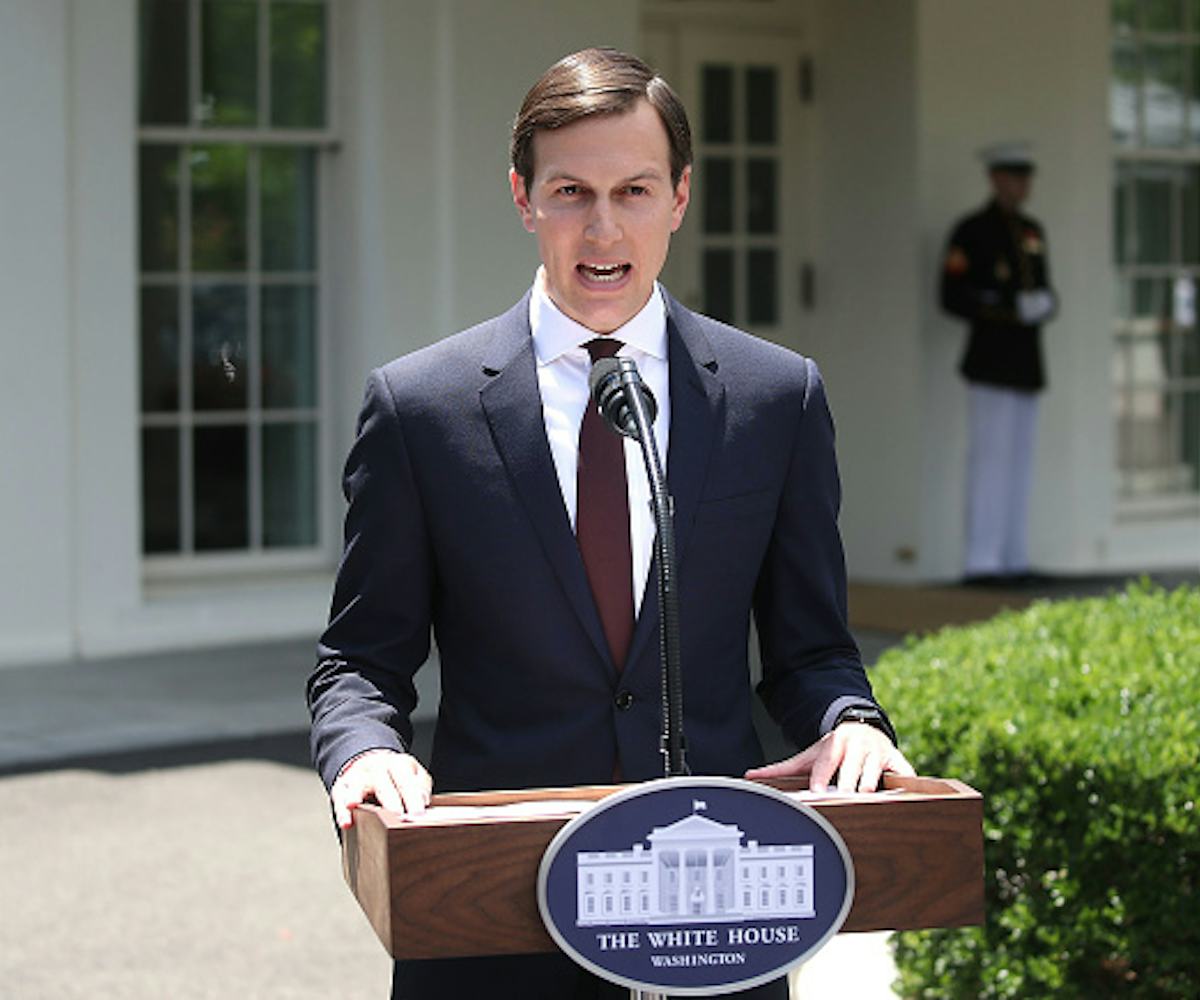 Photo by Mark Wilson/Getty Images
Here Are The Best Tweets Trolling Jared Kushner For Being A Terrible Man-Child
"Yogurt. is. too. spicy."
Oh, Jared Kushner. Singularly helium-voiced, supposed "nice guy" Jared Kushner. When will the White House senior advisor learn that every time he goes on TV, people will only half-listen to the BS he's saying because they're too busy trolling him for being the very privileged man-child that he is? This is, anyway, exactly what happened today when Kushner lied about not colluding with Russia at a press conference. And we couldn't be more grateful. 
We rounded up the best tweets roasting (toasting?) this sentient slice of Wonder Bread. Please read all of them in the appropriate Kushner voice. 
"Let me be very clear," someone wrote along with a still from Kushner's TV appearance, "yogurt. is. too. spicy." 
"I specifically said the paint color should be OFF-WHITE," journalist Lauren Duca wrote. "What is this? EGGSHELL?"
"I was breast-fed until I was in my early twenties and I turned out just fine," someone tweeted. "Next question." 
"These pictures make it look like Kushner was just emitting a high-pitched screech for like ten minutes straight," another person wrote. I would almost rather listen to that. 
"You and your little friends will NEVER save the youth center," someone tweeted, because Kushner is the villain in a '90s adventure comedy. 
"Let me be very clear," somebody wrote. "It's Nantucket Red, not *salmon-colored*." 
"Jared Kushner is always one futura font away from starring in a Wes Anderson movie," someone very accurately stated.
"[squeaky voice]: "This is my big boy scary face! Are you scared yet?...why is everybody laughing?"
"I have never been held accountable for anything I've ever said or done because I am perfect and a good boy."
And, finally, one person pointed out that Kushner is actually the George Michael of this administration.