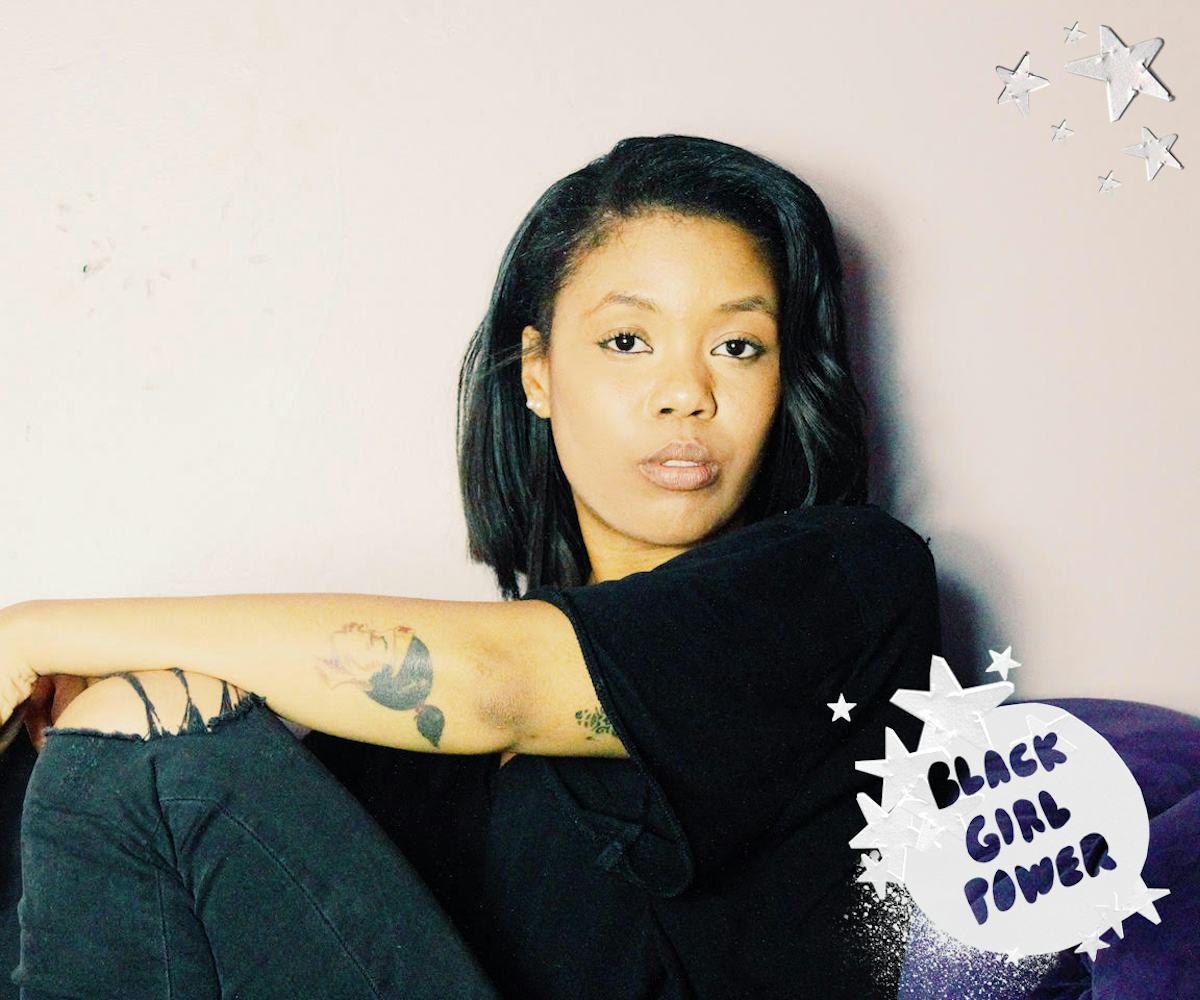 Jasmine Mans Will Be Your New Favorite Poet On The Internet
the performer drops knowledge every time she grabs the mic
In celebration of Black History Month, NYLON is running a spotlight series called Black Girl Power... The Future Is Bright. Every day, phenomenal black women from different industries will be featured to tell their stories—revealing how they became who they are, showing what they have accomplished, and pinpointing how they navigated their careers. Black women deserve to be celebrated 365 days of the year, and we hope that this series will inspire everyone to believe in the power of #blackgirlmagic. 
Jasmine Mans has been writing poetry since she was in middle school when her parents sent her to orator classes. "Every Wednesday, I'd sit in the basement of this church learning poetry, poise, and performance," she says. "As a young person I was intrigued by how I could make my audience feel."
Throughout her adolescence, Mans was inspired by Tupac. "His rhyme and unapologetic style. His provocative storytelling," she explains. Mans attended a predominantly black art high school, but her "first experience with whiteness came in the form of debate competitions." Mans was a proud member of her school's speech and debate teams, which weren't exactly recognized as the cool clubs. Even then, she viewed herself as a rock star and the same can be said today.
Now, the 24-year-old author and poet is based in Newark, New Jersey. In 2012, she published her first book of poems titled Chalk Outlines of Snow Angels. Mans is constantly mentoring young poets and even taught creative writing at her alma mater, the University of Wisconsin-Madison, for its First Wave initiative program. (In addition to her BA in African-American Studies, Mans was also the recipient of the Star Ledger from New Jersey Performing Arts Center, Arts Millennia, and the New York Knicks Poetry Slam scholarships and awards.) 
Mans has also shared the stage with artists like Janelle Monáe and Mos Def as an opener. Try to get on her level and take notes from the interview, below.
What is your creative process?
My writing process is ever changing. Sometimes a poem can build from music, and sometimes a poem can be created through a breakup. Sometimes my writing stems from a raging protest in the world like Black Lives Matter, and, in other moments, from exploring rhyme pattern. Each different, yet important. For me, it's important to be sensitive to life in a way I can storytell about it.
How do you maneuver your industry as a black woman?
By creating a black female narrative. As an artist, I remain successful by creating unapologetic black art. It's important that when and where I enter, the black girl's story does too. As people of color, we are not often in control of our own story. My poetry provides another black girl identity, that audiences can choose.
Could you describe a moment where you felt like you defied the odds?
I defy the odds every day as a 24-year-old who can practice poetry full time as a career. We don't teach our children to follow their dreams. And I'm often surprised by the amount of people who don't know their dreams. I practice poetry and performance every day, and that's my dream. I work for myself and with people who believe in art, that's my dream. If I wake up every day following my dreams to the fullest of my potential then I'm defying the odds.
How did you grow into your black identity?
I grew into my blackness on stage, through competition. When I competed across this country in debate and poetry, I knew those schools were different from mine. I knew that the subject matter of my white peers wasn't the same as mine. I knew I was different. I worked harder when competing against them. My clothes were sharper when competing against them. All my life, I've been taught to compete against white students, and that was simply a metaphor for my life as a black woman. You'll always have to perform and compete for your place in America. And may I add, what a beautiful reality it is to grow up knowing that you can compete, that you are worthy of the top honors of this world. I thank my parents for that.