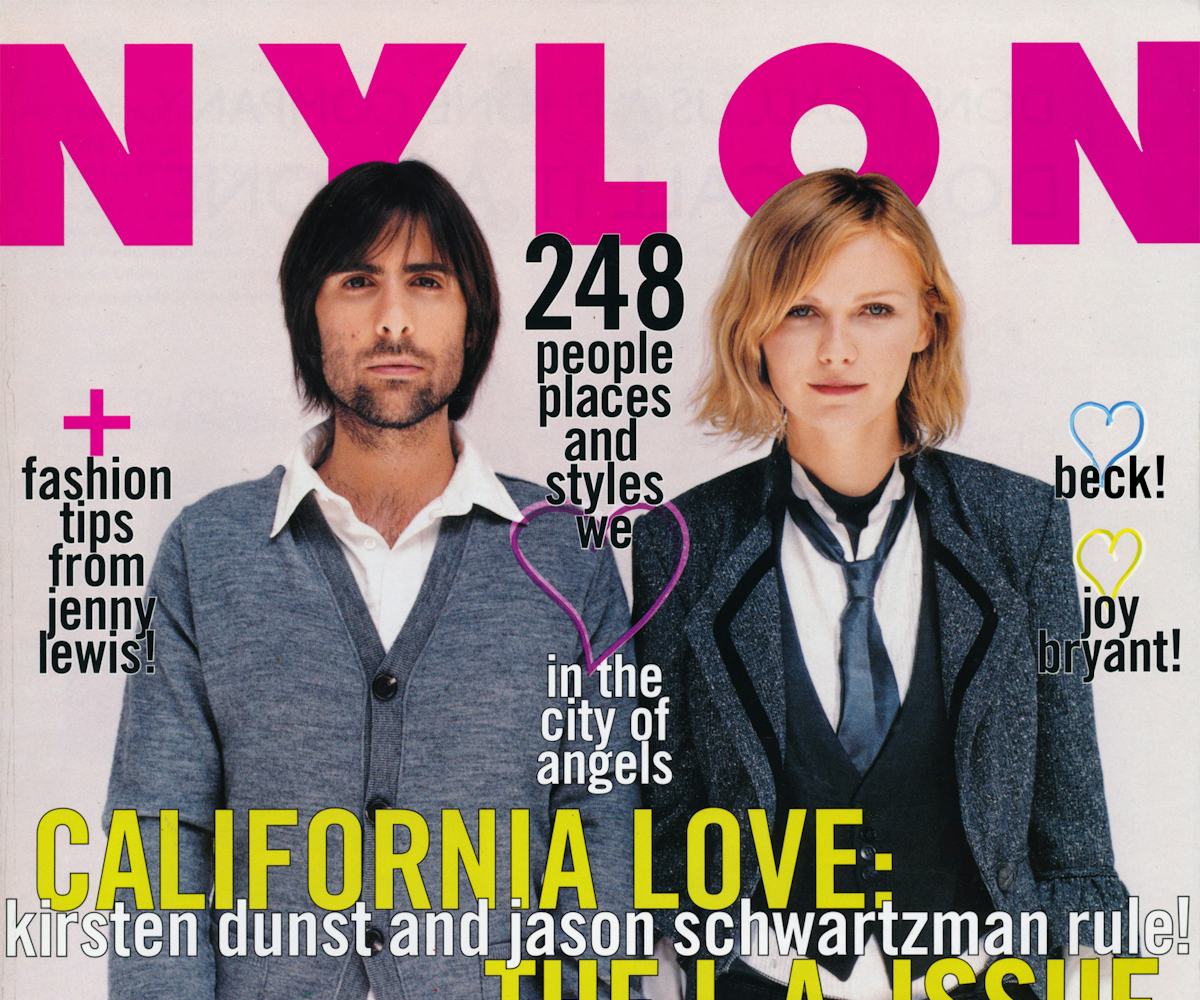 photo by melodie mcdaniel
flashback friday: jason + kirsten forever.
take a trip to los angeles with our october '06 cover stars.
Our weekly Flashback Friday just got a whole lot cooler. We're still posting some of our favorite covers from past issues of NYLON, but now you can go even more in-depth with our faves by reading the cover stories in their entirety! Yep--consider this your really rad trip down memory lane. Today we're celebrating out America Issue by flashing back to our October '06 cover stars Jason Schwartzman and Kirsten Dunst, who gave us a personlized tour of everything they love in Los Angeles. So read on to hear about the duo's West Coast love and to refresh your Marie Antoinette memories:
When Kirsten Dunst and Jason Schwartzman tell the story of how they met, they sound like one of the old couples in When Harry Met Sally.
Dunst: "We met at a wedding!"
Schwartzman: "We met at Sofia's wedding."
Dunst: "We were dancing on speakers!"
Schwartzman: "It was 1998."
Dunst: "I was only 16!"
Schwartzman: "I was 17 and a half. We sat next to each other at dinner."
Dunst: "In the kids' section."
Schwartzman: "She was like, 'Hi, I'm Kirsten,' and I was like, 'Hi, I'm Jason.' Totally shy. Within two hours, we were dancing on the fucking speakers."
Dunst (looking at Schwartzman fondly): "And eight years later, we got married."
The marriage that she's referring to was orchestrated, with a certain poetic symmetry, by the aforementioned Sofia (Coppola), for her much-anticipated biopic Marie Antoinette, in which Dunst plays the titular French dauphine-then-queen, and Schwartzman her husband, Louis XVI. Both of the stars have close relationships with the director--Coppola and Schwartzman are cousins, and Dunst played the unforgettable Lux Lisbon in 1999's The Virgin Suicides. Their casting as the royal couple, however, has raised an eyebrow or two, particularly in France, where critics sniffed (and booed) at the film's Cannes premiere, clearly distressed at the spectacle of someone as wholesome and quintessentially American as Dunst donning the garb of their most famous female monarch and trotting around Versailles. But truly, the film is a masterpiece: As if whittling down esteemed British historian Antonia Fraser's brick-like biography for the screenplay wasn't a satisfactorily difficult feat, Coppola then set about creating a version of the 18th century court that includes a shopping montage soundtracked by Bow Wow Wow's "I Want Candy." It shouldn't work, but it does. 
Today, Dunst and Schwartzman are gathered in a Los Angeles photo studio to talk about the film--but also to participate in a different kind of history-making: This is the first time NYLON has ever featured an actor on the cover. When the camera is pointed at them, they clown around, throwing Marie Antoinette-themed "gang signs" by spelling "M" and "A" with their hands; when it's not, they chatter like exuberant siblings. They tell stories about their pets (she has a cat named Cat Stevens, to which she sings "ooh baby, baby, it's a wild world," he has a French bulldog named Arrow, after a Harry Nilsson song); she proclaims her love for the Raconteurs' website, and he confesses to an obsession with cuteoverload.com ("People send in pictures of animals that are just so cute you can't take it," he explains. "And there's a section called Cute or Sad? where there'll be, like, a pug puppy with a cast on its leg, and you just don't know--is that cute, or is that sad?"). If these two can be so easily entertained just killing time on a magazine shoot, one can only imagine how much fun they must have had making a lavish costume drama shot on location in Versailles..
"Within two hours, we were dancing on the fucking speakers!" -- Jason Schwartzman
Dunst, sitting on the arm of a sofa, holding a cigarette in one hand and a makeshift soda-bottle ashtray in the other, admits that she was, at first, a little taken aback when Coppola approached her with Marie Antoinette. "It made me nervous," she says. "Playing a historical character is very intimidating. But I love Sofia, and I think she's so inventive and brave in everything she does, so I knew that she would give us a lot of freedom. It wouldn't be like we were teaching history."
As the film's furtive, shy, naive King Louis, Schwartzman is both heartbreaking and ridiculous (the first time he shoots the queen an affectionate look is priceless), but he says that he, too, was a little "freaked out" by his role. "I was honored to be asked," he says, "but I was like, 'Are you sure?' It was interesting because he was a man of few words, and his silence followed him through history, making him a vague character. So it ended up being fun because I didn't have to impersonate someone; it was more like I was given the bare bones of a human and was able to construct him." Unfortunately, those bones needed to be fleshed out, literally: Schwartzman had to gain 40 pounds in order to play the portly potentate.
"I called you once and you were eating Oreos dipped in peanut butter!" Dunst recalls, wrinkling her nose. 
"Yeah, it was gross," Schwartzman says, nodding. "I tried to do it organically at first, because I didn't want to clog my arteries. So I was trying to get fat by eating, like, Uncle Eddie's vegan treats. Every night, I'd eat a whole box of fig Newton cookies with chunky almond butter on them, and drink a six-pack of Miller Lite. Then I'd have pasta and pizza for dinner, and sometimes I'd set my alarm for 2AM, eat three donuts, and go back to bed. I felt like poo."
"I tried to find things about Marie that I could relate to--she was very lonely, and very child-like--and tried to piece together who she was based on that." -- Kirsten Dunst
For the three months they filmed in France, Schwartzman and Dunst lived a few blocks away from each other in Paris's St. Germain neighborhood, where they spent the first several weeks taking etiquette and dancing lessons ("and I learned how to sing in French!" Dunst says proudly). On Saturday nights Dunst would go clubbing at hipster hotspot Le Baron with her other friends in the cast ("I had my dog with me, so I always had to go home and walk him," Schwartzman says forlornly. "Kirsten and everybody would be out partying and I'd be home watching German MTV or, like, the Fashion Network, drinking wine by myself"), and on Sundays they'd have "comfort food" pancakes with Coppola at the nearby American Café. 
"I'll never forget the flight over there," Schwartzman says quietly. "We got into the little Christian Lacroix pajamas that they give you on Air France, and we fell asleep next to each other. I remember waking up in the middle of the night and looking over at her and being like, 'Sigh... it's our first night in bed together.'"  
Dunst looks at him, cocks her head, and says, "Aw, Jase! That's so cute!" 
The first word that springs to mind when describing Kirsten Dunst is light. It's not just that she's willow-thin and laughs a lot, openly and warmly and sometimes gasping-for-breath hysterically, it's more like an atmosphere she carries with her: She makes everything around her seem brighter. Like the rare popular girl in school who's popular not because she tries to be, but simply because she should be, Dunst is just magnetic: friendly, alert, a little bit goofy, and completely unselfconscious. Even her beauty has a character all its own--her expressive, apple-shaped cheekbones are offset by the wonky charm of a one-sided dimple and unexpectedly feline teeth. Actresses are seldom this easily relatable, which is what makes Dunst's performance as Marie Antoinette so exquisite. She brings the queen vividly to life by infusing her with humanity and modernity, which is appropriate, as Fraser's biography sought to rescue its heroine from the misconceptions that have surrounded her for more than two centuries. 
"We got into the little Christian Lacroix pajamas that they give you on Air France, and we fell asleep next to each other. I remember waking up in the middle of the night and looking over at her and being like, 'Sigh... it's our first night in bed together.'"  -- Schwartzman
Coppola's film debunks the "Let them eat cake!" myth, portraying Marie Antoinette not as an extravagant fool who drove her country into debt and sparked the French Revolution, but as a very misunderstood, life-loving young woman who has to navigate her way through a hostile foreign court. After all, Antoinette was literally a teen queen--she was sent from her native Austria to marry Louis when she was only 14--and as her boredom and frustration within her marriage grew (he inexplicably didn't have sex with her for the first seven years), she became more desperate for entertainment inside her empty gilded cage. There's precious little dialogue in Marie Antoinette, so Dunst's face basically carries the emotional and narrative weight of the film. It's extraordinary to watch, as she slowly awakens to the world around her and comes to gracefully accept the gravity of her fate. Meanwhile, Coppola delights in the lusciousness of texture and color: Her camera lingers on the rococo decorative details of Versailles, on pastries, overflowing champagne glasses, pastel-colored ribbons, and fields of flowers. 
"It was a really hard role to prepare for," says Dunst. "I went through every scene and wrote myself notes. For me, it became a very sensory experience because there weren't a lot of words, so I concentrated on things like the touch of fabric, or the taste of a cookie. I tried to find things about Marie that I could relate to--she was very lonely, and very child-like--and tried to piece together who she was based on that."
"I only had about 13 lines in the whole movie," Schwartzman says with a groan, "and it got to the point where I'd be like, 'I have a line today? Oh, fuck! I can't do it!' I swear I couldn't have done it at all without the costumes. Because Sofia told me not to use an accent, so I was like, 'Oh my god, I'm just going to be me, and I'm going to look stupid.' But you put on the costumes and you just transform—the clothes totally change the way you hold yourself."
"They change the way you breathe," adds Dunst, nodding.
"Then to be in Versailles..." Schwartzman continues, "You would run your hand along a piece of marble, or notice the way your foot echoed in a hall, or hear people talking in a far-off room, like ghosts. Just those little things were so helpful. And Sofia makes everything very intimate, nothing feels too scary. She helped me go through the facts of Louis' life and find what I could relate to, which was his shyness. I don't know what it's like to be a king, but I do know what it's like to not be able to talk to somebody--and want to."
"You know what I'm realizing?" Dunst asks, lighting another cigarette. "It's really hard to articulate what this movie is like."
"I've never done anything like [The Darjeeling Limited], and I think it's different from anything Wes has ever done, too. As I get older the more I realize that I need to be creatively involved in things, you know? But writing is hard! It's like building a bridge over a ravine as you go." -- Schwartzman
"It's like gas instead of water," Schwartzman says. "It's a different element. When you watch Sofia's films they have an atmosphere. And I discovered while working on this one that it's not something she creates through editing or adding music later on. You walk on the set, and it just reeks of her essence and her calmness, her style and her taste. You are intoxicated by it, and then she goes, 'Action!' What she captures is a real mood. She creates it live and then just documents it—like marinating something all day and then flash-frying it."
Dunst laughs. "Oh my god. Where do you come up with your descriptions?"
Schwartzman does have a knack for metaphors. He's a smart, sweet, thoughtful bundle of talent wrapped in a small, hairy, tremendously cute package. Like his co-star, he's completely free of the usual superficial Hollywood BS, and that's particularly remarkable considering the fact that he was born into Tinseltown royalty--he's Rocky star Talia Shire's son, Rooney frontman Robert Schwartzman's brother, Frances Ford Coppola's nephew, and Nicolas Cage's cousin. He's dated Selma Blair and Zooey Deschanel, made records with Evan Dando and Ben Lee, and for the last year he's been co-writing a movie with Wes Anderson, who cast him in his breakthrough role as eccentric high schooler Max Fischer in 1998's Rushmore. 
The film, which will start shooting in December and star Adrien Brody and Owen Wilson, is tentatively titled The Darjeeling Limited. Although Schwartzman can't divulge much about it yet, he's clearly itching to. "I hope it's good!" he says. "I've never done anything like it, and I think it's different from anything Wes has ever done, too. As I get older the more I realize that I need to be creatively involved in things, you know? But writing is hard! It's like building a bridge over a ravine as you go."
If things go according to plan, Schwartzman wants to increasingly spend more time behind the scenes. Which will make devoted Schwartzman oglers very sad indeed, as he's rarely seen playing drums onstage anymore, either, since quitting his band, Phantom Planet, two years ago. He is still making music, though: he co-wrote a song that will appear on the next Rooney album, and he and Robert are buying a studio where they can start composing music for films. "I've been doing some stuff in a friend's studio lately," he says, "and as a matter of fact I just recorded a duet with Kirsten."
She smiles sheepishly. "Just for fun!" she clarifies. "It was like an old porch song."
"Honestly, he's one of my favorite people I've ever met in the whole world." -- Dunst
With Spider-Man 3, which she completed filming earlier this year, creeping up on the horizon of 2007, Dunst has pretty much cleared her schedule for the next few months. She was attached to the next Michel Gondry film, Be Kind Rewind, starring Jack Black, but changed her mind. "I'll do something else with Michel later on," she says. "I just couldn't go back to work in September. I need to find other things in my life that I love. I like painting, for instance. I don't know how people go from one movie straight to the next--where is there to draw from, your last experience on a set? You need to be at home with your friends and cultivate a life so that when you go away to work you feel like a solid person and not like a gypsy."
Schwartzman gives her shoulder a reassuring squeeze. "You have to pause. People think that you're not working if you're not making something, but for any kind of artist the time that you're not making art is just as valuable as the time that you are. You're putting new coordinates into yourself. Actors need to be open-hearted people in order to be able to feel and relate and empathize. That's why Kirsten's so good at it. She's got a great big heart."
Dunst bursts out laughing: "Oh, stop yourself!" 
But Schwartzman merely shakes his head, and solemnly looks her dead in the eye. "It's true," he says. "It's true."
A while later, after we've been kicked out of the closed-for-the-evening photo studio, and the sun is starting to cast long shadows over the low buildings of Culver City, Schwartzman realizes he's late to meet his girlfriend. He gives Dunst a quick hug and makes a "call-me" hand gesture, then jogs off down the street, carrying the pair of flip-flops he arrived in (the old-school L.L. Bean saddle shoes currently on his feet were a gift from the NYLON stylist). As Dunst and I walk to our cars, she suddenly pivots towards me and says, "Isn't he just the greatest?" I nod, and she smiles, putting her hand--which is also clutching the keys to her Prius--over her heart. "Honestly, he's one of my favorite people I've ever met in the whole world." 
And Schwartzman, who has just backed his own car out of a neighboring lot, drives by and honks. -- APRIL LONG