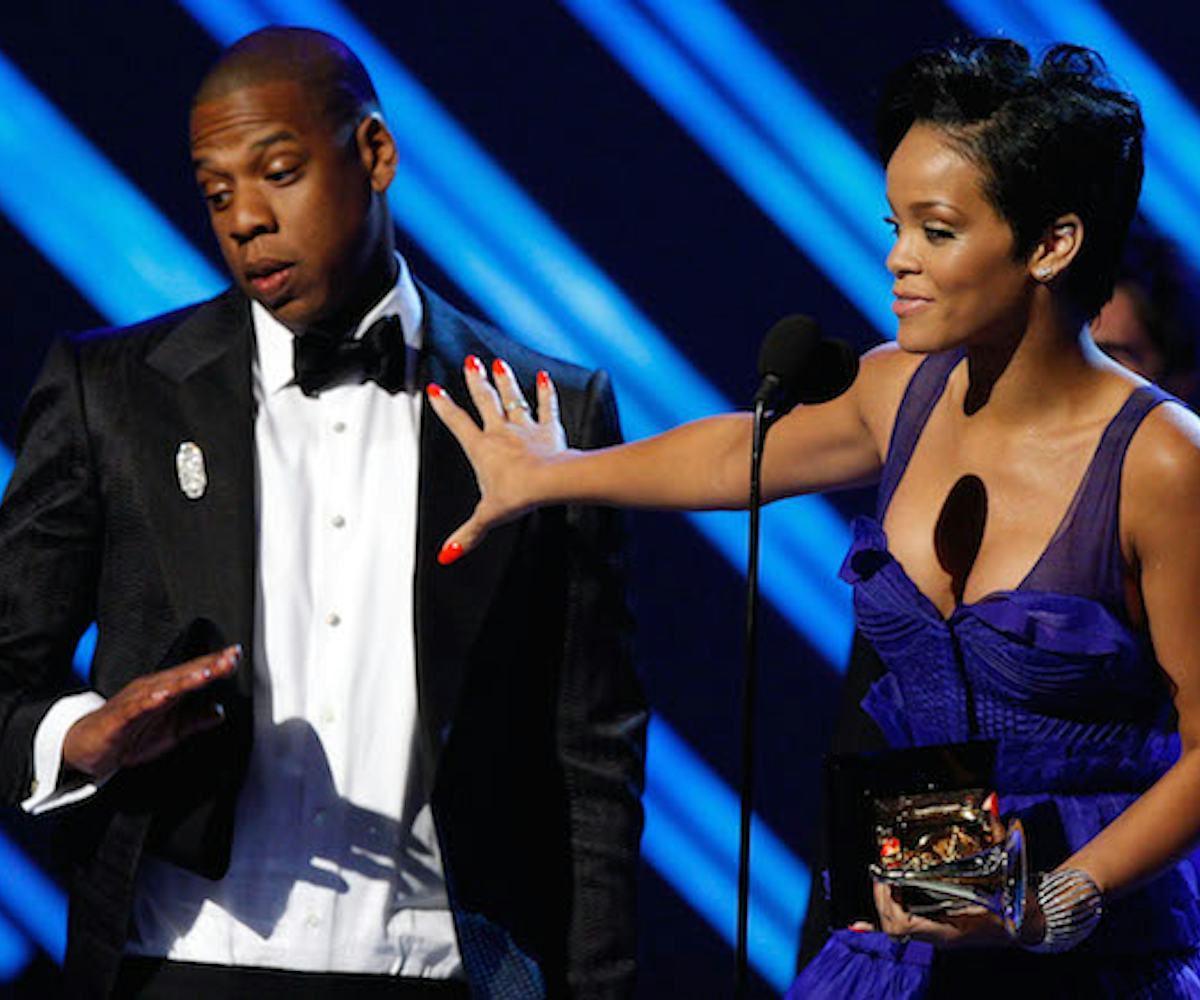 Photo Kevin Winter/Getty Images Entertainment
Oh, So THAT's Where The Jay Z/Rihanna Affair Rumor Came From
here's why everyone's been whispering about this for years.
If you feel gross about this entire issue, you are far from the only one. Grubby as it is for us to even bring them up, the rumors suggesting that Jay Z may have cheated on his wife, Beyoncé, with collaborator Rihanna have been a big part of their public narrative for years (even if this publication has kept mum on the whole subject). Really, as three of the most important artists of our time—all of whom are famous for far more than their music—this ugly bit of info is (unfortunately) relevant.
Well, we may have received some clarification on the whole thing. Earlier this week, preview clips from the un-sourced, unauthorized Beyoncé biography, Becoming Beyoncé: The Untold Story, suggested that she and Jay Z split with for some time in 2005 following rumblings of an affair with Rihanna—an upcoming singer at the time. New clips from the book, however, now allege that those rumblings may not have only been untrue, but a deliberate, designed grab for attention cooked up by Rihanna's former publicist and current Tidal-signed musician, Jonathan Hay.
In Becoming Beyoncé, author and hip-hop celeb blogger J. Randy Taraborelli claims that Hay either created or inflated rumors of the coupling in order to promote Rihanna's first big single, "Pon Di Replay." In response to the accusations, Hay fessed up in a statement on Inside Edition hoping, to put the scandal "to rest once and for all".
"It was all a publicity stunt," he told the show. "I was desperate at the time, because I wanted to have a hit record…we were young and stupid." In another statement Hay said, "I didn't think it was going to work. I was just throwing spaghetti at the wall to see what would stick." It's more than worth noting that Rihanna was 17 in 2005.
Hay says he's apologized to Beyoncé—something that was clearly due. Yet, don't forget that Hay is now signed to Tidal and even he admits that his future as an artist is in jeopardy thanks to the revelations in Taraborelli's book.
The book is supposed to be the dirtiest, least-varnished look at Bey's life, and if even it says there was no affair, perhaps it's best to start treating that as truth. As Us Weekly points out, the only thing Jay Z has ever said about his rumored hookup with Rihanna was the clearly disgusted, angry, "Dude, she's a minor." That's not the kind of reaction you get from someone with something to hide. Beyoncé, to her credit, has maintained a dignified silence on the whole issue, partially because it's not worth talking about.
So, it looks like it's time to close the door on this one for good. Now, let's all go take a long shower and try to pretend this whole ugly chapter never happened because, in all likelihood, there was nothing behind it but craven opportunism anyways.
(Via Us)