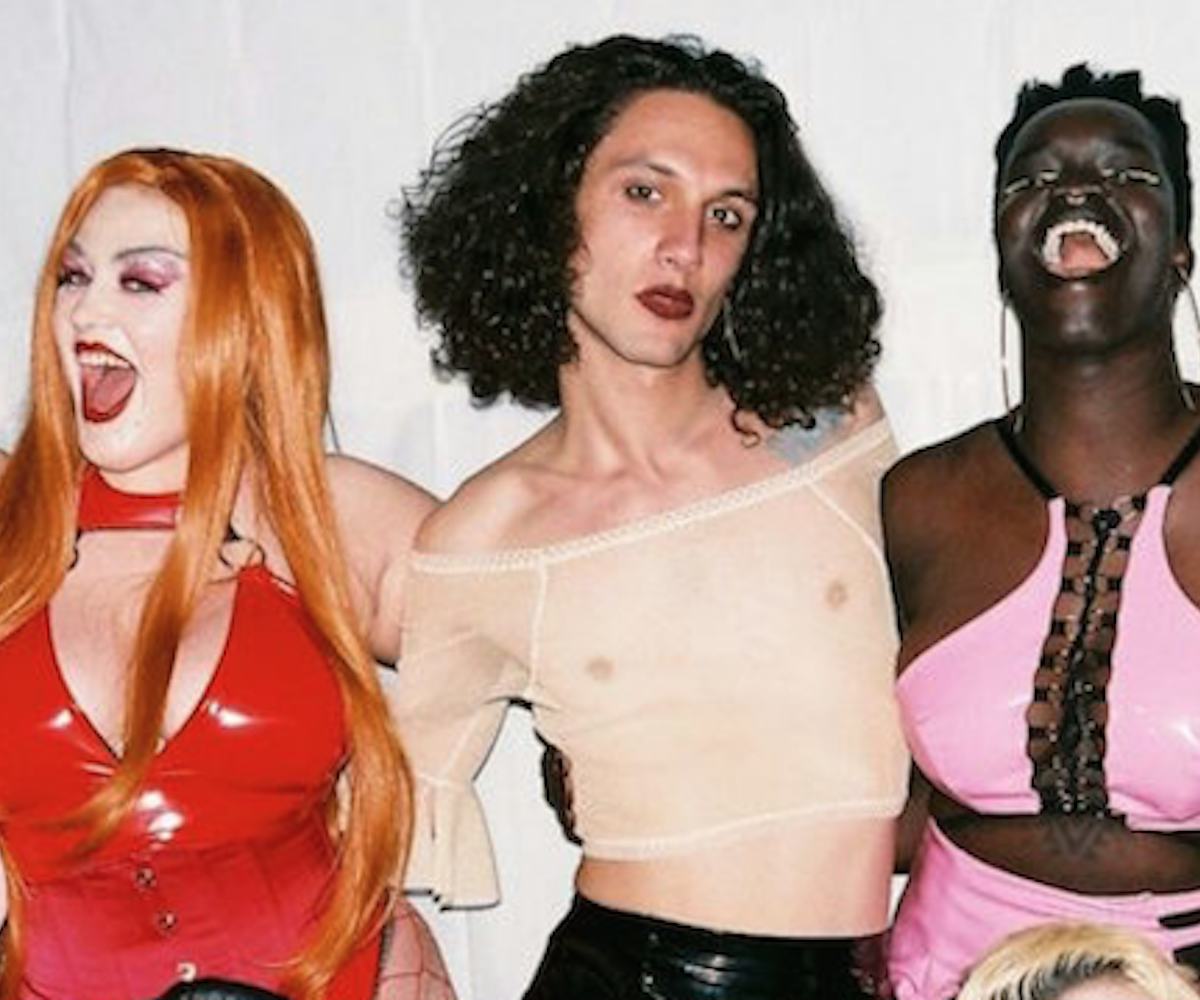 Photo by Margaux Jones
Meet JBC Lingerie, A Size- And Gender-Inclusive Australian Brand
Get to know the two Aussies behind it
One evening in a bar in Melbourne, Australia, JBC Lingerie designers, Jarrah Benwell-Clarke and Bianca Cornale, spotted a girl with a beaming smile. The two women ran over to her and excitedly shouted, "Do you want to shoot with us? You're amazing and beautiful!"
This isn't the typical way models get cast, but it's just one example of the unorthodox approach JBC designer Benwell-Clarke and brand stylist Cornale have brought to their industry. In fact, this type of casting is integral to their brand, and reflected in the online community the women started in association with JBC Lingerie—both conceived to "represent lots of different punk and badass babes."
But that's not the only thing that makes JBC stand out. "It's lingerie for everyone to feel confident in their sex appeal, and [to express] their right to their sex appeal," says Cornale. Benwell-Clarke (whose initials inspired the name) and Cornale started JBC Lingerie without ever having made a single piece of underwear prior. While Benwell-Clarke had studied fashion design, she knew nothing about lingerie. Despite that, both Aussies were tired of seeing lingerie brands speak about female empowerment, while not having sizes above an XL or D cup–or even bras without padding.
In 2014, Cornale moved onto the floor of the shared home where Benwell-Clarke's was living, recruited girls the two saw in bars and on social media as models, and started photographing the designs Benwell-Clarke sewed herself.
"Other brands' images were so sexualized and so Photoshopped," says Benwell-Clarke. "We always have had a huge emphasis on capturing something real that is going to be really relatable to people, not something that they have to work toward or are trying to become. For each shoot, we would think, 'How can we keep diversifying this?' And that's, of course, with both our products and models."
JBC captures these relatable babes at their most authentic, by having the models do their own hair and makeup instead of bringing in artists. And once the photos are taken (on old-school film), they are uploaded to the site, sans editing. 
JBC's desire for diversity also comes through in its sizing—the brand offers XS to XXL and cups A to H. Benwell-Clarke and Cornale know better than anyone how frustrating it can be not to see yourself on a sizing chart. "It's like going jean shopping or swimwear shopping. These are the things that freak people out!" says Cornale. "Personally, I've had such a hard time trying to get the right fit for my body. We felt hypocritical saying that everyone should be able to feel beautiful, but they couldn't find their size in what we offered." That's where JBC's custom fittings come in. "I've got babes who have one boob that is smaller than the other," says Benwell-Clarke. "They've been like, 'Oh my god!' and stoked to know the custom [fitting] is there."
Besides being committed to representing women of all sizes, JBC Lingerie serves all genders. "It was the next logical step. We knew we had to do it," says Benwell-Clarke. "People of all genders like to shop at brands they know accommodate lots of different people. It enables you to see that, even if you don't have a vagina, you're still catered to. Even people who weren't assigned female at birth want to know that they're buying from a brand that caters to them, and represents the whole community."
"The JBC customer may feel underrepresented in the mainstream lingerie market and is looking for a brand they emotionally connect to," adds Cornale.
Benwell-Clarke and Cornale want their customers to connect to JBC on another level as well—a sexy one. However, the two Aussies have different definitions of sex appeal. "Sexy means so much more than a dictionary definition. It is confident and fierce, like 'rawr,'" says Benwell-Clarke. Cornale believes sexy is more of feeling than a vocalization. "If I could bottle that feeling of going out and doing all of your makeup and putting on your perfect outfit. Just that feeling of, Yes, this has all come together nicely. I look fucking fire. That is sexy. It has to have some nugget of truth and self-actualization," says Cornale.
Check out Benwell-Clarke and Cornale's favorite sets, below.
JBC Lingerie, Angel Bralette, $69, available at JBC Lingerie.
JBC Lingerie, Ring My Bell G-string, $45, available at JBC Lingerie.
JBC Lingerie, Fleetwood Bralette, $69, available at JBC Lingerie.
JBC Lingerie, Fleetwood Underwear, $45, available at JBC Lingerie.