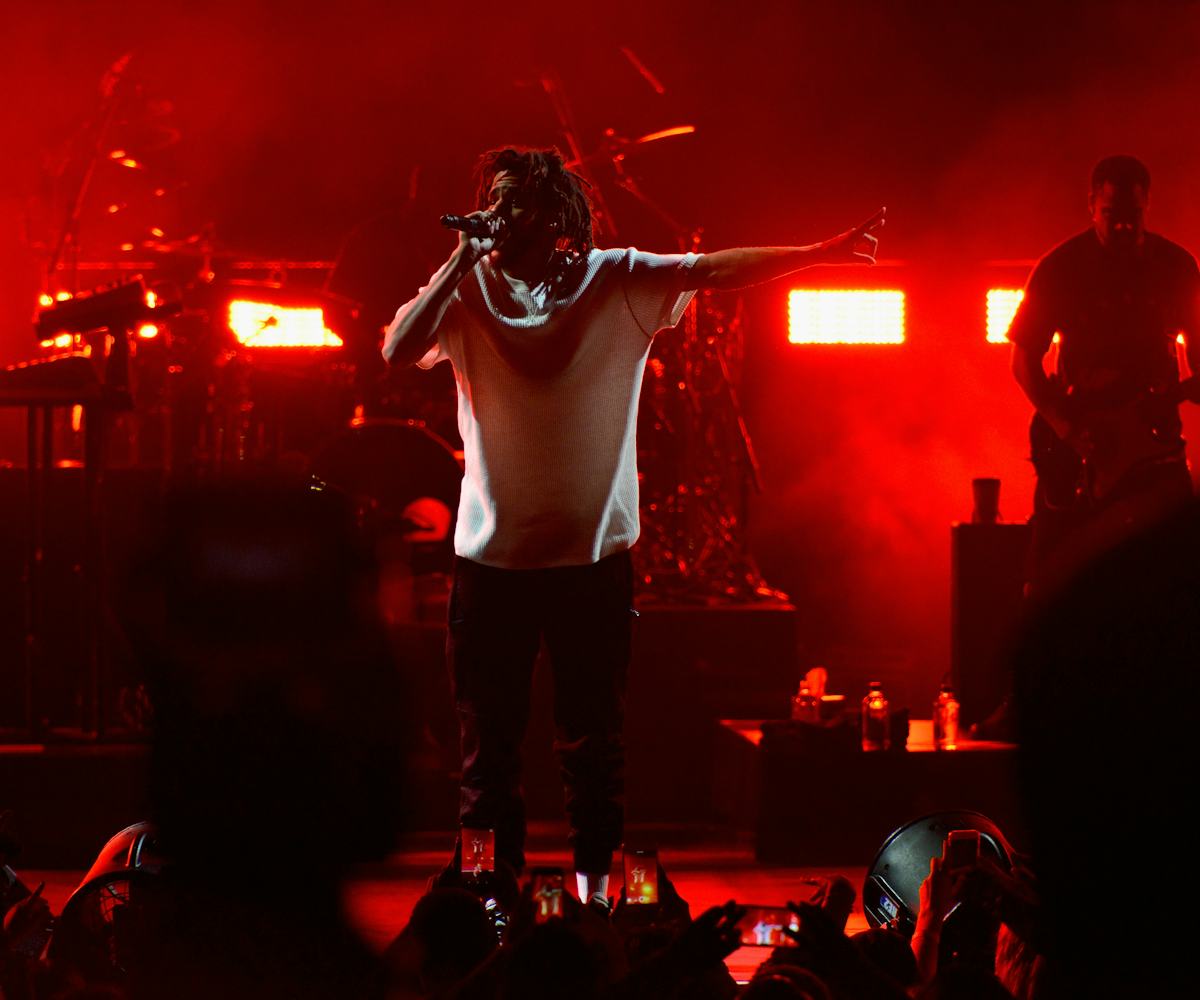 Photo by Duane Prokop/Getty Images.
J.Cole's New Track Is So Much More Than A "Jab" At Kanye
He's touching on a much larger issue
Diss tracks have been strong in 2016. Drake and Meek Millz, Drake and Kid Cudi, Drake and Pusha T, Drake and basically anyone that utters his name. In short, rappers have been making other rappers the subjects of their songs all year long.  
Last night, J. Cole released his surprise 40-minute documentary Eyez online. In between scenes of him in the studio (his new album, 4 Your Eyez Only, is coming out December 9) and playing basketball, are snippets of Cole rapping two new songs. One of which, "False Prophets," many outlets are reporting as Cole coming at Kanye West.
In it, Cole raps: "Ego in charge of every move, he's a star/ And we can't look away due to the days when he caught our hearts/ He's falling apart but we deny it… It's been hard for him to look into the mirror lately/ There was a time when this nigga was my hero maybe/ That's why his fall from grace is hard to take."
Cole goes on to talk about West's shift from genius to "all-around fake" and refers to his music as being "half-assed," which, yes, could be construed as a diss of sorts, but is also something many West fans, this one included, wouldn't exactly argue with. West has turned from the conscious hip-hop artist that we've come to love in The College Dropout into a mainstream production-heavy junkie that we still love but mostly tolerate. It's when Cole comes back to say: "Well fuck it, what's more important is that he's cryin' out for help/ While the world's eggin' him on, I'm beggin' him to stop it" that he gets into the larger issue at hand.
It's no secret that Kanye has been going through it. This we know from the multiple headlines of his hospitalization and eventual release over the past couple of weeks. Cole's lines don't come across as jabs as much as they come across as concerned criticism—a worried companion voicing the obvious about West's downward spiral—and a plea for everyone to stop looking past it.
"Life is a balance/ You lose your grip you could slip into an abyss," Cole raps. And West's actions over the past months prove he's only barely holding on. It's rumored that West's reported nervous breakdown was triggered by the anniversary of his mom's death. The fact that he almost lost the mother of his own two children was clearly a triggering pile on. And yet, people expected him to go back to rapping while hovering over mosh pits as if nothing happened because such is the price of fame.
A couple of weeks ago, someone tweeted an old clip of Dave Chappelle discussing the pressures of Hollywood. In it, he states, "Let me ask you this, what is happening in Hollywood that a guy that tough will be on the street waving a gun screaming, 'They are trying to kill me!'?" Chappelle asks, speaking on comedian Martin Lawrence's breakdown in 1996. "The worse thing to call somebody is crazy—it's dismissive. These people are not crazy, they're strong people. Maybe the environment is a little sick." 
Kanye being hospitalised for a psychiactric evaluation makes me think of this pic.twitter.com/PTHtLHKW7n — Daniel Soff (@Swagadore) November 22, 2016
In addition to Lawrence, Chappelle lists himself and Mariah Carey as stars who have been victims of their own fame. We can also add Britney Spears, Amanda Bynes, Demi Lovato, and, most recently, Selena Gomez to that list. This is not meant to excuse West's egotistical rants and overall rambunctious nature, but the toxicity of the industry, combined with the mental issues West is clearly suffering from, shouldn't be dismissed, either. And nobody should look past that for a few clicks.
Now, when Cole raps on his untitled track: "Lil 'whatever,' just another short bus rapper / Fake drug dealers turn tour bus trappers ... The streets don't fuck with you, you Pitchfork rappers / Chosen by the white man you hipster rappers," that is what one would categorize as a diss; the former is simply a sad observation of a sinking star.