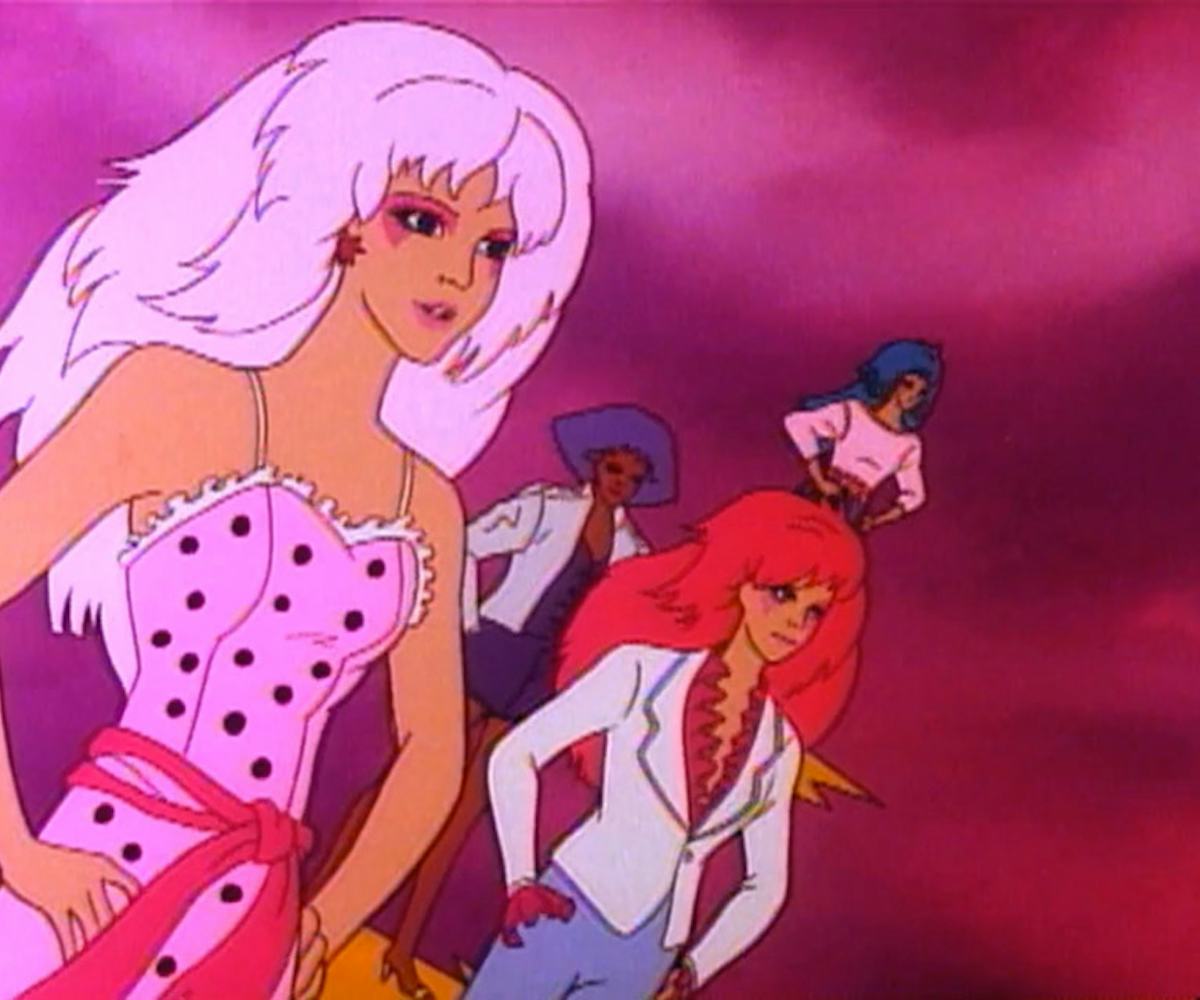 the checklist
go bright with fashion inspo from jem and the holograms + electric purple lipstick
The Curator: Jackie Yaeger, Newsletter Manager + City Editor
The News: 250 New Emojis (OMG)
Your prayers for "Cloud with Snow," "Spiderweb," and "Couch and Lamp" emojis are answered (insert old prayer emoji here--if you're not too cool already to still use that). The emoji gods have finally got it together and are releasing 250 new emojis for your "break up" and "party" text moments when words just aren't enough. I'm still a little angry that there's no Bandaid emoji, but, hey, that "Hot Pepper" is going to change everything.
The Look: Emma Stone at the Met Gala
Emma Stone's look from the Met Gala is one of my all-time faves. For a "going bright" checklist, there really is no better inspiration for mixing and matching. Since Jem and The Holograms are my official fashion inspiration for this post, I'd like to use Emma's gumption to rock two different pink hues and a crop-top on a red carpet for "the look" inspo, because this is more than just an outfit. This. Is. The. Look.
The Face: Lime Crime's Opaque Lipstick in Airborne Unicorn
Since the official first day of summer is right around the corner, I think it's time to break out your hidden stash of seriously bright lipsticks for the season. My pick is almost anything Lime Crime, but I think both Jem and Jerrica Benton would approve of their Opaque Lipstick in Airborne Unicorn--so let's go with that.
The Inspiration: Jem and The Holograms' Truly Truly Truly Outrageous Outfits
By now, I assume you've had ample time to watch all three seasons of '80s cartoon Jem since it became available to stream on Netflix earlier this year. So, it's safe to say that you've been obsessing over everything from light-up star earrings and wrap around fringed skirts, to ski attire since rewatching the series as an "adult." That's why I'm taking my fashion inspiration from the fictional (insert new Slightly Frowning Face emoji here) pop band today and wearing more layers and hot pink than ever before. To everyone at the NYLON office: Don't be surprised if I come in with stars on my face.
The Song: "I Was There" - The War on Drugs
I was lucky enough to catch indie folk rockers The War on Drugs at Northside Festival in Brooklyn on Sunday night, and I can honestly say it was my favorite live performance to-date. I chose their track "I Was There" off of their 2011 Slave Ambient record as the official song inspiration for today because when I close my eyes and listen to it, I see tons of bright colors. This song has so many layers of color to me throughout it, that I could listen to it forever and be in a seriously good place (insert smiley face with blushing cheeks + music notes + all the color heart emojis here).
The News: 250 New Emojis (OMG)
The Look: Emma Stone at the Met Gala
The Face: Lime Crime's Opaque Lipstick in Airborne Unicorn
The Inspiration: Jem and The Holograms Truly Truly Truly Outrageous Outfits