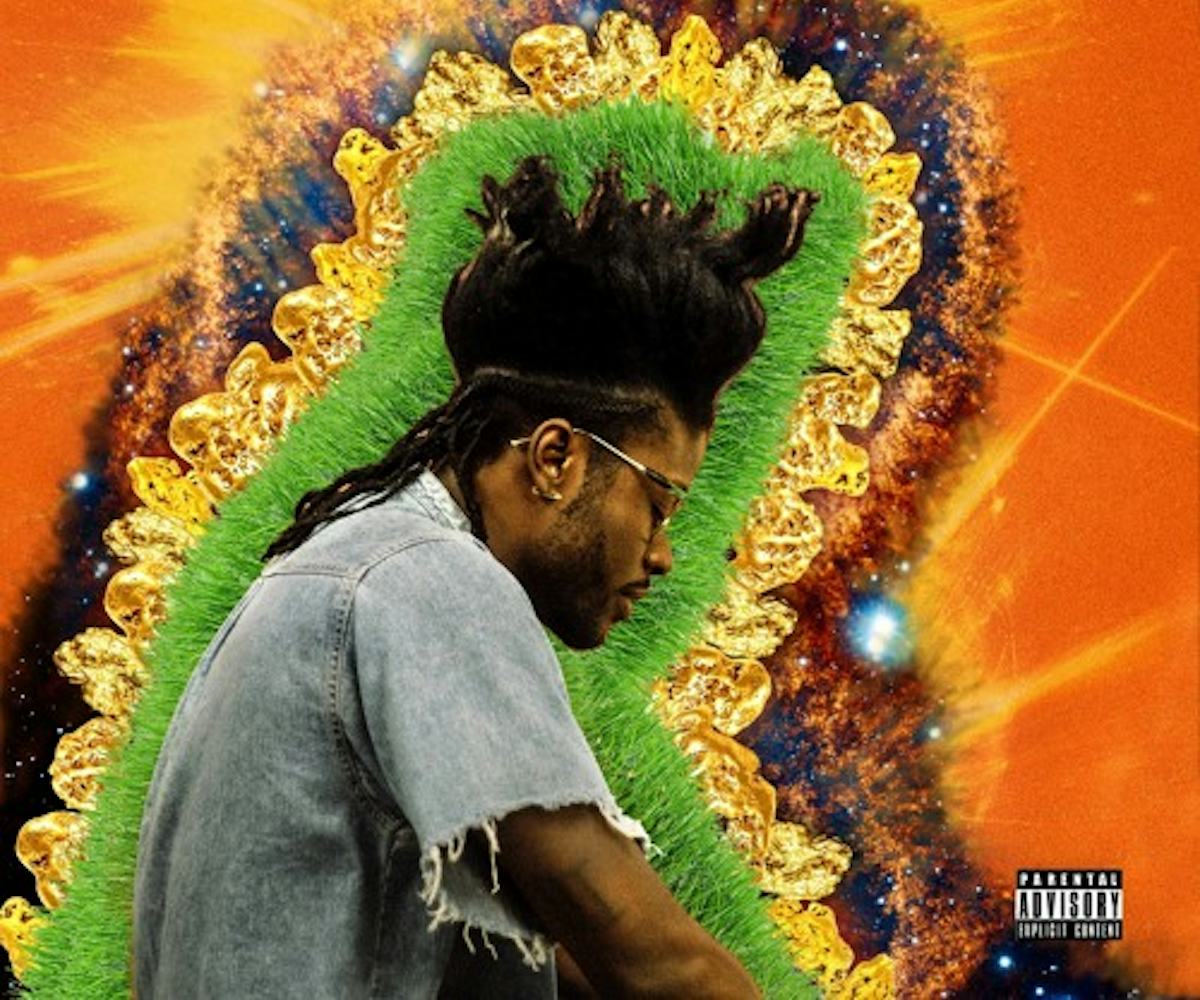 Photo courtesy of Jesse Boykins III
Jesse Boykins III Breaks Down His Entire 'Bartholomew' Album
And explains the creative vision behind each song
This week, Jesse Boykins III surprised the world when he casually dropped a new album for free. Bartholomew is a testament to creating "real music that emanates from and stirs the soul," and Boykins certainly succeeds in his efforts. In addition to this, the album also features collaborations with buzzing artists such as Willow Smith, Dej Loaf, Syd Tha Kid, Kilo Kish, Isaiah Rashad, Trinidad Jame$, and more.
When your mind is a creative force field, it makes the most sense to explain how your vision came together in your own words. On that note, we asked Boykins to break down every track on this record for us, so we could gain a better understanding of the elements that inspired this beautiful work of art.
Read all about the inspiration behind these groovy tunes in the gallery, below. Bartholomew is available to stream, but you can also download it here.
"Earth Girls"
It's been an ongoing thing for me, the history of women on earth. I always question the way women have been treated throughout history in a lot of cultures across the world. I was fortunate enough to be in the studio with Leon Thomas and Ledaris Jones, and we channeled that energy that's unexplainable. I freestyle the hook, simply expressing from the start, "This is for you, first and foremost, the real creator on earth, a woman." Thankfully my good friend DJ Dahi, my Pisces brethren, found inspiration in the demo and built it out with me.
"Everybody Shut Up"
Everyone is distracted by what may seem more appealing than their reality. It is more so a feminine trait to soul-search and to dig deep in self to learn more about your surroundings. If your surroundings are polluted with material obsession and superficiality, it becomes hard to stay balanced in self. I'm simply saying its okay to make your own mistakes, as long as your intention is good and your mind independent in thought when needed. Thankfully Ron Gilmore Jr., the production collaborator of J. Cole, told me to drive up to Calabasas [,California] where we built out the track together. Later on in the process, I met a young gifted mind Isaiah Rashad, and we had an interesting conversation about unlocking all the doors in your mind to become better; he got in the booth and shared his emotions. I am very grateful.
"Kumbaya In June"
I know a young gifted producer named K. Roosevelt. I would see him at random house gatherings and finally months later, I stopped by his home studio. Like most of my songs, it started out as a freestyle over this guitar riff Roosevelt was playing, I guess my subconscious was touching on something I had recently experienced with a movie star.
"8 Day Weeks"
This song is about the benefits of staying home with your significant other, with natural stimulants to help build your own world, the one where you have an extra day to do what you want. K. Roosevelt is an experimentalist like me so we were like scientists. Leon Thomas came through the same day and added his energy on the already vibey track.
"Into You"
I initially wrote this to submit to Kanye's album, via the producer and young prodigy Michael Uzowuru, a frequent collaborator of the elusive Frank Ocean. Uzowuru is Nigerian—first generation—hence the West African sonic coloring. I just wanted to express that all the material satisfaction is still not healing enough to keep good mental health, especially in the black communities in America, where we find ourselves the main consumers of materials that are outside our financial means and don't do anything but make us addictive to a lifestyle that is idolized even if you see how it later decays certain people. Like Drake said, "Know Yourself." I really mean it, though.
"I Need You"
I love R&B music; it will forever be one of my many main motivators in creative and sonic direction. I grew up on songs about selflessness, about wanting to understand the misunderstood, and keeping it vulnerable, unlike a lot of mainstream music now. So I took it upon myself to tell her. It's not their fault they haven't matured yet, just know you don't have to tolerate it, especially if it deceitful and selfish. We all need each other. Chad Dexter, the producer [J.Lo, 50 Cent, Boykins], is a long-time collaborator and played it for me in the studio here in L.A., and five minutes later, I was in the booth laying the vocals down.
"Tomorrow"
I love to dance, if you know me, you know I LOVE to dance. If you come to my live show, you know I LOVE LOVE to dance. I created this with production duo Earl & E [Usher, Melanie Fiona, French Montana] with the pure intention to dance into the future. In order for me to make that completely possible, I brought it to Machinedrum, who I co-created my whole
Love Apparatus
album with.
"Mean Girls"
Mean girls are real—word to Lindsay Lohan. I don't do well with passive-aggressiveness, or being in love with someone who isn't completely in it with me, but who finds ways to deflect and make you guilty for things you didn't do or mean to do. So I wrote a song about it with Brook D'Leau [Miguel, Yuna, J+Davey] in Inglewood [,California], and then a couple months later, we reunited at this house I was staying in, provided by LANDR [mastering company], where I got all my musician friends to come through, one of them being Donnie Trumpet of Chance the Rapper's Sox Boys band and production team. Just know I LOVE mean girls, but you guys gotta be nice to the nice guys, and give the spite to the pretty boy assholes you let get away with everything.
"Indie Girls"
Indie girls, hipster girls, power girls, call it what you want, Bartholomew got your back. I don't even want anything. I'm just here to help how I can. MeLo-X—one of Beyoncé's main producers on
Lemonade
, who also scored the short film, and my brethren since '07 back in Brooklyn—sent over the track initially for me to write for
Lemonade
as he was working on it. I was so inspired by it I never sent it back to him, ha. I just got the two amazing young creative beings that is Kilo Kish and Little Simz out of London. I've known them for years and hold them in high regard when it comes to independent every building WOMEN.
"LARain"
I'm Jamaican, but for half my young childhood, I grew in Miami where it rains a lot, so I've grown to love it so much. In L.A., though, no one likes the rain to a point of complaining even though we are in an ongoing drought. I just wanted to let everybody know the rain is needed as much as the sun; balance is key. One night at the LANDR house, while working, I hit up my friend Melanie Fiona who was nine months pregnant at the time, and she showed up to the damn studio at like 10 at night and didn't leave until we finished, I'm just happy we finished and I wasn't the one to deliver her beautiful son. Actually the next day, I had the brilliant hustler that is Trinidad James come in and just share his feelings on things on the song, poetry in a sense. Thank you CFCF from Montreal for being so awesome and sending the track even though we haven't met in person yet.
"Vegetables"
I am going to start by saying I am a late bloomer, and, yes, I was late to the wonderful world of vegetables; I'm still getting used to it. I remember Dot Da Genius [Kid Cudi's producer] playing me the demo track and me freestyling about her telling me to eat my vegetables, then maybe one day I could have some of her. I wrote it from the perspective of a younger Bartholomew in college, thinking he's that dude on campus but the girl he's fond of puts him in his place. Willow Smith and Syd [tha Kyd] of The Internet pulled up to the LANDR studio house on a 
Friday
night where I told them the concept. They loved it, and we wrote the rest there on the spot. Just two supernovas and a lost boy.
"Eye Of The Gentle Tiger"
This song is about stamina. This song is about attitude. This song is about planned passion. Produced by K. Roosevelt as well. Featuring two of my favorite emcees from the West Coast, Price and Oktane aka Audiopush. I love their music, and I am super happy I sent this to them.
"Solar Sister"
I LOVE space, even though I've never been. I always fantasize with the thought of being able to run around the galaxy, like I'm Peter Quill the Star-Lord from
Guardians of the Galaxy
, with stimulants and inspiration to save the universe. Bridget Kelly and Alex Isley, who are two of the most amazing voices in music, came through and blessed me with exactly the energy that was needed on the song. Reazy Renegade, the main producer [DJ Khaled], sent this to me, as we had already been working on a lot of music together both representing Miami. More to come.
"Nobody On Jupiter"
I don't like to be compared to anyone else, plain and simple. So, I wrote a song about it to a Chris Barz, aka x||z [Chris Brown, Ester Dean], -produced track. I had it for months, feeling it was missing a powerful female energy, then one day, the hard-working, super-insightful Dej Loaf hit me up and told me to stop through to the studio, as she's expressed in a lot of interviews she was a fan of mine. We vibed out and made it happen, so good.
"LikeMinded"
I have a really really good friend named Luke James; he's from New Orleans. We are the same age and have similar interest as far as cinema, music, and culture goes. We are f*cking weirdos, but our fans don't know that I guess. We are sexually objectified by our fanbases—we like it sometimes—but we really just love art. "LikeMinded" is artful and you can still objectify us. And yes, I am speaking on his behalf. Ha.
"Only Way Out"
I have always been a child of gospel music; I do feel LOVE is the GOSPEL. Davix from the Dojo produced this and played it for me the day we met, I was recording it 10 mins later. It's about a special person in my life, that doesn't know she is special to me, so I wrote it to let her know, although I haven't and probably will never tell her. Mick Jenkins is a visionary, Chicago-bred young emcee who comes with all the metaphors and visual colors. Listen and you'll see what I mean.
"No Worry"
I think I was Peter Pan in one of my past lives, either him or one of the Lost Boys. I am from never-never and I promise you that. I wrote this song with that energy as the motivation. Imagination is my thing, Smiling is my thing, connection is my thing. Most importantly, doing things for my loved ones that help them be less worrisome is my thing. Love is Love and Fear is Fear. I just say we all choose LOVE. It's better for you and those around you. Bartholomew Loves you. 
All clothing by O.N.S.