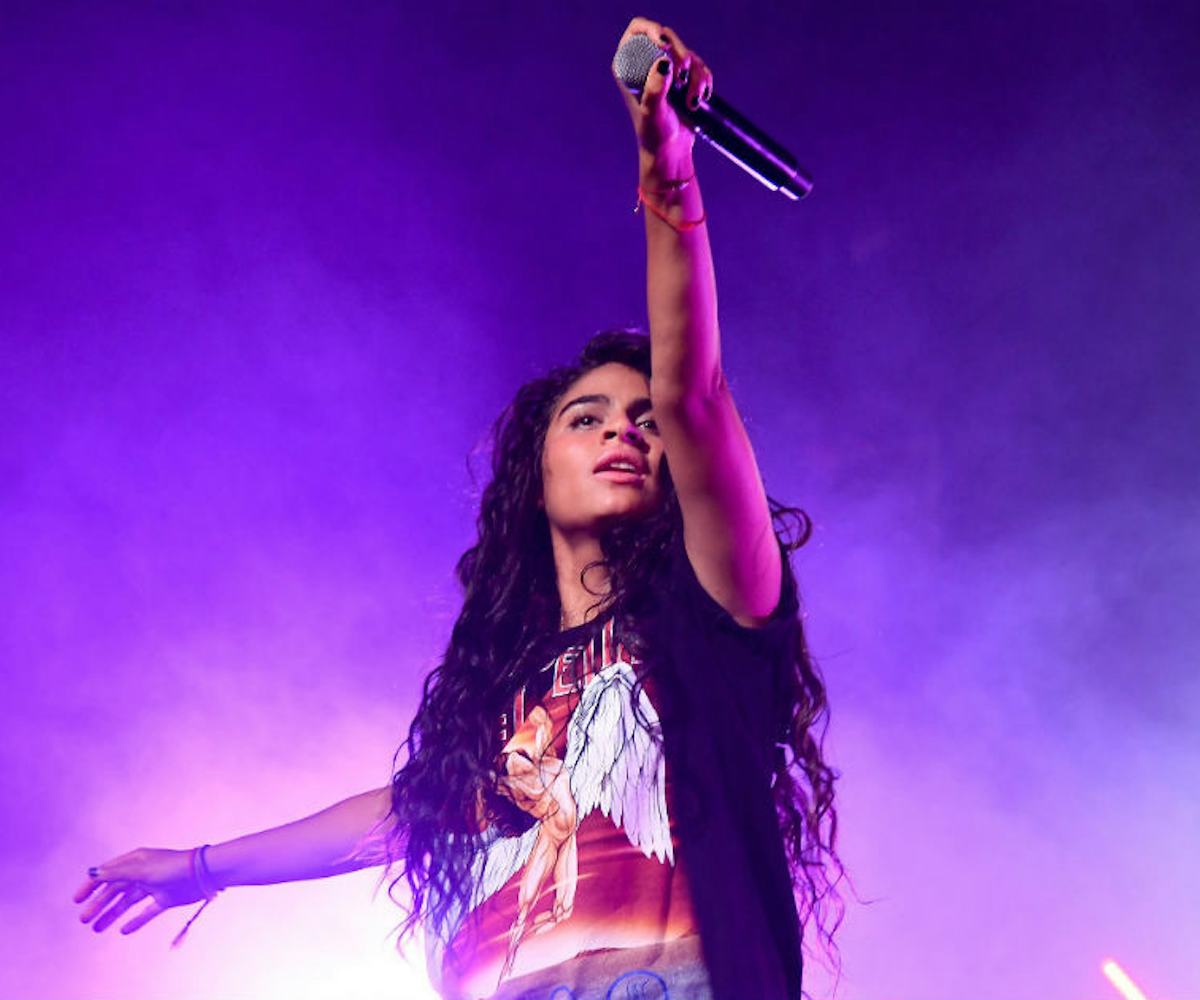 Photo by Nicholas Hunt/Getty Images for Pandora Media.
Jessie Reyez Talks About Turning Sadness Into Something Productive
Her new EP 'Being Human in Public' is out now
There's no getting bored with Jessie Reyez. The Canadian-Colombian singer has this way of manipulating her voice, her sound, her attitude so that apathy isn't even a possibility. She might lull you in with the gentle and sweet "Apple Juice" on which she pleads with a lover: "Don't let goodbyes come too easy, lo-o-ove me." Then turn around and jolt you with the feisty and confident "F*** Being Friends" where she sings: "I got your heart in my hand and your dick in the other." It's like the artwork for her "Being Human On Tour" tour illustrates, there are two sides to Jessie: one classy, one sassy—both here to have a good time.
When we first spoke with the singer last year after the release of her debut EP, Kiddo, she was still a newbie to the industry. A year later, and now on the heels of her second EP Being Human In Public, she can still be considered a rookie, but she's gained a little more clout by association. In the past year, she's collaborated with Dua Lipa and Calvin Harris on the hit summer song "One Kiss," joined Halsey on tour, and was recruited by Eminem to sing on two songs off of his latest album (she also worked with Ariana Grande on a song that may or may not be coming out). And while Reyez is great in a guest spot, she's even more captivating by herself.
Ahead, we chat with the singer about why sadness helps fuel her creativity, what's next, and her new EP, which you can—and should—listen to below. A majority of the songs clock in at less than four minutes and Reyez's projects thus far don't exceed seven songs, but, as she's proved over the past year, she can do a lot with a little.
Talk to me about the name, Being Human in Public, where did that come from? What does it mean to you?
It means being you. Being honest, regardless of what people will think. It means holding your demons out in the sun.
The remix of "Body Count" is probably my favorite from the project. How did you link up with Normani and Kehlani?
First time I met Kehlani was through Jahaan Sweet—a really dope producer; then we linked up in Toronto, and the vibe was just lit. She's a really warm human being. Normani is really dope, too. We've had the chance to actually be in the studio together, and it's been cool. They're both such talented women, so I'm really happy that they collaborated with me.
You also released your first Spanish-language song "Sola." Do you think you'll release more?
Of course, god willing.
How do you feel about Spanish music becoming somewhat mainstream?
I love it. As a Latina, it's beautiful to see that sort of representation.
You've been on tour for the better half of the year, what are you most looking forward to doing once you're done?
Camping with my family. Can't wait to jump in a lake and just be out in nature.
Your 2017 song "Gatekeeper" is about a personal incident of sexual harassment and sexism in the music industry. What do you think about music and its part (or lack thereof) in the #MeToo movement?
I think that the women that have come forward are brave for doing so. I'm very fortunate for the women and men that have spoken up, because there's power in numbers, and I think that that's how things begin to change. That being said, I still think that more people need to speak up in order to see permanent change. I think that people need to be held accountable, and I think that there is a long way to go before the problem is eradicated.
You once said that sadness and heartbreak help you to write songs. Why do you think that state of mind brings out such creativity in you?
I equate it to eating something that's bad for you. If you consume something that's poisonous, you don't consciously think of vomiting, your body just does it. It's a reflex. When I'm happy, I don't instantly feel the need to get rid of that feeling. But when I'm sad, I think maybe that's what happens.
What do you hope your fans ultimately get out of listening to your music?
To be honest with you, the fact that people vibe with my music is just a really positive byproduct of something that is just a reflex to me. The fact that people even care to listen, means a lot to me. So, if there's one thing that I hope that people walk away with, I hope it's feeling like they have a friend in their sadness, or feeling like they're not alone in their weirdness. Maybe that they can turn sadness into something productive? I'm not sure, to be honest.
What's next for you?
More touring. More chasing legacy. More studio sessions. More philanthropic work. More music.