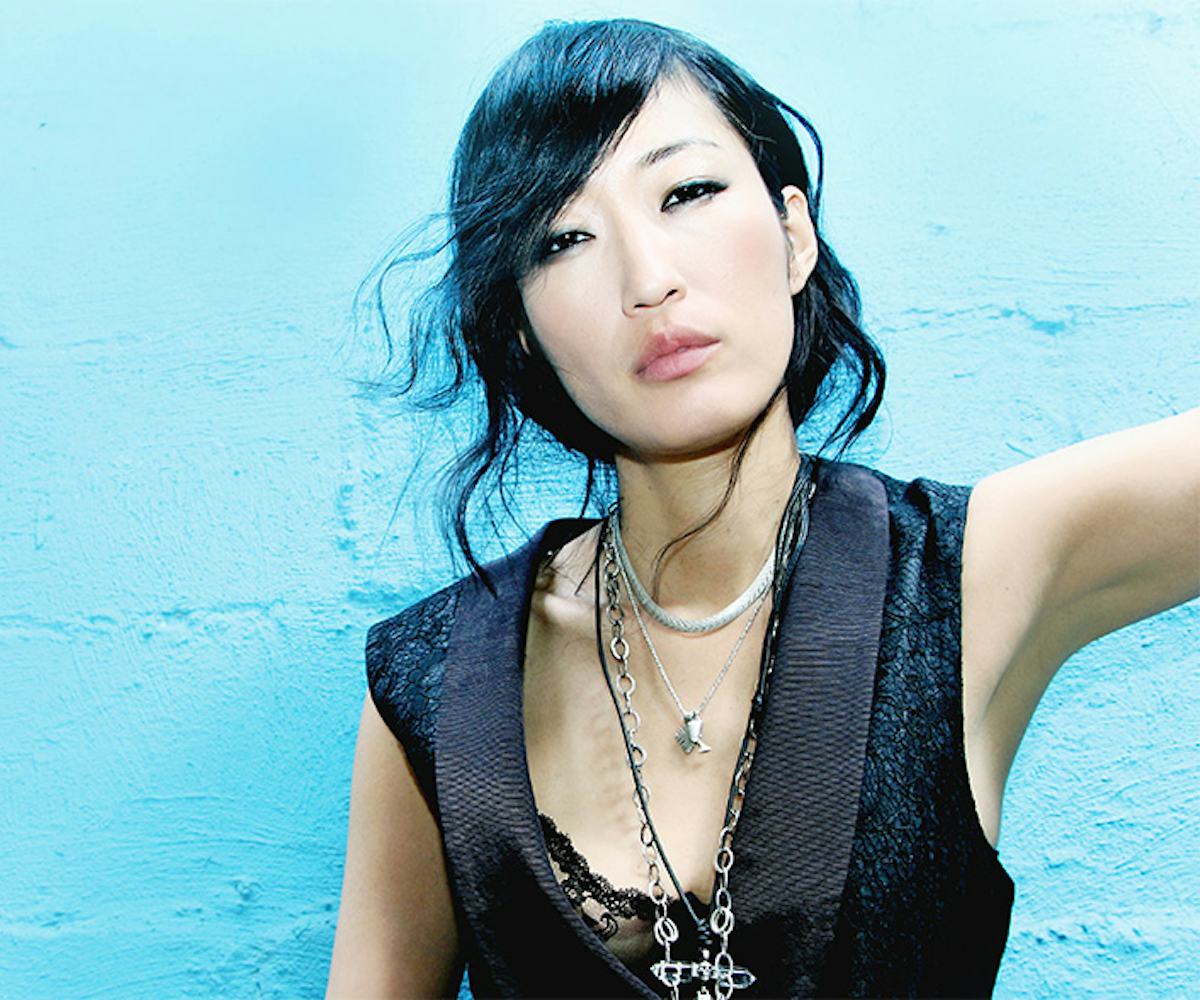 Photographed by Tina Turnbow
jihae talks about making out with norman reedus
JiHAE caught our attention last month with the steamy video for her single "It Just Feels," co-starring Norman Reedus as her lover. Her newest album Illusion Of You drops June 5, and we have a feeling that this songbird is about to be everywhere. Her evocative, powerful voice has us totally hooked.
We caught up with JiHAE after a recent NYC concert, and she filled us in on her new album, awesome style, and what it was like to hook up with Norman Reedus (yes, we went there.) Read on for the details. 
Styled by Wendy McNett; Hair by Marc Mena; Makeup by Tina Turnbow. 
Did the music bug bite you at a young age? And what were some of your musical influences growing up?Both my mom and my grandma studied to be opera singers but due to an ancient outlook on the profession and fate, neither of them fulfilled their dreams. I grew up in a musical family. I learned to sing as I was learning to talk. My first words were in song form, "Lucky Star," from a TV advertisement. My musical influences growing up were limited to Korean folk songs and hymns as I went to a Christian boarding school where I was not allowed to listen to secular music.
Can you share some of your process for putting Illusion Of You together?The album writing/recording process started late 2011 and was completed in early 2014. I recorded in New York with Jean-Luc Sinclair who I co-produced the album with and in LA with Dave Stewart (Eurythmics). Dave co-wrote a couple songs with me, sang, played guitar on a few numbers, and executive-produced the album. I also spent some days in Lenny Kravitz's studio in the Bahamas to record half of the final vocals. When I was reaching the finish line, I wrote a few more songs and reworked five of the mixes with my friend, producer/artist Stuart Matthewman. My heart is full of gratitude to all of these amazing friends for giving this girl a helping hand throughout this crazy long process. There were more obstacles and more drama in the making of this album than all of my previous albums combined, but you can't make diamonds without pressure, as they say. 
Lace jumpsuit, Femme D'Armes; Shoes, Longchamp.
Your recent video for "It Just Feels" co-stars the multitalented Norman Reedus. How did that come about and what was it like?Norman was one of the first actors that came to mind as I was friends with him for years. I felt more comfortable doing the love scenes with someone I knew so I asked him, and he said we should've made out a long time ago. Working with him was pretty fun and easy. We hadn't seen each other in a while so we were catching up on set.
The effect of your voice and lyrics is unforgettable. Does it feel good to know people walk around all day with your voice on repeat in their head?That's kind of you. I'm just glad that I can share my hard work and soul with a growing audience. My songs are like my babies, so yes, I'm a proud mama. 
Besides music, what are some of your other creative endeavors?I designed a capsule leather collection recently and am on the look out for a partnership with a cool brand that meets my aesthetic. I make video art pieces, take photographs, and dabble in acting ever since my screen test for Memoirs of a Geisha with Steven Spielberg. But music is my first love and always will be my priority.
Lace shirt, Femme D'Armes.
You have awesome style. What is your latest fashion vibe and where do you find pieces for your wardrobe?I love to mix tough punk looks with feminine style. I love what Hedi Slimane is currently doing with Saint Lauren and can see mixing Riccardo Tisci's fall Givenchy collection with my leather collection for the elegant gypsy punk look. I'm lucky to get a lot of gifts from my designer friends and when I can find the time, I'll be scouring for vintage treasures in the East Village and Brooklyn.
You also have amazing skin! Can you share a bit of your skincare regiment and go-to products?I make sure I'm always hydrated and take Vitamin C and sunscreen if I stay out in the sun. I don't believe in putting [synthetic] chemicals on my skin so I stick to organic and natural products. My favorites are Dr. Alkaitis and Vered Organic Botanicals.
Tuxedo vest, Rafi & Olga.