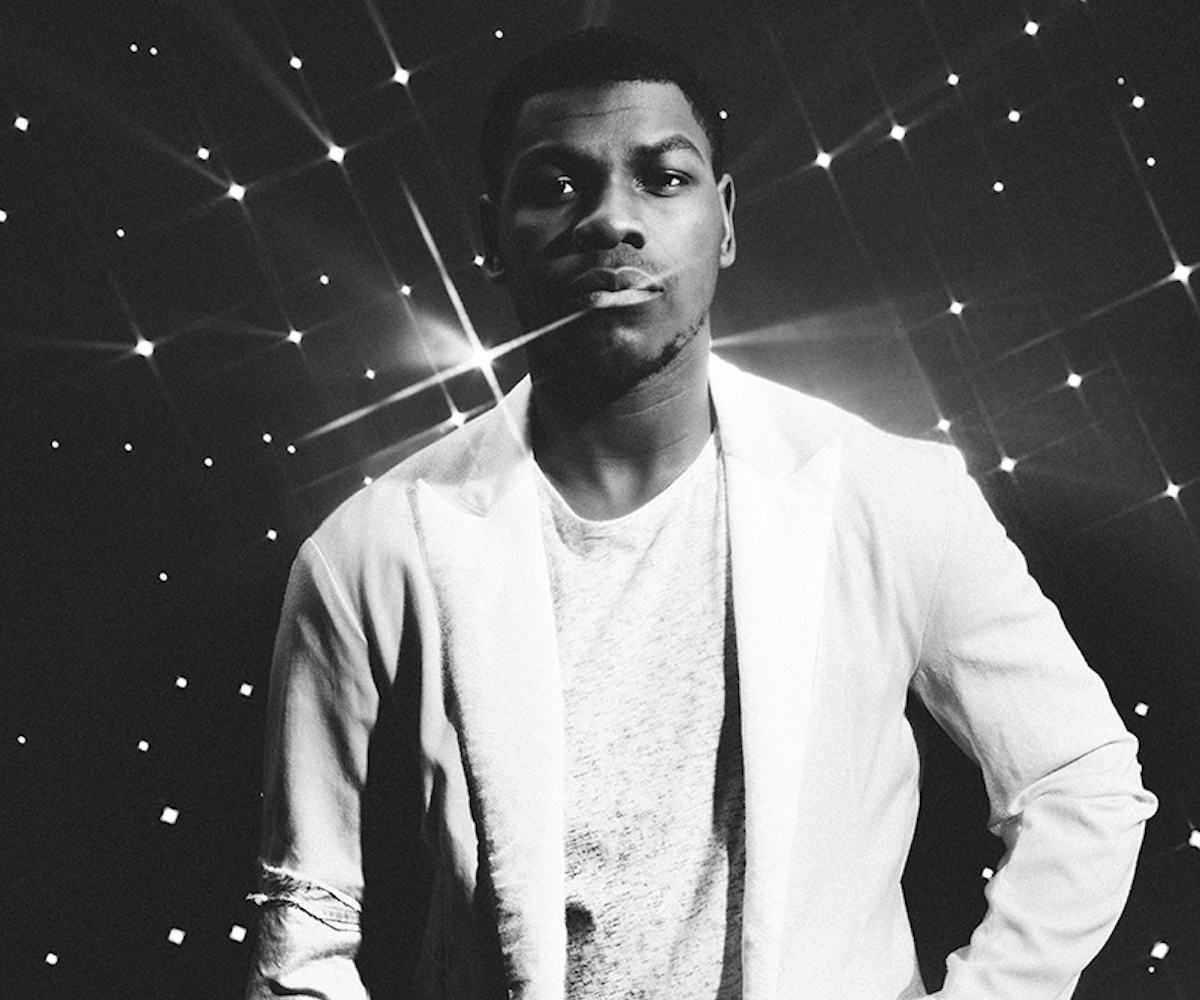 Photographed by Shane McCauley. Styled by Sean Knight. Jacket by greg lauren, top by Topman, jeans by Balenciaga.
Nothing Can Break Down John Boyega
…from the desert heat to a nonstop schedule to racist internet trolls
John Boyega isn't sweating #BoycottStarWars. The trailer has just dropped for The Force Awakens, the sci-fi classic's latest installment, and he's more concerned with #HowDoWeGetMorePeopleToSeeStarWarsWhenItsSoldOut. "I think we broke the Internet in presale, so I can't see why the other thing is getting so much attention," he says in regard to some racist trolling that emerged upon the trailer's release.
It's hard to argue with the 23-year-old's logic. The amount of bandwidth devoted to a few errant tweets seems less about the hurt feelings of fans of color and more about white fans expressing outrage over the silliness of "those other white fans." Or, as Boyega puts it: "We might as well just concentrate on what's going on—and that's that Star Wars is back and that the lead is black."
Boyega's confidence may stem from the fact that he's simply too busy to suffer such fools. Our interview time is shuffled and then squeezed in between full days of filming and promo, and yet at the photo shoot for this story, he's game and grinning, joking with his agent as Big Sean blasts over the radio. The photo and video crew are also beaming, and it's no wonder: Being in Boyega's presence is kind of like talking with the handsomest, coolest guy in school and then finding out that he speaks fluent nerd. On the way back to the set after a wardrobe change, he waxes lyrically on time travel and Doctor Who (he prefers pre-Steven Moffat Who). Later over the phone he dives into anime—he's looking forward to catching up on Naruto, the story of an underdog not unlike his own character, Stormtrooper Finn, in the new Star Wars movie. 
At least that's what we've gleaned from teasers. Boyega's lips are as sealed as everyone else's in the Star Wars galaxy, and all we manage to get out of him is that The Force Awakens is funnier than the trailer suggests. In fact, his favorite scenes from the early Star Wars movies are also the most comical. (Think: the Ewoks fighting the Empire, the garbage compactor scene, "and when Yoda fights. Yoda just makes me laugh," he says.) When it comes to the new movie, he's excited to experience it for himself as a fan of the series. "I know that's hard to believe, but I've been off the project for a while so it'll be awesome just to remember, 'Oh yes, that happened.'" 
The scenes they filmed in Abu Dhabi, though, were impossible to forget. "My friends are like, 'Hey, John. In the trailer you're always sweating and breathing heavily.' I'm like, 'OK, you go to the desert and be filmed running away from explosions and let me know what happens.' So yeah, it was hot—like, agonizing," says the London native, who prefers the cool, gray weather of his hometown. "But that's what we do to satisfy the fans, and I can't complain," he says with a smile. "I think I've paid my respects." 
Nerding Out With John Boyega
If you're going to star in the latest Star Wars movie, the ability to drop nerd knowledge on a dime is pretty much a job requirement. Rest assured, John Boyega would pass any "geek cred" test with flying colors. 
COMICS: He's happy Marvel's Civil War story is coming to screen—with Spider-Man. As he told Walt Disney Studios Chairman Alan Horn during a dinner: "You have the Avengers all up in New York and Spider-Man is nowhere to be seen? Let's work on that."  
MANGA: Boyega appreciates Naruto's departure from the usual hero narrative: "I like an unlikely hero: someone who has weaknesses, someone who is scared, someone who takes the time to overcome that."
ZOMBIES: Considering his genre-bending turn in 2011's Attack the Block, an action-comedy-sci-fi-thriller about a South London gang, it makes sense that his current fave horror flick is Cabin in the Woods. "I was freaking out," he says. "It's actually quite scary."