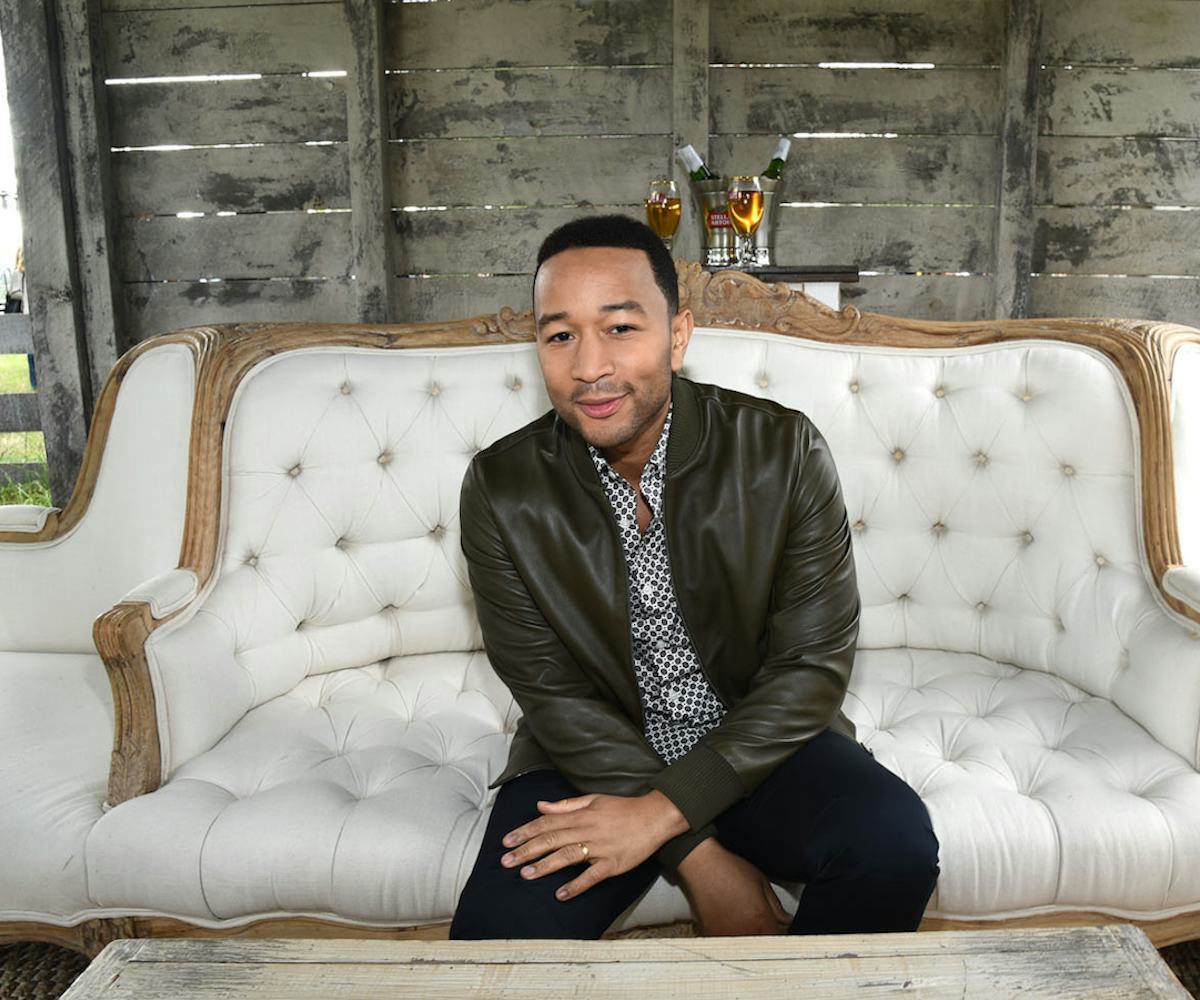 photo by Michael Buckner/Getty Images
john legend + chrissy teigen's party hosting secrets revealed
it's all about the details
The concept of hosting has undergone a lot of changes throughout the course of history. At one point it was something as simple as ensuring wandering travelers that they weren't going to be murdered when they came into your castle to share a few goblets of mead. Today, sadly, hosting most commonly means providing people with a wi-fi signal so they can stare at their phones the whole time they're over. But there's a lot of ground in between those two poles that seems to have fallen by the wayside.
As part of their Host Beautifully campaign, Stella Artois have enlisted a series of entertainers, chefs, and hospitality professionals to remind us of the golden ages of hosting, when paying attention to details, and tailoring each experience to the specific situation were commonplace. Among them are Grammy and Oscar-winning performer John Legend, and acclaimed chef and TV personality Aliya LeeKong, both of whom were on hand at the beautiful Golden Oak Ranch just north of Los Angeles earlier this week.
While guests were treated to a meal prepared by Leekong, Legend took to the piano to do what he does best, serving up a menu of his own signature dishes, like "All of Me" and "Green Light." Earlier that day we sat down with Legend to talk about what goes into making a good party, and his own expertise, or lack thereof in some cases, at hosting parties with his wife Chrissy Teigen.
There are a lot of similarities between hosting a party and playing a concert right?
Yeah, you want people to have a great time. You want to be open and energetic and engaging and put people in a great mood, whether it's on stage or whether you're just having people over to your place.
It's a little bit harder with a lot more people to make happy at one time?
Yeah, but when people pay to see you, you're dealing with kind of a captive audience that is into your music to some degree. And all you have to do is give them a good show, and really engage with them and feel their energy and give energy back to them. And I find it fun. I really love that process and love that interaction.
What, you don't charge a ticket price for people to come over to your house?
I do not! I don't even make them bring anything. It's okay to bring stuff, but we encourage people not to worry about that. We have everything people need when they come over, so it's not a big deal to have people bring a lot.
Who handles most of the stuff when you guys are hosting?
Chrissy handles most of the cooking, she's in charge. She's the executive chef, the head chef. I'm her sous chef. And I have a couple dishes I make on my own. I'm good with some fried chicken. I make some mac and cheese. I'm usually in charge of the grill to the extent that we're barbecuing things.
What about for the holidays, growing up, your family. Where did you go for those?
Well, we often went to my grandmother's house on my father's side for Christmas. It was a really small house, but we crammed a lot of people in there, aunts and uncles. My granny was in charge of the food and she'd make collard greens and ham, and people would bring all the side dishes. I love big family meals, my wife loves them. Both sides of my family love big family meals, so we try to do that as much as possible.
Did you chip in doing the dishes, or were you sleeping on the couch? Be honest.
When I was a kid I cooked at home a lot, because my parents got divorced, and it was just us boys basically. My sister was around but she was the youngest, so us boys had to figure out how to cook. We would do all the chores. I'd do a lot of cooking, but it was simple stuff, Rice-A-Roni, spaghetti and meat sauce. It wasn't too complicated.
What about when you were a younger man coming up. Were you the typical sloppy dude?
I was not the most neat guy at home. But, I did like to cook even for myself, or if I wanted to impress a girl, I would make a little meal for us. Again, I don't have a large repertoire of things I make well, but I can usually figure out a recipe if I look online or look in a cook book or something, as long as it's not too complicated.
What about all your musician friends? Who throws the best parties out of all of them?
Well I think we throw a good party. I've been to quite a few Puff Daddy Diddy parties, and his are legendary. He's probably, of the music community, known as the most prolific and epic party-thrower.
What are the little details that people should look out for that they might not think of if we're asking John Legend how to throw a party.
Well, a lot of it isabout people, you know? I think people determine just about every interaction that you're going to have. And more than anything they create the vibe—the conversations, experiences—these are the things people are going to remember the most when they leave. So, if you don't have a good guest list that's really half the battle right there. After that, for me, it's about music. You have to have a great playlist, and great feelings, that kind of accompany the conversations and the food. And I like to create the playlists for all our parties. And then the food. And that's all you need. 
You don't play your own music at your parties do you?
I don't play my own music! Occasionally I might throw one in there on a playlist if I think it fits, but I usually like to listen to other people. I don't like to listen to myself that much.
Do you ever have to worry about, like, Oh this dude is coming over I better not put his song on or it's going to be embarrassing?
No, Miguel was at our last party and I had a Miguel song on, and I was kind of happy that it came on. I wasn't sure he was going to come but I had his song on my playlist and I was happy when it came on, because it was like showing I'm a true fan of what he does.
Obviously you're going to say Stella, but if people are coming over, what do you usuallys serve to drink?
We serve everything! We serve Stella Artois, that's our beer of choice obviously. Chrissy's worked with the brand before. This is my first time working with them. We also have wine and plenty of liquor as well. I think you just gotta have the range. Maybe make a few signature things. Maybe make a nice sangria or something like that. Especially for summer parties, I think those are cool, or margaritas.
There's a bunch of games over there, corn hole and croquet and stuff. Do you ever play games like that?
We don't do a lot of  summer field games because we don't really have a lawn! We do things like maybe break out some Catchphrase at the end of the night when people are a little toasted.