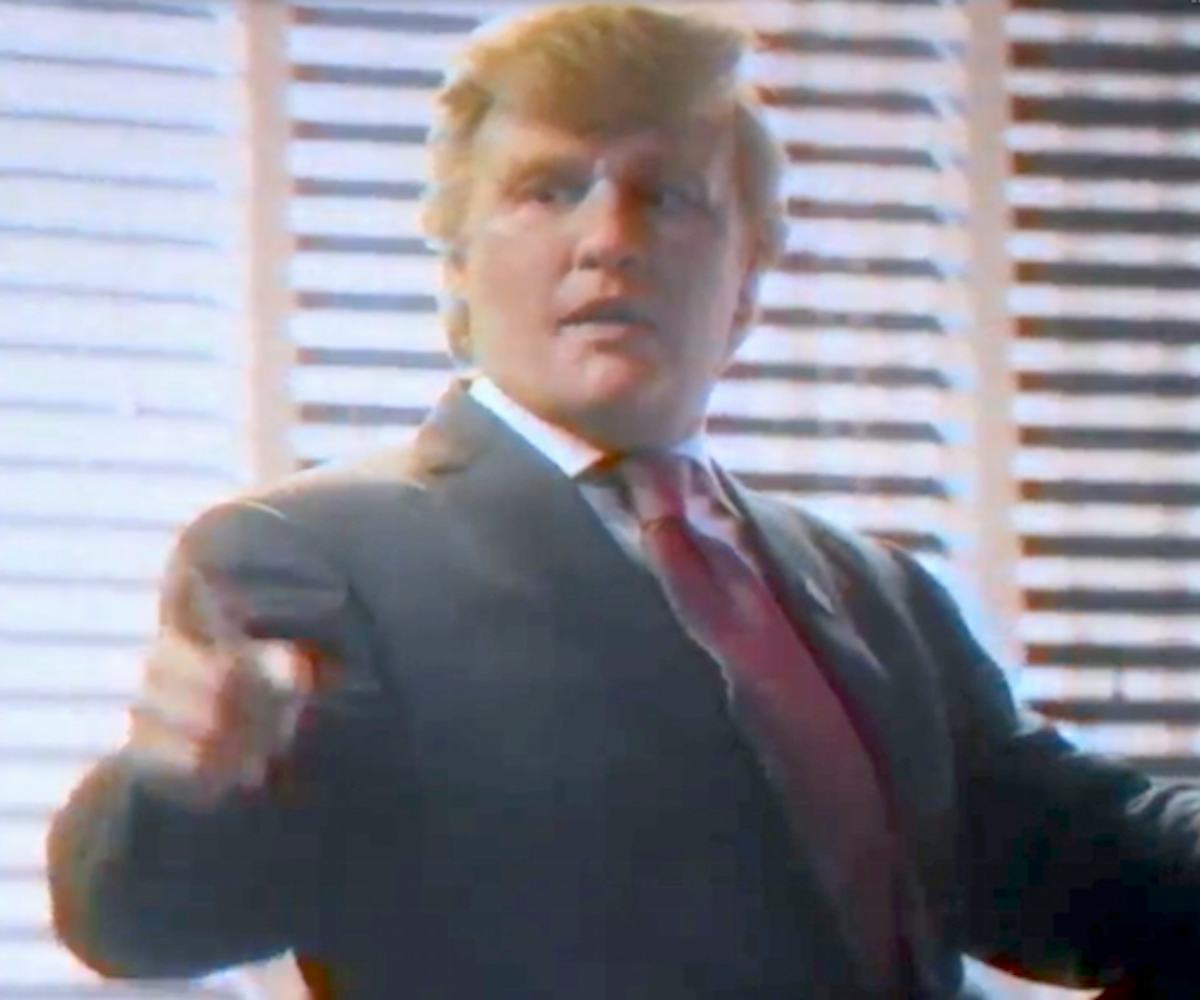 Image via Funny or Die.
See Johnny Depp's Epic, 50-Minute Donald Trump Parody Biopic
it's even more bonkers than you're imagining. 
Some days, the universe just dumps something wonderful in your lap without warning. Friends, today was exactly one of those days. Like some sort of secret Beyoncé album launch, the good, good people at Funny or Die have released a 50-minute parody biopic covering the life, times, and many loves of presidential candidate and angry waterlogged almond, Donald Trump. This would be a gift in and of itself. But folks, folks, it stars Johnny Depp. Johnny freakin' Depp.
Yes, the actor famous for breathing life into Edward Scissorhands, Ed Wood, and Captain Jack Sparrow has taken on the role of a lifetime—and quite a good bit of makeup—by stepping into the totally luxurious Trump-brand shoes of Donald Trump. Titled Donald Trump's The Art Of The Deal: The Movie it co-stars professionally funny people Patton Oswalt, Michaela Watkins (as Ivanna Trump), Stephen Merchant, Kristen Schaal, Paul Scheer, Jack McBrayer, Andy Richter, and Henry Winkler, as well as Ron Howard and Alfred Molina. Oh, and ALF! Remember ALF? The fact that Kenny Loggins did the theme song is only icing on the luxurious Trump-branded cake.
Anyways, it is, per Funny or Die's mission, awkward, improved, and totally bonkers. Will it change anyone's mind as we sweep into the middle of primary season? No, no it won't. Will it keep you amused for 50 minutes and, perhaps, distract you from your ongoing panic attack over the possibility of a president Trump? Maybe! Whatever, it's a thing of beauty. Watch the trailer below and go here for the full thing.