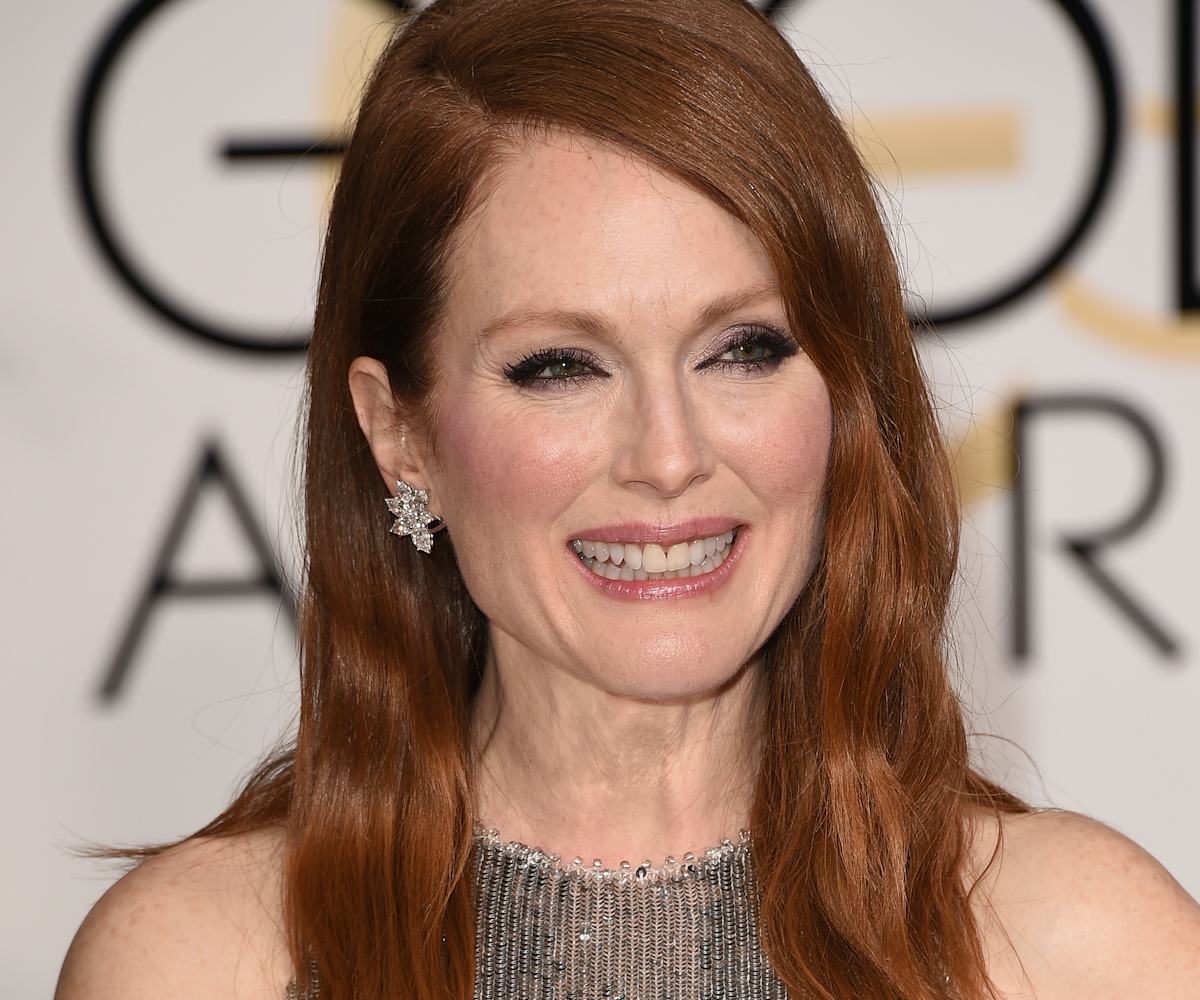 photo via getty images
julianne moore opens up
about her diverse roles and working with kristen stewart
It's hard to fathom that with films like Boogie Nights, Far From Heaven, The Hours, and The Kids Are All Right under her belt, Julianne Moore has yet to win an Oscar. Well, if the pundits are right, that's likely to change come February. Since premiering in Toronto last September, Still Alice has come out of nowhere to become one of the most acclaimed films of the year, anchored by Moore's gutsy performance as a brilliant linguistics professor who's diagnosed with early onset Alzheimer's disease.
Moore shot the heartfelt drama during a month-long break from her gig as District 13's President Coin, and researched the role more intensely than any in her career. "I thought, I cannot do this movie without learning everything about Alzheimer's," she said about the grueling research that helped inform what's being called the best performance of her career. "I really wanted to be as accurate as possible."
We caught up with the 54-year-old actress to talk about the stigma of early onset Alzheimer's, what it's like working with Kristen Stewart, and how she's managed to cultivate one of the most diverse resumes in Hollywood.
Still Alice opens January 16 in select theaters.
On preparing for the role:
"It was a lot of work, but it was fascinating. I started with the head of the Alzheimer's Association who has a family history with the disease. We had long phone conversations about her experience with it, and then she set me up with various women across the country who had been diagnosed with early onset Alzheimer's. I had all these conversations with women of all ages — the youngest was 49, and the oldest woman I spoke to that day was 62. Then I went to the New York Alzheimer's Association and talked to all the staff who worked there. I talked to a support group filled with women who were still in the early stages of the disease, and were doing cognitive work with language. I went to Mount Sinai Hospital and talked to their leading researchers; I took a memory test, which is really something, man. It's hard. Then they sent me to a long-term care facility where I observed people who were really very sick. I watched a lot of documentaries, and did all the reading that I could do. I really wanted to be as accurate as possible with the behavior, so all the physical behaviour and vocal behavior, these are all things that I had seen. After all that, I finally felt like I was ready to do it."
On the shame associated with Alzheimer's disease:
"In the movie, I say that, 'I feel so ashamed, I don't want to go out. I don't want to go to a dinner party, what am I supposed to do?' If you notice when she's talking to her superiors, she won't even say the word. She keeps saying she has 'mild cognitive impairment.' I think there's a great deal of stigma around Alzheimer's, and one of the thing that the movie's trying to do is remove that stigma. Cancer used to be that way too. People never used to talk about cancer."
On how the research affected her:
"One thing we all tried to avoid was contemplating our own mortality, and that's something that people with the disease can't help but contemplate, because it is a gradual loss of yourself. What the film posits is, 'What is your essential self?' If you're losing your intuition and your ability to communicate, then what's left?"
On what's left:
"What do we have, really? It's all construct. Somebody once said that as humans, we don't have to do anything. All we have to do is die. Other than that, we made it all up! We made up language, we made up literature, we made up work, we made up restaurants, we made up rug weaving, and all that stuff, it's all a construct, and we do it because it delights us, it fascinates us, and we found an economic system within it. But what is it it? Any of it? At the end of the day, there's just us as beings."
On working with Kristen Stewart:
"Kristen's performance really struck me. I love her so much and she's so incredibly compassionate. She's a great actress. This is going to make me cry, but I love the scene when she's talking to her mother about the speech. What I do in that scene is a manifestation of people with Alzheimer's getting very frustrated and angry, and they tend to lash out. And you watch Kristen go 'Alright mom, try it again,' without any judgement. She ends up being the only family member who's able to really reach her mother."
On reuniting with Alec Baldwin:
"Alec's my guy. That's my buddy. I met him on 30 Rock and I would always get offered these movies, and they'd ask me who I want to do it with, and I'd say Alec, and I'd ask him, and he'd say 'No, I don't want to do this, I don't want to do this.' And then finally he said 'Don't you have a drama?' And I said 'I do, I have this movie, but the part's probably not big enough for you, but take a look!' And he said 'I'll do it!' He was just in!"
On choosing the right material:
Usually I know right away. With Still Alice and Maps to The Stars, it was no question that I would do them. The scripts were really strong and the filmmakers were really interesting, so I knew I was going to do those movies. When I waffle, when I have a whole discussion, where I'm like, 'Let's have another meeting,' or 'let's talk about it,' then I'm usually in trouble. And I have made mistakes that way where I'm like 'Okay!' and I look back and I realize that I had five meetings and so many conversations, and I got there and I was like, 'Uh oh.'"
On bringing her work home:
"I'm very compartmentalized. I have two kids, and I've been in the movie business since before they were born, and when they were little they would be in the trailer with me, so I'd be doing something with the kids in the trailer, and then I would go to set, and then I would come home. And as I've gotten older, it's the same thing. I have to walk in the door and be ready to do this other thing."
On what's next:
"Another really 'fun' movie. In this one I have cancer. It's a movie called Freeheld, and it's based on the documentary of the same name, about a couple in New Jersey that changed the domestic partnership laws. She was a cop in Ocean County, she had a much younger girlfriend, they registered for domestic partnership, and shortly after that she was diagnosed with stage four lung cancer. She wanted to make sure she could get her pension to her girlfriend, and they turned her down. So they became a kind of a cause celebre and they ended up being a forbearer for domestic partnership laws and gay marriage laws in the United States, It's a great project, and it's with Ellen Page as my girlfriend, and Steve Carell as the head of Garden State equality, and Michael Shannon, so its a really good cast."