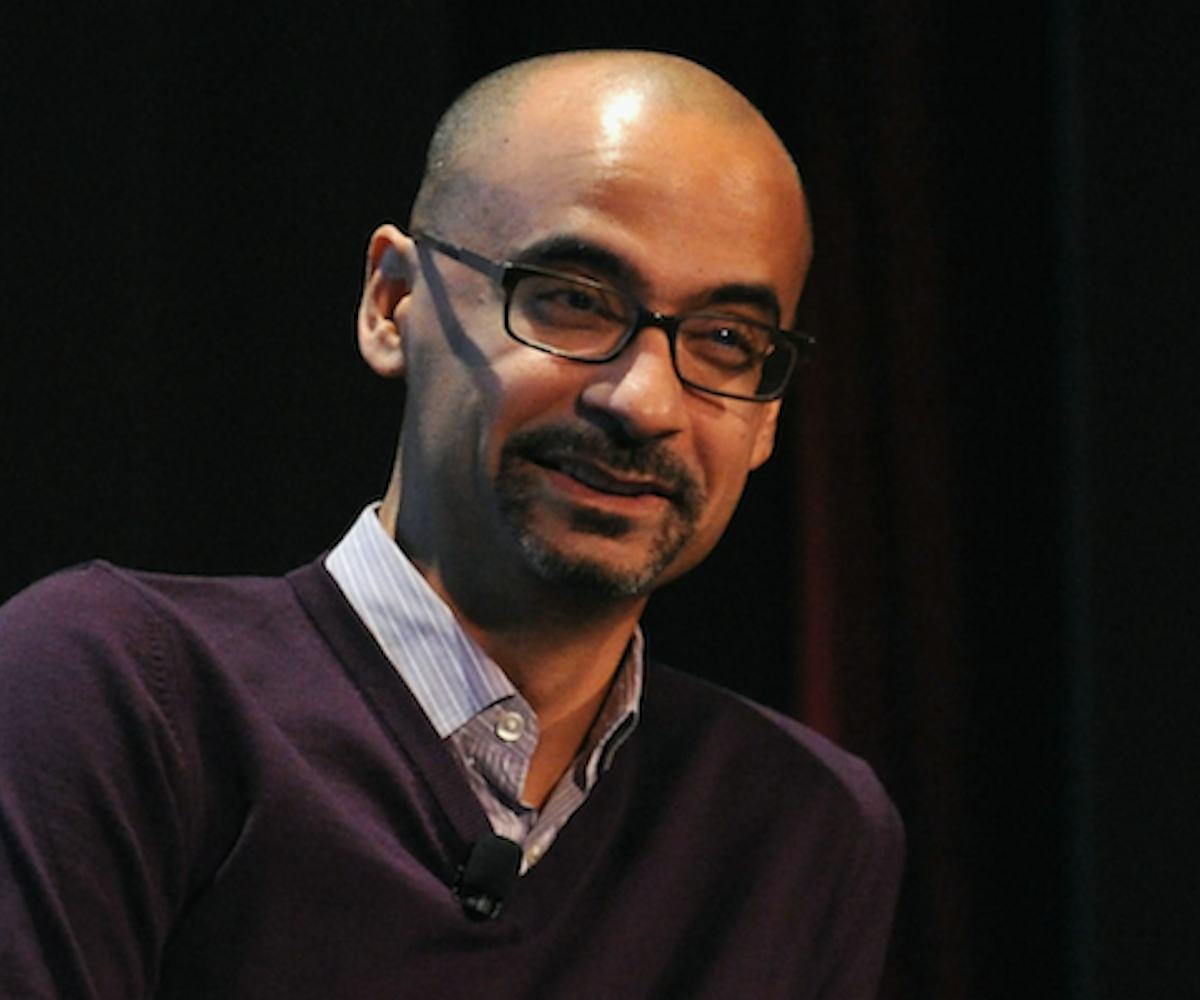 photo by Andrew Toth / getty images
Author Junot Díaz Has Been Accused Of Sexual Misconduct
Junot Díaz has been accused of sexual misconduct and verbal abuse by at least three women. Authors Zinzi Clemmons, Carmen Maria Machado, and Monica Byrne took to social media to share their experiences with The Brief Wondrous Life of Oscar Wao author yesterday, which ranged from forcible kissing to being screamed at.
Clemmons, who wrote the critically acclaimed 2017 novel What We Lose, shared that Díaz kissed her without her consent when she was a graduate student. Since then, she says, she has avoided literary functions in order to not encounter "people like Diaz and [Loren] Stein (who I have my own set of terrible stories about as well)." Stein was the editor of the Paris Review who recently resigned from his post amid separate allegations of misconduct with women. "I'm sick of these talentless assholes dictating my life," she wrote. "No more."
In response to Clemmons' thread, Machado, author of last year's Her Body and Other Parties, opened up about a time in which Díaz "went off" on her for 20 minutes when she asked about his protagonist's "unhealthy" relationship with women. 
"Every time he asked me a question, I answered it, and he became freshly enraged when I refused to capitulate," she wrote. The interaction happened in a room full of people. 
She went on to note that she heard "easily a dozen stories about fucked-up sexual misconduct on his part and felt weirdly lucky that all ("all") I got was a blast of misogynist rage and public humiliation."
"Junot Díaz is a widely lauded, utterly beloved misogynist," she concluded. "His books are regressive and sexist. He has treated women horrifically in every way possible. And the #MeToo stories are just starting. ¯\_(ツ)_/¯"
Byrne shared her story about Diaz in an extended Facebook post, revealing that he went off on her during a dinner after a talk he'd given at the NC Literary Festival in 2014. 
"The table struck up a light conversation about the significance of statistics in publishing," she wrote. "I made a point emphasizing how personal narrative is important in empowering the marginalized. He said (and this is my memory, so I'm not including quotation marks), Well, I don't know if you know how statistics work, but that's like saying, Oh, I haven't been RAPED, so RAPE must not exist."
She noted that two weeks prior to the dinner, she had been sexually assaulted in Belize and that his outburst made her feel "speechless" and "sick." Through the rest of the dinner, Byrne said that Díaz made a point of "cutting me off, ignoring me to talk to the other famous (male) writer at the table, who happily participated in the erasure (congratulations, Peter Straub, you were also awful that night)."
She also touched on an essay that Díaz had written for The New Yorker a few weeks ago, in which he revealed that he had been raped as a child by an adult he trusted. In the essay, Díaz opened up about the trauma he endured as a child and how it affected him throughout his adult life, especially in his romantic relationships, which he says caused issues with infidelity and intimacy. He also alluded to hurting others in the essay: "I think about the hurt I caused."
"I read that piece and thought: did his editor not think to ask him what 'I hurt people' might mean?" Byrne wrote. "Fucking really? In this era? I am sorry what happened to him. I truly am. But millions of people experience sexual trauma, including as children, without then choosing to turn around and replicate it on others' bodies."
Although Díaz didn't specifically address the accusations, he provided a statement through his literary agent, Nicole Aragi, to The New York Times.
"I take responsibility for my past," he said. "That is the reason I made the decision to tell the truth of my rape and its damaging aftermath. This conversation is important and must continue. I am listening to and learning from women's stories in this essential and overdue cultural movement. We must continue to teach all men about consent and boundaries."