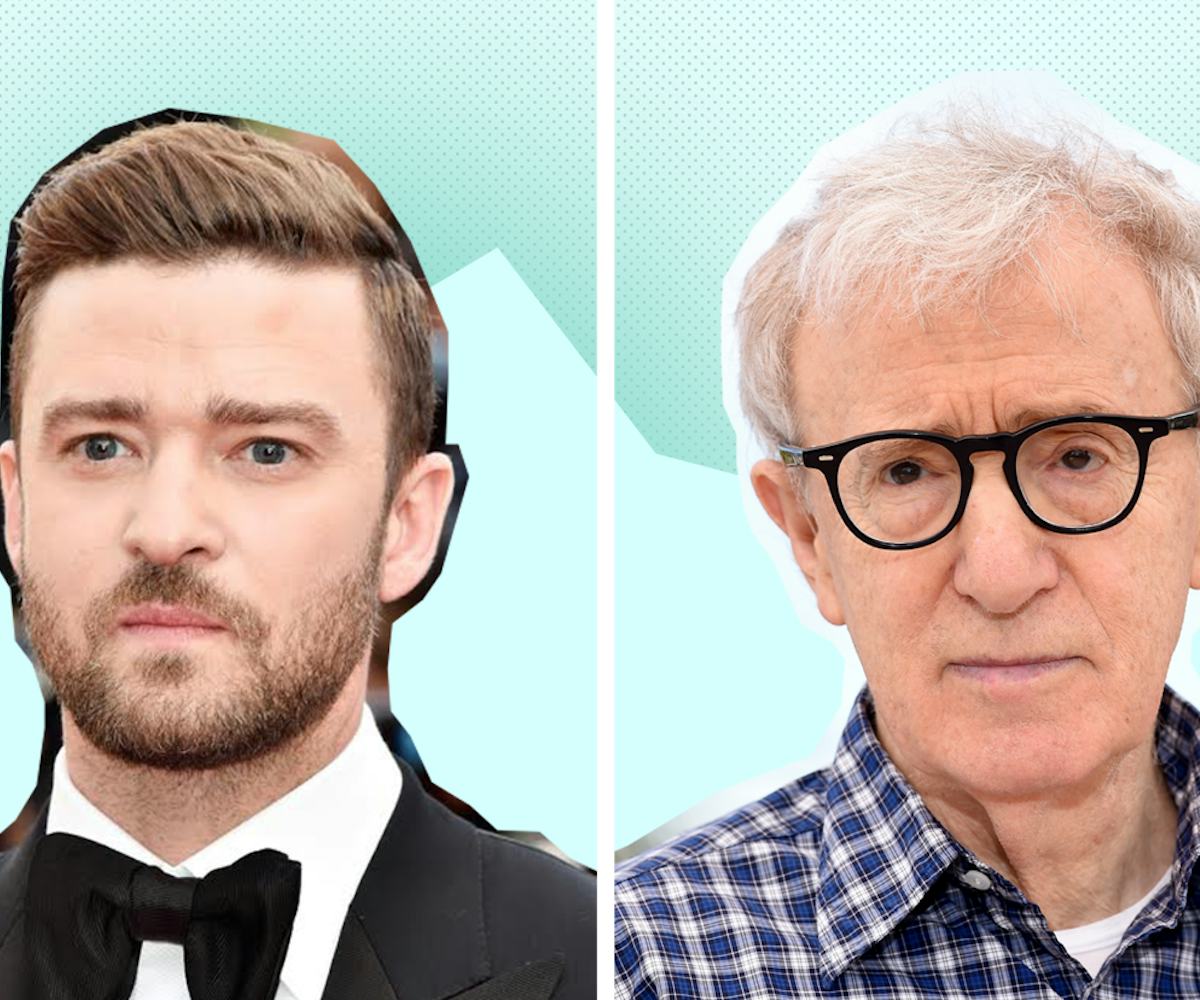 Photos by Ben A. Pruchnie and Pascal Le Segretain/Getty Images
Justin Timberlake Signed On To Work With Woody Allen, Sigh
Why does this continue to happen?
Woody Allen has been accused of sexually molesting his daughter when she was seven years old. He married his adopted daughter, Soon-Yi Previn, a woman 35 years his junior when he was still married to her adopted mother, Mia Farrow. Still, Hollywood continues to hold the director and screenwriter in high regard, presumably because of his status as a living legend, and he has continued to cast his films with super-talented household names. According to Hollywood Reporter, he just recruited Justin Timberlake for his upcoming untitled film.
Like most of Allen's projects, details about the work itself have been kept private. What we do know about it is that it will also star Kate Winslet, Jim Belushi, and Juno Temple. Reports suggest that Amazon will distribute the film. 
In the past five years alone, massive names like Cate Blanchett, Owen Wilson, Rachel McAdams, Penélope Cruz, Kathy Bates, Jesse Eisenberg, Kristen Stewart, Blake Lively, Alec Baldwin, Judy Davis, Peter Sarsgaard, Emma Stone, Colin Firth, Joaquin Phoenix, and Steve Carell have chosen to star in his films. Those who have worked with him have remained hush about his alleged history of pedophilia, claiming that they work with him because he creates great art. When asked about Allen's abuse allegations at this year's Cannes Film Festival, Lively told LA Times, "It's very dangerous to factor in things you don't know anything about. I could [only] know my experience. And my experience with Woody is he's empowering to women." 
Whether or not Hollywood is consciously refusing to turn a blind eye to someone who was relieved of abusing his daughter because of fear of further traumatizing her, and not because of a lack of evidence, there are a lot of questions about the morality of working with Allen, and seeing his films. Quite frankly, it's disappointing to see so many notable figures continue to further the career of such a man.