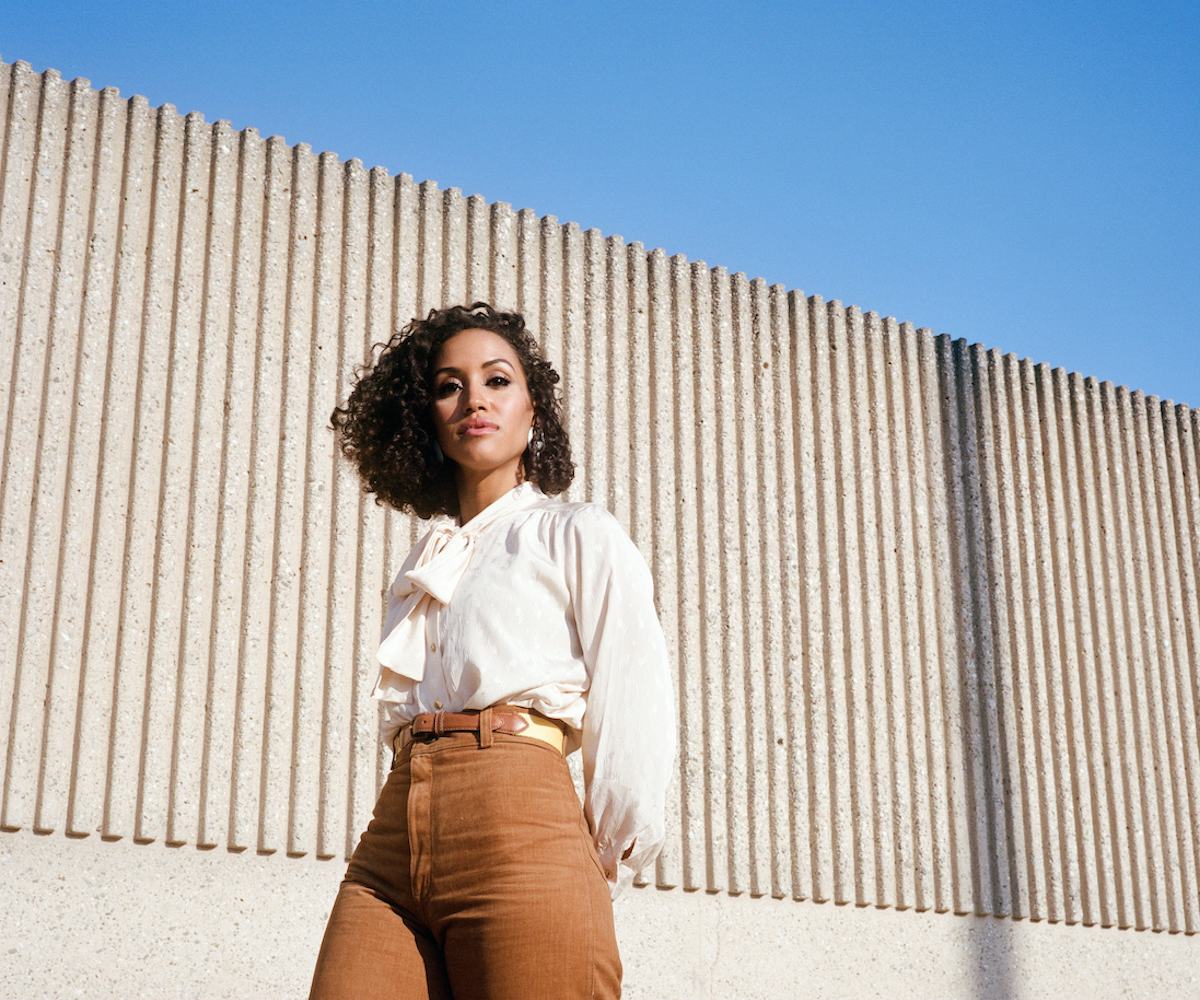 Photo by Sinziana Velicescu
Kadhja Bonet Made The Prettiest Video You'll See All Day
All she wants is to be your "Fairweather Friend"
With a name like Kadhja Bonet, you're bound to be drawn to the singer before she even had a chance to release a single note. The East Bay-bred artist comes from a musical family, so she's naturally gifted with fine-tuned training. Bonet's music classifies as experimental with its combination of elements from classical, folk, soul, and jazz; the stories she tells softly fall on your ears like sweet poetry. Today, we're premiering the music video for Bonet's track "Fairweather Friend."
Directed by 6th Grade Bandits, the visual plants us in the middle of the mystical and misty outdoors. Bonet twirls around flowers in the lush landscape with various umbrellas while beautiful brown dancers contort their bodies to assemble in the dusty prairies. (The timing couldn't be more perfect, with it being Black History Month and all.) Bonet further elaborates on the treatment for the video:
I wanted to suggest the principle dancer as an atom, accustomed to a certain kind of movement—traveling, drifting in time. The introduction of a new bond excites and changes her direction, and she has the good fortune to experience a new type of journey. The final atom is introduced, groping for a free electron. For a brief period it appears they might form a triad, but very quickly it becomes apparent the bond is stronger as two, as human chemistry can often be. The first element is left again to continue her own awkward, slow, and solitary journey. She is indivisible, though, and integral. I simply bear witness.
If you like what you see, Bonet's debut album, The Visitor, is available to stream now. We promise you won't be disappointed one bit. Watch all of the layers in this gorgeous video unravel like delicate petals on a blooming flower, below.
Catch Bonet on tour at the following gigs:
February 28- Brussels, BE @ AB Club         
March 1- Paris, France @ La Boule Noire          
March 2- Amsterdam, NL @ Sugar Factory           
March 4- Sheffield, UK @ Outlines Festival       
March 6- Manchester, UK @ Castle Hotel 
March 7- London, UK - Courtyard Theatre 
April 7- Vancouver @ Biltmore Cabaret*
April 8- Seattle, WA @ Neptune*
April 9 - Portland, PR @ Wonder Ballroom*
April 11- Sacramento, CA @ Harlows*
April 12- Santa Cruz, CA @ Catalyst Atrium*
April 13- San Francisco, CA @ Fillmore*
*w/ Mitski