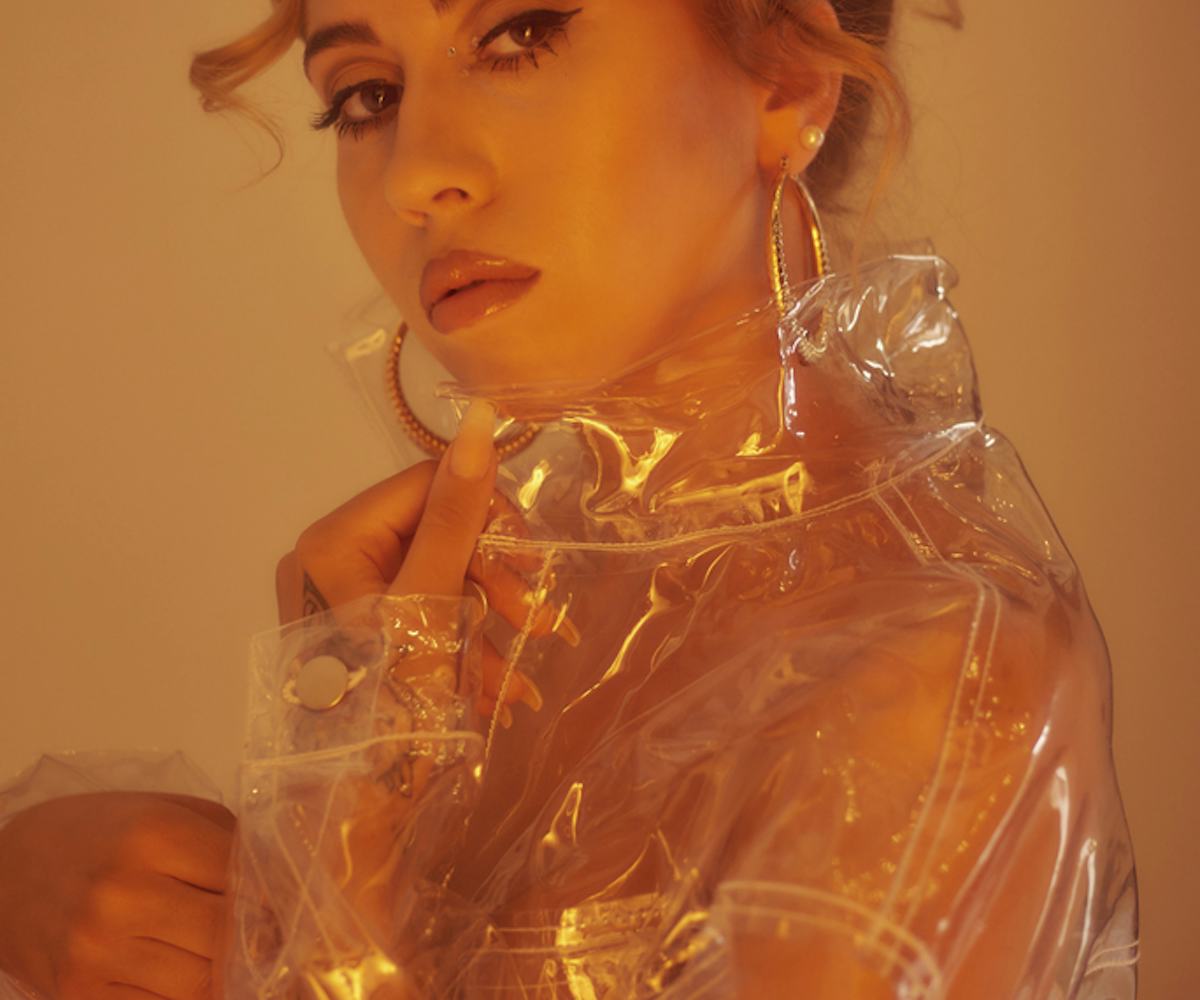 Photographed by david joseph perez. Styled by chris horan.
Kali Uchis Is Ready To Shake Up The Music Industry
On her debut album, the Colombian-American singer offers a blueprint for empowering underdogs like her
The following feature appears in the September 2017 issue of NYLON.
"They fucked me up!" Kali Uchis says, holding out both hands to display her jacked-up manicure. The singer-songwriter is sitting on a Victorian-style velvet couch in a lavender sweatsuit after her NYLON photo shoot in Los Angeles. She explains that a nail artist was supposed to hook her up with a blended French tip, her usual look, but left her with an uneven mess instead. "The guy just threw his hands up and walked away. I'm thinking, 'I'm going to be an hour late to my shoot for this!?'" She pauses, then shrugs and laughs.
Uchis' vanity isn't so deep that she'd let the mishap ruin her day, but you can't blame her for wanting every detail of the lead-up to her full-length debut to be right. "I feel like my whole life has been building up for this moment," she says. Having grown up with little means in northern Virginia and Pereira, Colombia, with her parents and siblings, Uchis has always found a way to fend for herself. As a teen, she shot music videos and designed mixtape cover art for Maryland rappers. She also made custom clothes and sold them out of her Subaru Forester, a ride she lived in after her dad kicked her out when she was 17 for being rebellious. Now 23 years old, residing in L.A. with her boyfriend, and with an album hitting the streets via a major label (Interscope Records) this month, she's developing a new sense of empowerment and independence. 
"I feel more like a woman and an adult than I ever have in my life," she says, adding that she'll always respect the sternness and strength of her father, who moved to the U.S. from Colombia with her mom before she was born in '94. "I have my dad's passport signature right here from when he came to America," she says, lifting up her left arm to show off a tattoo on the inside of her bicep. "But I had to hide it from him." 
For a time, hiding things was one of Uchis' specialties. "I'd wear my hair in front of my face and put my bangs down to here," she says, holding her hand under her nose to demonstrate. "I didn't want people to see me. I've always been very insecure and had a lot of self-doubt growing up. That was partially because of how I was raised. When you come from abuse, you shelter yourself, and it's harder to just be." Uchis is referring to an uncle who went to jail for pedophilia, but won't discuss if she was mistreated. "Sometimes people who are suicidal or abuse victims reach out to me because they feel from my music that it's a story of empowerment and that it's about breaking free of abuse, so sometimes I want to talk more about it, but right now I'm just not ready," she says. 
Uchis, whose real name is Karly Loaiza, learned to play the piano and saxophone as a kid, and was recording music on her MacBook using GarageBand by high school. In 2013, when she was 18 and living in her cousin's basement in Virginia, she tweeted out a link to her Drunken Babble mixtape, a blend of Motown-inspired soul and hip-hop that fuses sweetly with her smooth, warm tone. "It wasn't an overnight sensation," she remembers. But once her first music video for "What They Say" was released, people got a taste for her peculiar yet alluring sequences of vintage cars, bold colors, and psychedelia, and they wanted more. Soon, Diplo, Kaytranada, and Tyler, the Creator hit her up and all three produced tracks on her follow-up in 2015, the '60s- and '70s-soul-conjuring EP Por Vida. The positive response helped reduce her looming self-doubt. 
Her debut album is a reflection of how strong she's become, and tackles everything from romance and survival to being your own hero, atop dancehall, R&B, funk, and reggaeton. "There are a couple of songs about trying to make a better life for yourself in a world that feels like people make their come-ups off of those who make minimum wage," she says. "It's easy to just write about love, because everyone can relate, but I like variety." An extensive list of collaborators, including Jorja Smith, Thundercat, Damon Albarn of Gorillaz, Dave Sitek of TV on the Radio, and Bootsy Collins, helped her get those messages across and grow creatively. "I'm doing things that are more experimental," she says of how her sound has evolved. "I'm trying to create mixtures of genres." 
On stage, Uchis is a sultry party girl who loves a good body roll, which will be on full display throughout her first headlining tour, starting in August and running through October. "While performing I can't wear anything that I'm not going to be able to dance in or heels that don't have ankle support," she says. "I've definitely, like, almost busted my ass a couple of times." Rocking pronounced cat-eye makeup and flaunting her midriff is also a given. "It's fun to show sex appeal in different forms," she says. "During the Drunken Babble era, I wore platform Tims, baggy boxers, and a bra. It was, like, ho chic. Por Vida was all about pastels." Lately she's been inspired by the style of '90s supermodels like Cindy Crawford, and is wearing a lot of black. But it's not because she feels dark. "I always felt you could age with style and grace, or you could age in denial and hold on to issues and never push through," says Uchis. "I'm finally through. I'm proud of that." 
Jacket by Brashy Studios, Hoops by Forever 21, Uchis' own pearl earrings. Hair: Sami Knight at Starworks Artists using Dyson Supersonic Dryer. Makeup: Jenna Kristina at TMG-LA using Nars.